Learning Management Systems (LMSs) have evolved into critical tools for corporations and educational organizations. These software solutions offer a single platform for delivering, measuring, and managing learning material and activities. As the workplace evolves, so does the LMS environment.
In this article, we will look at the future of learning management systems (LMSs) and showcase seven of the best LMS platforms for your needs in 2024 and beyond. We will go over the critical trends affecting the LMS industry, as well as the features and functionality to look for in a modern LMS.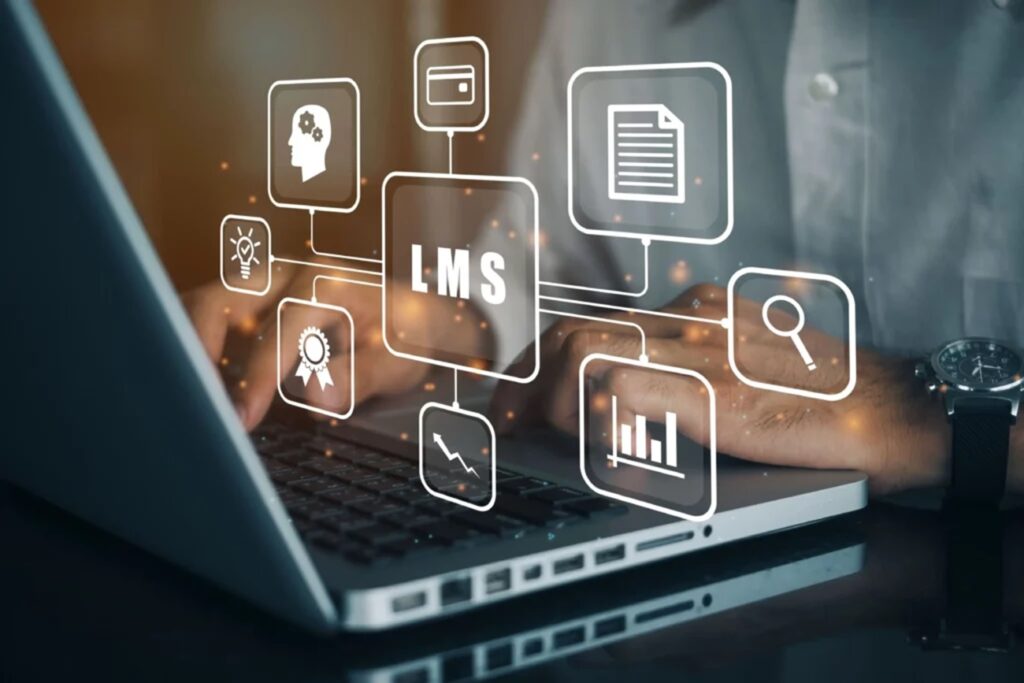 Key Trends in the LMS Market
The LMS landscape constantly evolves due to new technology and changing learning requirements. Here are some of the major trends influencing the future of LMSs:
AI and machine learning: Machine learning and artificial intelligence (AI) are being utilized to tailor learning experiences, automate processes, and give insights into learner development. 
Microlearning: Microlearning is gaining popularity as learners desire shorter, more concentrated learning sessions.
Social learning: Discussion forums and wikis are becoming increasingly crucial as learners seek chances to cooperate and learn from one another.
Gamification: Gamification approaches are being applied to make learning more exciting and motivating.
Mobile learning: Mobile learning is becoming more popular as students access instructional resources on smartphones and tablets.
Top Seven LMS Platforms for 2024 and Beyond
With so many LMS systems available, selecting the best one for your purposes can be challenging. The following are seven of the best LMS platforms for 2024 and beyond:
Newrow Suite LMS
Canvas LMS
Adobe Captivate LMS
Cornerstone LMS
Brightspace LMS
LearnUpon LMS
TalentLMS
These platforms incorporate a range of features and capabilities to fulfill the demands of all sizes of organizations and educational institutions. They also provide numerous price alternatives to accommodate your budget.
In the following section, we will go over each of these LMS systems in detail, highlighting their essential features and benefits. So, read on to explore the future of LMSs and provide a detailed overview of the top seven LMS platforms for your needs.
Newrow Suite LMS
Newrow, currently known as Kaltura, is a cloud-based learning management system (LMS) that is tailored to the specific requirements of corporate training departments. The software includes personalized branding as well as advanced features such as gamification, analytics and reporting, an extensive content library, and more.
The virtual classroom feature of Newrow LMS enables live, interactive online classes that closely resemble the experience of an in-person session. This feature has the potential to boost learner engagement.
Core Specs
Content Library
Customizable Branding
Gamification
Analytics And Reporting
Learning Video Portal
Pricing
Starting price for Newrow Suite LMS software: $19/month (billed annually)
Pros And Cons
Pros
Intuitive course authoring tools
Robust reporting and analytics
Interactive features and collaboration tools
Cons
Steep learning curve
Occasional technical glitches
Canvas LMS
Instructure's Canvas LMS is a flexible learning management system (LMS). It simplifies digital learning for both teachers and students. The software offers a comprehensive toolset and capabilities for developing, managing, and delivering engaging online courses.
Canvas LMS also provides material for various institutions, including K-12 schools, colleges, and businesses, working in hybrid or wholly virtual settings.
Core Specs
Course Management
Assignment And Grading
Communication And Collaboration
Analytics And Reporting
Customization And Branding
Pricing
Starting price for Canvas LMS software: NA
Get in touch with our support team representatives to get a detailed Canvas LMS pricing structure.
Pros And Cons
Pros
Full mobile customization
Learner-friendly communication
Multiple enterprise types
Cons
Long startup time
Occasionally laggy
Adobe Captivate LMS
Adobe Captivate LMS software is a versatile learning management system that allows employees to receive individualized training. Users can track learning content with the software, guaranteeing a consistent learning experience.
Adobe Captivate learning manager's excellent authoring tool capabilities are one of its distinguishing characteristics. The software enables users to quickly produce a variety of eLearning content.
Core Specs
Social Learning
Slides
Interactive Videos
Gamification
Course Authoring
Pricing
Starting price for Adobe Captivate LMS software: $33.99/month
Pros And Cons
Pros
Instructor-led training
Create courses easily
Powerful authoring tools
Cons
Occasional software lags
Customer support staff needs training
Cornerstone LMS
Cornerstone Learning Management Systems is a comprehensive corporate learning platform. The software assists businesses in developing, organizing, and tracking professional training programs on a large scale.
To create engaging experiences for your workers, customers, and partners, Cornerstone LMS software integrates e-learning and deep compliance with skill-based content and AI (Artificial Intelligence) subscriptions. 
Core Specs
Core HR Platform
Analytics and Reporting
Extended Enterprise Training
Content Creation
Performance Management
Pricing
Starting price for Cornerstone LMS software: NA
The vendor has not made any pricing information for cornerstone LMS software available on their website or any official sites. You can, however, request a customized estimate based on your requirements by contacting our support team.
Pros And Cons
Pros
Comprehensive feature set
Seamless third-party integrations
Free trial to help decision-making
Cons
No free plan
Challenging to use the evaluation tool
Brightspace LMS
Brightspace LMS by D2L is a cloud-based learning management system for businesses, K-12 schools, and higher education institutions. It comprises three collaborative platforms: a learning environment, a learning repository, and an ePortfolio.
Brightspace LMS offers a comprehensive corporate training solution. The software allows trainers to develop interactive learning environments, hold virtual courses and meetings, set tests, grade learner contributions, and monitor performance.
Core Specs
Accessible Learning Resources
Personalized Learning Experience
Intuitive Assessment and Evaluation
Customized Learning Goals
Engaging Course Content
Pricing
Starting price for Brightspace LMS software: NA
Get in touch with our support team to get more information regarding Brightspace cost structure.
Pros And Cons
Pros
Various integration options
API access availability
Excellent online learning resource
Cons
Difficult to navigate
Slow loading times
LearnUpon LMS
LearnUpon is a comprehensive web-based learning management system (LMS) that enables enterprises to provide and manage e-learning courses and training programs. This system provides a consolidated platform for content production, distribution, tracking, and reporting, guaranteeing continuous management of learner progress and training results.
This versatile platform also allows for the production and distribution of a diverse range of learning content, such as quizzes, surveys, certifications, and much more.
Core Specs
Course Creation
Customized Portal
Training Delivery
User Management
Learner Engagement
Pricing
Starting price for LearnUpon LMS software: NA
The vendor does not share the pricing details for LearnUpon LMS software. To get a customized quote, please reach out to our support team.
Pros And Cons
Pros
Extremely user-friendly
Highly customizable
Robust reporting module
Cons
Slightly costly for smaller organizations
It can sometimes be confusing to navigate
TalentLMS
TalentLMS is a leading learning management system (LMS) software used to construct professional training programs and e-learning solutions. Its extensive feature set and simple interface make it simple for users to build and deliver online courses, monitor student progress, track performance, and produce reports.
TalentLMS is praised for its rapid setup and efficient capabilities, which allow users to develop new courses and training programs with a few clicks.
Core Specs
Onboarding Training
Compliance Training
Customer Support Training
Marketing Training
Gamification
Pricing
Starting price for TalentLMS software: $69/month (for 6-40 users)
Pros And Cons
Pros
Clean and easily customizable interface
Real-time access to the content
Flexible pricing for all budgets and company sizes
Cons
Customer support needs improvements
Limited course setup options
Conclusive Thoughts
LMS software solutions have a promising future. LMS systems will continue to improve and offer new features and capabilities to satisfy the demands of learners and companies alike as the world of work evolves and learning needs change.
It is critical to examine your individual goals and budget while selecting an LMS. The top seven LMS platforms investigated in this article provide a diverse set of features and capabilities to fulfill the requirements of businesses of all sizes.
Whatever LMS platform you pick, be sure it has the capabilities and functionality you need to provide successful learning to your learners. By investing in a contemporary LMS, you can position yourself for your future success.