Coworking Space: HOK's WorkPlace practice, in partnership with the UK Chapter of CoreNet Global has released. A new report that studies the impact of Coworking from a corporate real estate (CRE) perspective.
Coworking is one of the fastest-growing sectors of the commercial real estate market. The new report, Coworking: A Corporate Real Estate Perspective. Examines the drivers of coworking from the demand and supply sides. The industry risks and implications for corporate real estate. As well as information about the owners, coworkers, and centers.
Impact of CoWorking in Corporate Real Estate.
The HOK/CoreNet Global Coworking report highlights the ideas. That changing business priorities. And the need to attract talented people, reduce real estate costs, improve speed to innovation. Increase productivity is driving corporations to consider different workplace models. Including on- and off-site coworking.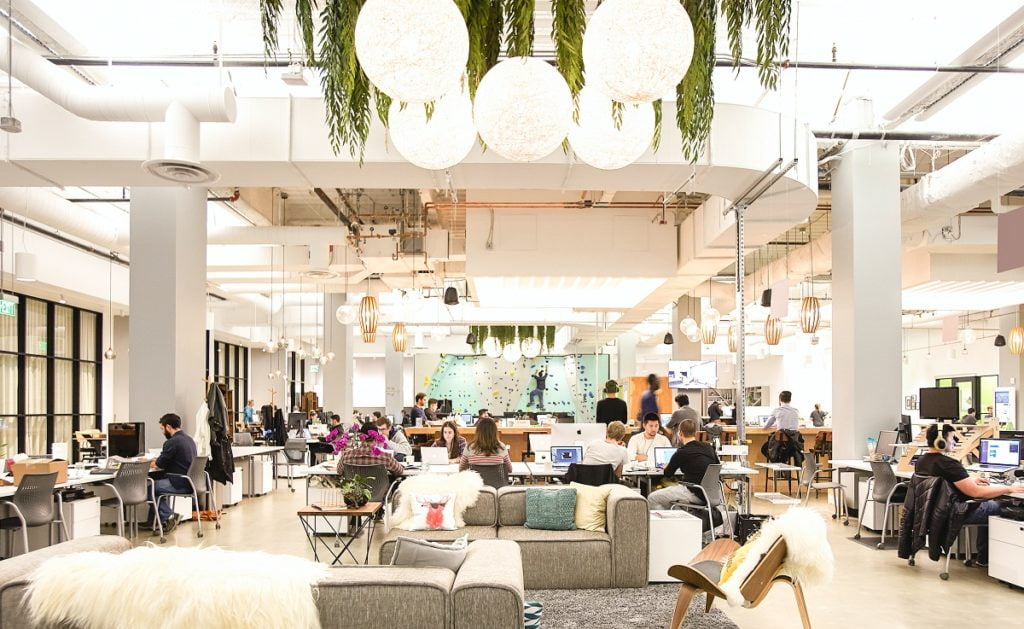 Although coworking space makes up less than one percent of the world's office space. It represents an important workforce trend and highlights the strong desire of today's employees. To have workplace choices, community, and flexibility," said Kay Sargent. ASID, IIDA, CID, LEED AP, MCR.w, director of WorkPlace at HOK.
"Driven by demand factors, including next-generation work styles. And the desire for real estate portfolio agility. C-suite executives from human resources, operations, real estate, and finance are increasingly interest. In how coworking affects their work practices and policies. And how they need to design, manage and operate their workplaces.
Key findings from the Impact of Coworking report also include:
The coworking concept is evolving to comprise accelerators, incubators and maker spaces. It reaches beyond office settings to include college campuses, retail locations, hotels, and libraries.
The impact of coworking spaces on CRE. Includes providing new uses for older properties and for underutilized spaces in existing facilities.
The lowest engagement levels are find in employees who never work remotely. The highest employee engagement levels occur among those who work remotely less than 20% of the time.
Many coworking centers emerged in a time of high unemployment and low rents. But 54% of the coworkers will leave a specific location in less than a year. The high turnover and tenant instability challenge coworking centers to maintain profitability. They are vulnerable to market conditions and new competitors.
Impact of Coworking Benefits.
"For corporate occupiers and other real estate professionals. The coworking trend is worth watching, exploring and testing." Said Curtis Knapp, director of consulting for HOK.
"It is a way to add flexibility to the portfolio. And help match the ebb and flow of supply and demand. It can be one solution to the many challenges posed by the changing nature of both work and worker."
"Our workplace community is a highly interactive forum. Where ideas, research, and results are develop and share." Add Philip Cohen, president of CoreNet Global's UK Chapter.
"Our aim is to demonstrate how the workplace can influence major business issues. And equip members with the knowledge to bring about change. This report is a testament to our ethos and provides members of our UK Chapter. With valuable industry knowledge on the latest themes and trends."
Ref : annie.hellweg@hok.com.
Know more about Coworking wiki Spaces.
About HOK.
HOK is a global design, architecture, engineering, and planning firm. Through a network of 23 offices worldwide, HOK provides design excellence and innovation. To create places that enrich people's lives and help clients succeed. DesignIntelligence consistently ranks HOK as a leader in sustainable, high-performance design and technology innovation. HOK's WorkPlace practice helps organizations create healthy workplaces. That support their people, embody their brand and are flexible to adapt to changing needs.
About CoreNet Global.
CoreNet Global is the world's leading association for corporate real estate (CRE) and workplace professionals, service providers and economic developers. The Network has active chapters in the EMEA region including Benelux, Central Europe, the Middle East and the United Kingdom. The UK Chapter of CoreNet Global is the second largest worldwide. As the 'Voice of the Occupier' highlights occupancy issues across all property types. Members meet locally, globally and virtually to develop networks, share knowledge, learn and thrive professionally. Benefiting from an extensive program of Chapter events, educational courses, research, annual UK awards and a UK Summit.