When it comes to purchasing a term insurance policy, young and middle-aged people are generally thought of as the target market. This is because they are often seen buying different schemes of term insurance to secure the future and well-being of their children. However, this coverage can also be reversed. When your parents are no longer earning, and start relying on you financially, then it may be a good time to consider buying coverage for yourself. This means one may also purchase a term benefit for their ageing parents to safeguard their future and lifestyle in case of any untoward scenario.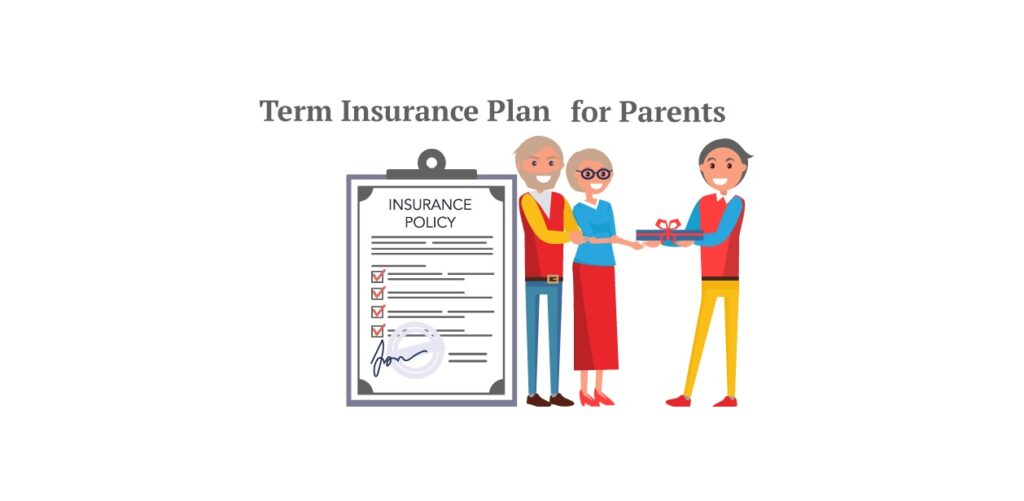 A term plan offers long-term financial security to the close ones of the policyholder in case of their accidental or untimely death. The beneficiary of the policyholder is eligible to claim the sum assured from the insurance company. Likewise, the term policy for parents offers mortality risk coverage and ensures their monetary security. This article provides a comprehensive discussion regarding the benefits of term insurance for parents.
Why Is Term Insurance Necessary For Your Parents?
Term insurance acts like a safety net. When people age, they may need additional expenses that are usually taken care of by their children in an Indian middle-income household. However, in the unfortunate absence of their children, they can feel financially unguarded and at the mercy of others. However, term insurance can make them financially independent, and they can live with dignity for the rest of their lives. Let us see how term insurance can safeguard ageing parents, in addition to some other benefits that you can also reap.
Financial Protection- Invest in a term life policy for your parents to safeguard their future. As mentioned, a term plan ensures your parents' financial security in case of an unfortunate event. They can still be able to maintain the usual lifestyle without having to compromise on expenses. Additionally, they will not be financially dependent on others. The payout from the policy will help your ageing parents avoid getting trapped in debt as well.
Tax Benefits- Section 80C deductions are readily available on the premium payments, and that too up to Rs. 1.5 lakh per year. This is another reason why you should invest in a term policy. At the same time, the sum assured is also exempted from taxes under Section 10 (10D) in the hands of your parents.
Monthly Income Options- Some insurance companies offer an option to enable a lump sum payment plus a monthly payout for your parents in case of your untimely demise. This will help them get not only a sizeable amount to invest for the future but also a regular monthly income for a certain period.
Other Benefits- Term insurance plans are very flexible and you have the choice of picking from various available variants.Multiple riders that ensure additional sum assured payout for certain scenarios can be added to your plans. You can select a sizeable sum assured as well as tenure for you policy and the premiums can be paid in monthly, quarterly, half yearly or yearly frequencies.
How Much Term Insurance Coverage Is Required?
The coverage amount depends on several aspects, including income/salary, financial requirements in the future, and existing debts. You can use a term plan calculator to evaluate the premium amount payable for a certain coverage amount. Before purchasing a term plan, you must determine your current financial objectives and responsibilities. Nevertheless, the earlier you start, the better it is for you. You will be able to get a policy at a comparatively lower price if you start early.
Things To Consider When Buying A Term Plan For Parents
Don't buy a plan in haste. Do some homework on our savings and expenses before choosing a term policy. You can be trapped if you do not choose smartly and decisively. These are a few things to be considered before buying a term plan for your parents.
Before choosing an insurance amount, consider your financial status and your family's monetary needs
The most commonly advised guideline for choosing coverage is to set the insured amount at fifteen to twenty times the yearly salary
Compare multiple plans prior to purchasing one to ascertain which delivers the best value
Consider additional riders like critical illness and hospital care that will add greater value to your term insurance plan
The most crucial thing is to let your parents know about your term insurance purchase for them
Our happiness is the only thing that parents ever ask for. So why not make an effort to return the kindness and make sure they are secured? Several companies offer discounts for long-term plans, early buy benefits, and numerous other advantages to those purchasing term life insurance. Finally, choose only reputed insurance providers. Check insurance companies' claim settlement ratios, their overall track record, and market reputation.