A storage system helps organize and store items in a warehouse. It is critical in making your warehouse more efficient and safer for employees and can differ depending on the floor plan, design, and warehouse processes.
Choosing a storage system depends on the nature and weight of the goods you store. A good storage system can help you increase productivity in your company. Many storage systems are in the market today, but some are inappropriate for every warehouse.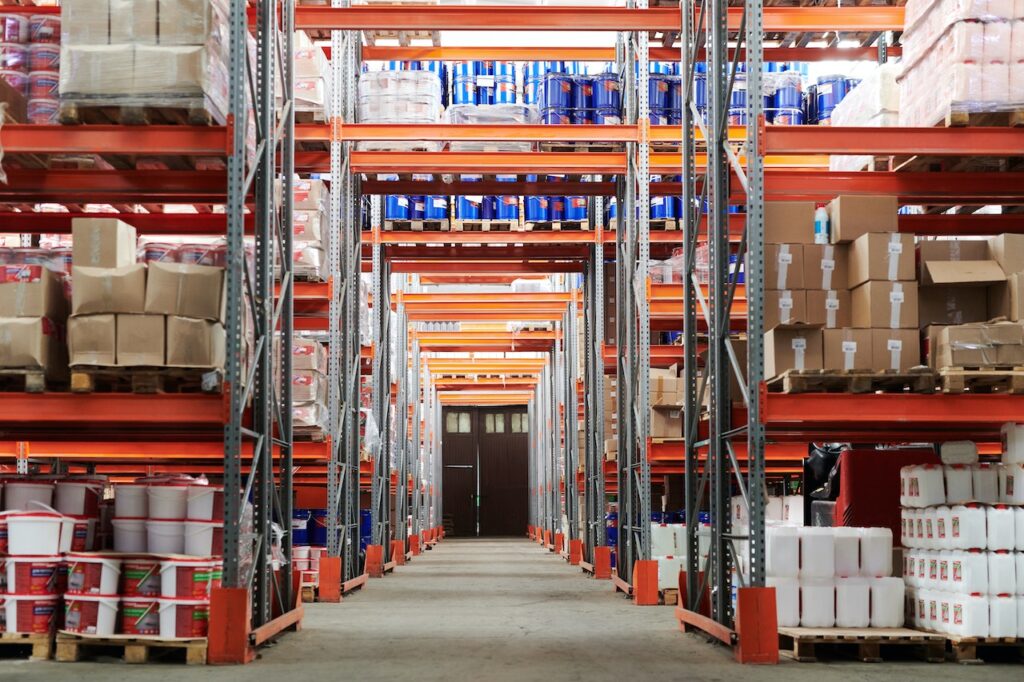 Types Of Warehouse Storage Systems
Below are some of the common types of warehouse storage systems popularly used:
Shuttle Storage Systems
Shuttle storage systems are automated storage solutions for boxes used for speeding up order picking and also to ensure a constant flow of products from the warehouse slots to the pick stations.
Most advantageous for companies housing small products in a limited space, shuttle storage systems facilitate consolidation and sequencing of prepared orders and supply of materials to production lines. Companies get to ensure maximum speed in goods entry and exit operations, high number of movements per hour and a modular and scalable system, expandable as per logistical needs.
Pallet Racking
The largest and busiest warehouses use pallet racking as the main storage system, which uses large boxes to store inventory. Manufacturers use wood, plastic, or metal to make pallet racks. Pallet racks allow the use of automated machines such as forklifts or stacker cranes.
Some sub-categories of racking systems include carton-flow racking, coil racking, drive-through racking, double-deep racking, cantilever racking, drive-in racking, drive-through racking and many others.
Some of the benefits of pallet racking include the following:
Equipped with slant-back supporting frames to ensure the safety of stored goods.
Use vertical storage spaces to optimize storage.
Expandable and scalable according to the business requirements.
Static Shelving
Stationary shelves are storage mechanisms designed to stay in one place, capable of holding lightweight inventory. These shelves store inventory that requires regular replacement.
Static shelving is useful for inventory that needs to be manually picked, sorted, or stacked. It is incompatible with forklifts. If you have a large inventory, you can use a wide-span shelving system because it can hold more weight and be usable in higher-elevation configurations.
The advantages of static shelving include the following:
Storing lightweight inventories
Storing valuable goods that require special attention
Multi-tier Shelving
Multi-tier racking is a system made to take advantage of vertical space and is an excellent option for large stockpiles of items with small unit sizes. Multi-tier racking and shelving choices are adaptable and allow you to add or remove tiers based on your current demands because no warehouse is large enough to hold everything. Multi-tier shelving may not be best suited for storing perishable goods.
Multi-tier racking typically refers to relatively light objects selected and organized by hand. To get the most out of this warehouse storage system, strategically arrange each tier and store products, mindful of weight restrictions and ceiling-to-rack height compliance criteria.
Multi-tier shelving is ideal for the following situations:
Large quantities of inventory with small, individual unit sizes
Small hardware items screws, bolts, nuts, and switches
Lightweight items like electronics, small household appliances, and clothes
Mobile Shelving
A mobile shelving system is an adjustable storage system that manually holds handpicked items. The significant difference between this system and static shelving is that mobile shelving can hold more items in less space. By mounting shelves or cabinets on carriage and rail systems, mobility shelving eliminates fixed aisles and boosts efficiency by making goods more accessible even in small spaces.
There are two types of mobile shelving, they include:
1. Electrical Shelves – You can operate them using a push-button controller at the end of the shelves.
2. Mechanical Shelves – These are operated by moving and rotating a hand wheel in front of the system. When you rotate the wheel, the shelves will move on the tracks to the desired spots.
Mezzanine Flooring
The most economical option to build one or more stories inside a warehouse is with mezzanine flooring. Strong metal staircases connect each mezzanine floor to simplify loading and unloading cargo. The best thing about mezzanine levels is that it is easy to assemble and disassemble.
You can customize mezzanine floors to maximize the storage space. They come in various colors and styles and are one of the most expensive storage systems in the market that you can choose for your warehouse. It offers the potential to customize lighting, conveyors, and lift systems.
Storage systems are important for any warehouse. There are many things to consider before choosing a storage system. They include the size of the warehouse, the layout of the warehouse, and the nature of the inventory. If you want to install a storage system for your warehouse, consider buying from Godrej. We have the best-quality storage systems in India at affordable prices.