Career Selection Guide between Interior Designer vs Decorator. About when you are a person related to creative field and as a general reader of architectural and designing field. We need to know a basic difference of term.
Generally we are use Interior Designer and Interior Decorator concept. And terminology interchangeable. They have many similarities, int.design and int.decorating have a few differences: some subtle, some significant.
Career Selection Guide between Interior Designer vs Decorator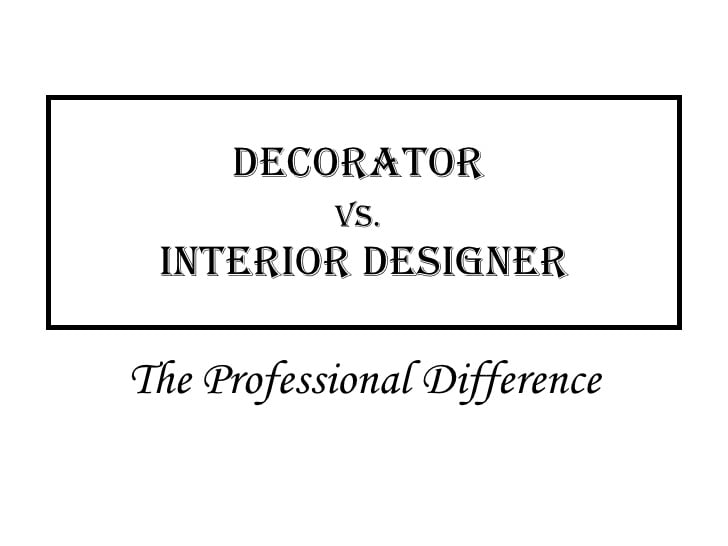 But actually there is a basic and important difference between Int. Designer and Int. Decorator. Here we are discussing some of the basic points. That highlight difference of Interior Designer vs Decorator.
Interior Designer
Read Why is an architect expensive? In return of their consultancy fees!
"Int. Designer" is someone who can complete an interior design project from start to finish. Including preparing construction documents for bidding and permitting. as well as supervising the construction and installation of the work.
Typically an interior designer has a lot of education and experience. as well as possibly having sat for one or more examinations in order to test their competency and to attain state recognition of their profession.
If you're looking to get into interior design , create a portfolio site to demonstrate the kind of work you can do. Before creating you own , if you need inspiration look at other interior design portfolio examples.
Designers are comfortable with spatial planning. and can help design and renovate interiors. right from drawing up the initial floor plans to placing the last decorative accent.
They don't just enhance the look, they enhance the function of a room.
Interior designers often work closely with architects and contractors to help achieve the look the client desires. whether that client is designing a residential home, an office, a hotel, or any other interior space.
It is important to note that there is a big difference between an Interior Designer vs Decorator.
An Interior Designer can play the role of a decorator as well as having a thorough knowledge of construction, project management, documentation and the Codes and Standards that relate to these areas of expertise.
You may like to see: Amazing Desirable Bedroom, Most Desirable Bath space Forever.
Interior Decorator
Int. decorators don't need to have formal training or schooling. because decorators focus primarily on aesthetics.
Decorators don't generally take part in renovations or structural planning. They come in after that part is complete and focus on the surface look of the space.
Even though no schooling is required to become an interior decorator. there are many programs and courses available. These courses often focus on color and fabric, room layouts, space planning, furniture styles and more.
Decorators are great for coming into a room and whipping it into shape.
They can help clients decide on a style, choose a color scheme, purchase furniture, and accessorize. They're often brought in to spruce up an existing space that needs to be updated or redone.
Decorators don't generally work with any contractors or architects. since structural work is usually complete before they come on board. They do however sometimes work with furniture makers, upholsterers, and other industry professionals.
An interior decorator isn't involved with the design of the building or the layout of the interior space. He is focused entirely on the furniture, colors, textiles and textures of a room.
His job is to capture the personality and style of the residents and express it in their space. A decorator doesn't need any official training to adopt the title.
Interior decorators are aesthetic specialists, and are likely to have diploma-level qualifications in their field.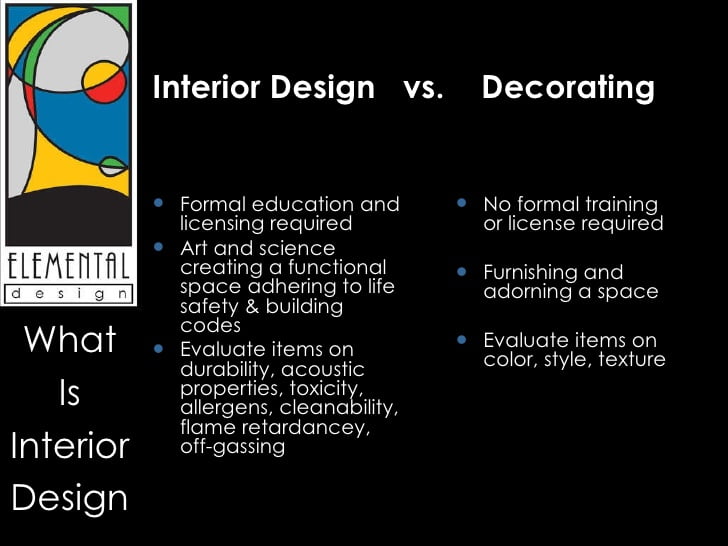 So, friends this is all about Interior Designer vs Decorator and their characteristics, functions, and role to play. Hope you enjoy it. Have to say something please put your thought in bellow here.