Best Kitchen Flooring Trends that Can Make Your Design Out of Box is for all those, planning a kitchen remodel? Do things right from the start. The first step should always be research. It's important to analyze all the options before making a decision. Also, be organized. Focus on one thing at a time.
For example, what type of flooring do you prefer? Tiles sound nice but they're a safe choice. Take a look at all the other options and make a list of pros and cons.
Latest Kitchen Flooring Trends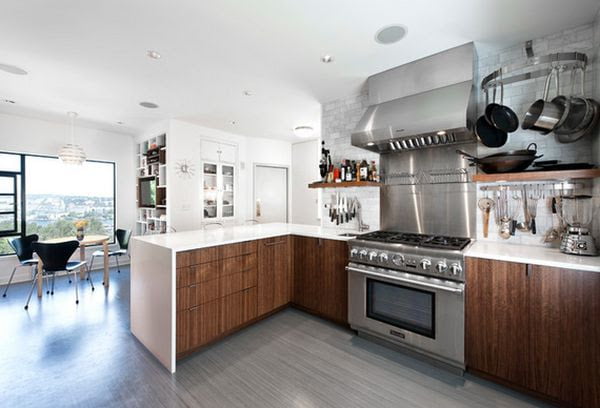 Lets have a look out what is treading in kitchen flooring in latest time.
Ceramic Tiles Trends:
Underfloor heating can partially solve the inconveniences of using ceramic tiles.
Ceramic tiles are a great option for any style and budget. Extremely versatile, they let you pick your favorite color, size, shape and pattern and fully customize the way your kitchen floor looks like.
The customization options are limitless. Mix and match or go for a simple look
Pros: They are very resilient to wear and tear, easy to clean and budget-friendly.
Cons: The tiles can crack as the floor settles and they are tough so any dish dropped on it will shatter. Also, they are also and slippery so you'll need to use a rug.
Brick Flooring Trends:
Brick flooring can give the kitchen flooring trends an industrial look but it also has a rustic feel
Although tough-looking, bricks can create a very welcoming, warm and cozy look for your kitchen. Use brick flooring is you like the rusticity of the material and the earthy tones. There are lots of options for kitchen flooring trends to explore when choosing the color and the pattern that the pieces are laid in.
Consider using brick on the walls as well for cohesiveness
Pros: It has a welcoming appeal and can make the kitchen flooring trends feel very inviting and cozy, transforming it into a social setting.
Cons: Although the material itself is inexpensive, the installation costs should not be overlooked. The surface also needs to be sealed after installation and then periodically in order to protect it from stains. Bricks as a kitchen flooring trends are never 100% level so consider adding a cushioned mat to ease the strain on your legs and back.
Laminate Flooring Trends:
Laminate flooring comes in a variety of colors and finishes and offers great versatility
Designed to imitate the look of wood or tile, laminate flooring is composed of several layers of engineered material and is resistant to scratches and scuffs. It's a great option for those of you who have small children or pets.
Although it may look like wood from a distance, the texture and depth are not the same
Pros: Required very little maintenance, easy to install and costs are moderate.
Cons: Can't be refinished so it gets damaged or starts to show its age it needs to be replaced completely.
Reclaimed Wood Flooring Trends:
Use reclaimed wood in a farmhouse kitchen flooring trends and it will fit perfectly
Reclaimed wood flooring is the perfect option for those of you who prefer an eco-friendly approach. The wood usually comes from old buildings and is recycled, refined and refinished.
Give a contemporary kitchen character with reclaimed wood flooring
Pros: Has lots of character and a story behind it, warms up the home, has a rich patina and the wood has been dried naturally and is more stable.
Cons: Often more expensive than other types of flooring, there's distress in the boards, saw marks, nail holes and dents.
Solid Wood Trends:
You can't match the warmth and unique texture of solid wood
Solid wood is a classic and the best thing about it is that it develops a patina with time so it can't look bad either way. Depending on the shade you prefer and the ambiance you want to create in the kitchen flooring trends, find the wood that's right for you.
Very versatile and always stylish, solid wood flooring is perfect for any style
Pros: Wood never goes out of style, it can be sanded and refinished, has a unique texture and a warm and solid look, develops a patina with time and use.
Cons: It can get damaged by spills, it dents and scratches easily, needs periodic refinishing.
Concrete Flooring Trends:
Whether you want it for its industrial-chic look or low cost, concrete flooring if a great option
Because concrete is a durable and resilient material, it's a perfect choice for utilitarian areas such as the kitchen. Usually there's already a concrete floor installed beneath and existing surface in the kitchen flooring trends so all you have to do is uncover it and bring it back to life.
Add warmth to the kitchen with an area rug. It also reduces the strain on your back
Pros: Very cheap to install, low maintenance, impervious to almost all stains and to water damage, it can be stained, stamped, scored or etched for a unique look.
Cons: Stays cool even during summer, requires professional installation, unforgiving on feet, needs sealing in high-traffic areas.
Cork Flooring Trends:
Cork flooring has an unmistakable texture and feel which gives the room a cozy look
An eco-friendly option for those who prefer a sustainable design, cork flooring also offers the kitchen a warm look. It has a unique texture and pattern and it also comes in several colors.
A variety of colors and patterns are now available so there's room for customization
Pros: Very comfortable, resilient, flexible, absorbs shocks and sound, holds warmth, resistant to mold, mildew, rot and pests.
Cons: Needs constant maintenance, needs to be resealed regularly, can get scars, can fade over time.
Vinyl/ Linoleum flooring:
Because of the variety of colors and the versatility, you can create your own patters
Although the two are often confused and considered to be one and the same thing, they are actually two different things. However, they share in common the retro look and the versatility. Nowadays they come in a wide range of sophisticated designs and finishes and they can mimic stone, wood, tile, etc.
Vinyl and linoleum can imitate other materials quite well
Very comfortable underfoot, this type of flooring is a very nice option for the kitchen flooring trends.
Pros: Inexpensive, easy to patch if it gets damaged, comfortable, comes in a large variety of colors, durable, low-maintenance and very versatile.
Cons: It can wear and tear over time, can fade in strong sunlight, shorter life span than other materials.
Read this also,
So, this is all about Best Kitchen Flooring Trends that Can Make Your Design Out of Box, and how to incorporate and explore with your design is up to you 😉