Feeding the planet – Energy for life at Latvia pavilion Milan expo is represents idea that sustainable development is reached through healthy ecosystem, where all material and immaterial values are in balance. The open space of Latvia pavilion Milan expo- space Under Branches – is the place, where everyone can feel energy of singing Latvian ecosystem. In the space Under Branches visitors can enjoy the journey of light, sound and smell, and within that emotional experience one can get to know Latvia.
The Latvian government has announced that their country pavilion will resemble a giant oak tree. Visitors to the Universal Expo will be welcomed under the giant canopy of the oak in order to experience the Latvian countryside.
Feeding the planet – Energy for life at Latvia pavilion Milan expo
The Latvia pavilion Milan expo, designed by Sia MADE arhitekti, Rolands Pēterkops and Sia McCann Riga, is intended to resemble a local ecosystem that stimulates all the senses:
Where the physical structure and architecture stimulates the sense of sight, the sounds of birds and nature the sense of hearing, while a special 'slowfood' restaurant will delight taste with local delicacies and a another area where pleasant smells like freshly baked bread are released into the air to stimulate the sense of smell.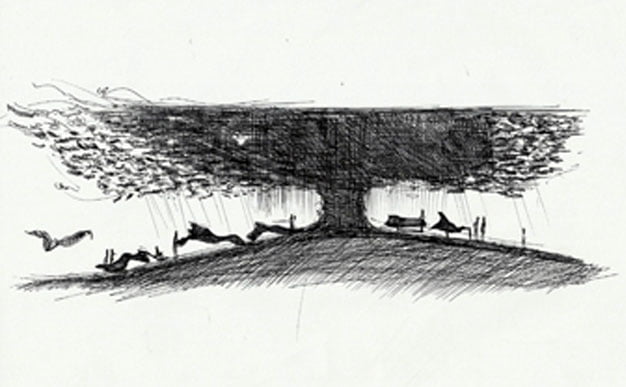 With participation in the Milan event next year, through events and exhibitions to be held in the Latvia pavilion Milan expo, the Latvian government intends to increase awareness and build a positive country brand on issues like sustainability, innovation, culture, biodiversity as well as strengthen international ties.
The Latvia pavilion Milan expo itself is to create a positive impression of Latvia's nature for visitors during the Milan Expo to be held from May 1 through to October 31 2015 where 'Visitors of the exhibition will be showered with our people's knowledge of nature, culture, food and manufacturing, tourism and business environment in Latvia today' organizers say.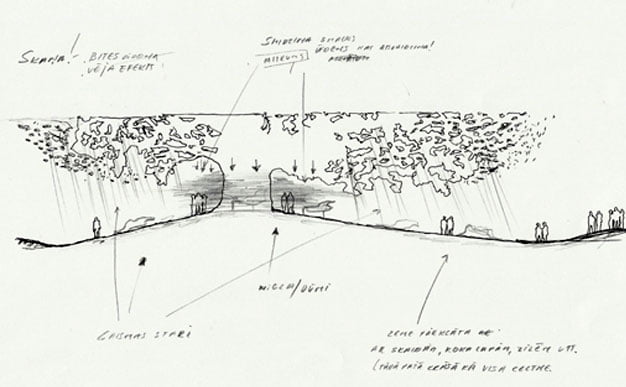 Project fact file :
Expo pavilion of Latvia in Milan 2015, IT, international competition, 1st prize, 2013, ongoing
Concept and architecture — MADE arhitekti, MAREUNROL'S
Producers — Positivus Event
Artists — Sigvards Kļava, Rolands Pēterkops (MAREUNROL'S), Voldemārs Johansons, Roberts Rubīns, Anda Poikāne, Dainis Pundurs
Visual identity — Design agency 'Brandbox', branch of McCann WorldGroup Riga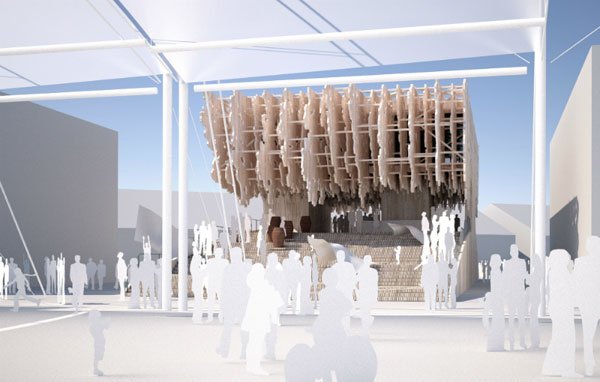 About the Latvia pavilion Milan expo design concept and development of functionality.
The space Under Branches is the main part of exhibition. Towards the main Expo street Decumanus, the base of Under Branches space is made of steps and slopes, freely accessible for everybody, including wheelchair users and visitors with strollers.
In the center of Under Branches space there is an information desk and a kiosk for a serving of slow food. Towards Cascina Triulza the Under Branches space forms the amphitheater, which serves as a seating place during concerts and other events.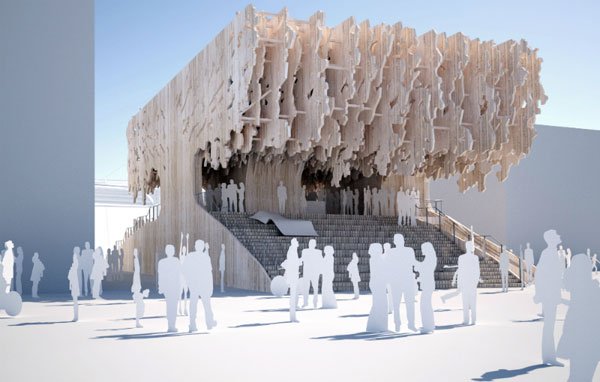 Within the Roots there are located kitchen, service rooms, store rooms, changing rooms and closed exhibition space. The entrance to the Roots is planned from Cascina Triulza, next to the amphitheater of the Under Branches space. The exit from exhibition space is planned to the side street.
Within the Leafage there is located conference center and office space. The Leafage level can be accessible through two stairs and an elevator.
The stairs together with adjacent elevator is planned for public and invited guests, while other staircase is planned for personnel.
During emergency the exit is organized using both stairs. One of the stairs has a smoke proof condition and there is safe place for wheelchair users.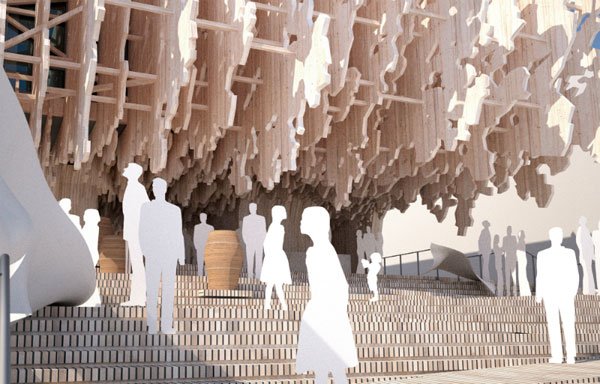 The construction of Latvia pavilion Milan expo is planned using wooden materials as much as possible, which includes cross laminated timber (CLT), plywood, massive wood and insulation of wood fiber.
The main frame of construction is planned from steel, which is upheld on the concrete basement plate, in order to ensure rational, easy build able and safe construction.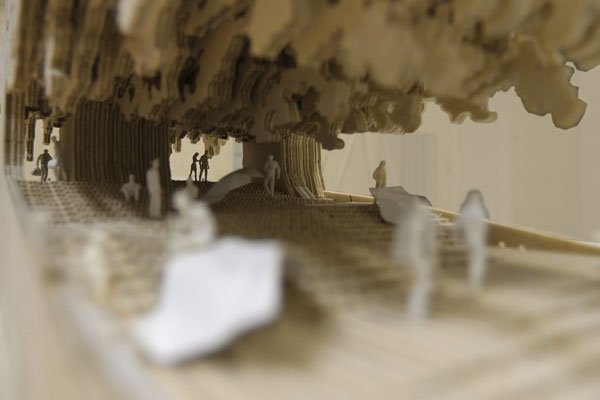 Latvia's aim is to show our own unique ecosystem and share our experience and knowledge about organic food and an intact natural environment, presenting Latvia as a country 'Eco by default'.
This will be the second time for Latvia in the World Expo, allowing us to continue to express our creativity, ability to attract business perspectives and show our developing economic capacities.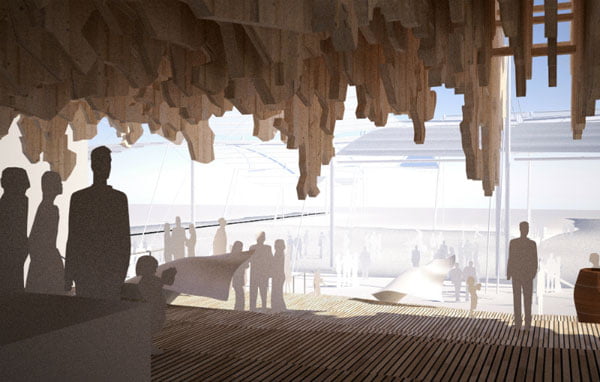 A large oak tree will be the foundation for Latvia's pavilion, serving as a place to witness the natural environment of Latvia and symbolizing the most important tree in Latvian folklore.
Regular exposition of the pavilion, created as an adventurous trip for all five senses of the human being, will allow visitors to "charge" the ecosystem of Latvia with their recorded heartbeats, experience aesthetic architectural illustrations, listen to wonderful sound compositions of Latvia's nature, have a taste of Latvian slowfood and enjoy the most typical fragrances of Latvian life – freshly baked bread, wood and natural environment.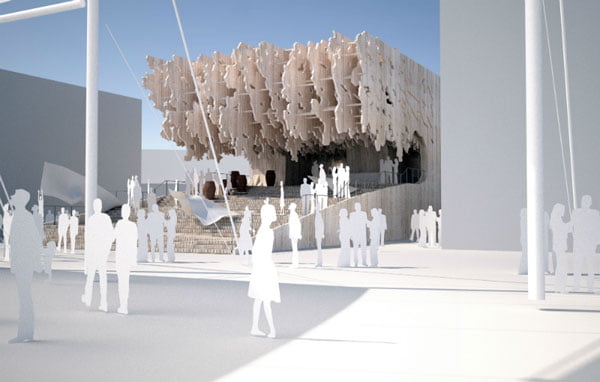 Furthermore, modern technology will 'shower' visitors with information about Latvia, its tourism and business environment.
Natural and healthy nutrition, ecologic products and materials have been an integral part of Latvian green lifestyle. The World Expo 2015 in Milan is a chance to showcase once more the traditions of living in harmony with nature that Latvians have kept alive for centuries.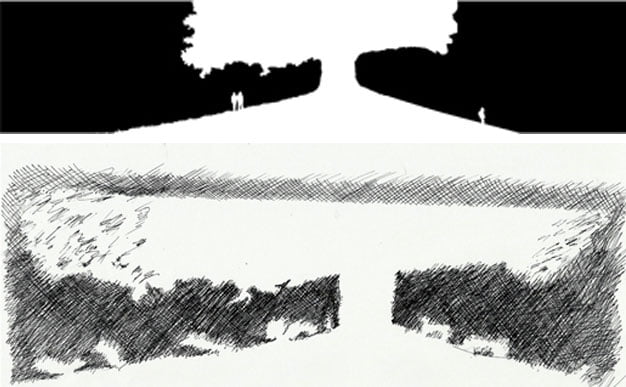 So, friends this is all about Feeding the planet – Energy for life at Latvia pavilion Milan expo.