Best Architecture Colleges in India, a curious and interesting searchable agenda, for many parents and newcomers or recently 12th. cleared students. And here, i would like to put some collective top architecture colleges in India's list for them. House is one among the most important requirements of our existence. From ancient times, architecture has been playing an integral role in the lives of human beings. Many historical societies is still remembered and studied, following the structures left behind. The work of an architect affects our daily lives in many ways. With growing complexity, population, environmental concerns, architecture is emerging as a bright career in various fields which are as follows.
Top Architecture Colleges In India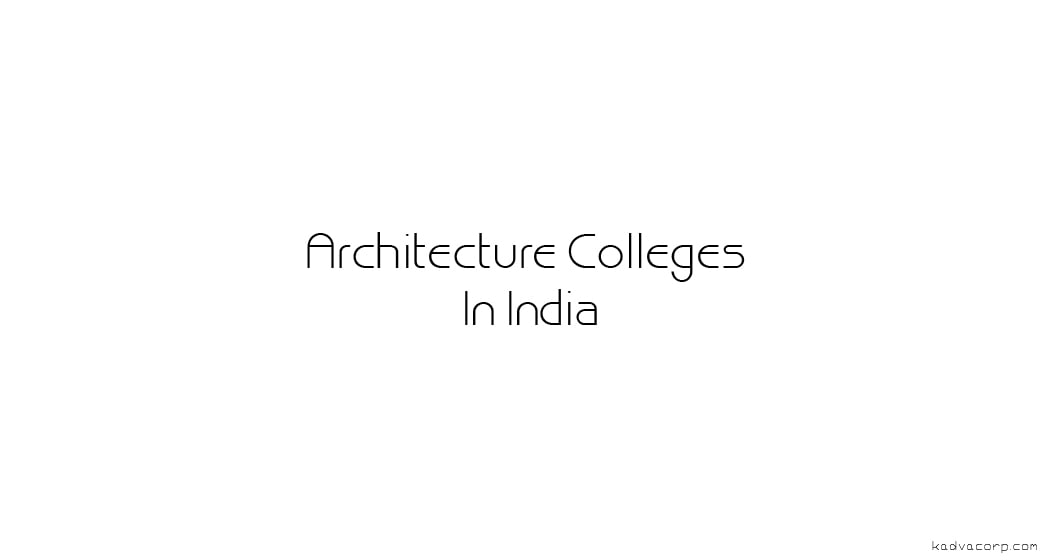 Here is a list of some of the finest architecture colleges in India, which would help you in choosing the top most and best architecture colleges in india.
School of Planning & Architecture, New Delhi
Address: 4-Block-B, Indraprastha Estate, New Delhi – 110002
Phone: 011 2370 2376
Website: www.spa.ac.in
Centre for Environmental Planning and Technology University, Ahmedabad
Address: 120, Feet Ring Rd, University Area, Amdavad, Gujarat 380009
Phone: 079 2630 2452
Website: www.cept.ac.in
Faculty of Architecture M. S. University of Baroda
Address: D.N.Hall Campus, Pratapgunj VADODARA -390 002 (Gujarat)
Tel (O): 0265-2788814, 2434188, 2423898, Fax: 0265-2423898, 2785508, 2654452,
E-Mail: inmsuarchsrr@gmail.com, archmsu01@yahoo.com
Address: Post Technology, Paschim Medinipur, Kharagpur, West Bengal 721302
Phone: 03222 255 221
Website: www.iitkgp.ac.in
Sir JJ College of Architecture, Mumbai
Address: 78/3, Dadabhai Naoroji Rd, Chhatrapati Shivaji Terminus Area, Fort, Mumbai, Maharashtra 400001
Phone: 022 2262 1649
Website: www.sirjjarchitecture.org
Birla Institute of Technology, Mesra
Address: BIT Mersra Road, Mesra, Ranchi, Jharkhand 835215
Phone: 0651 227 5444
Website: www.bitmesra.ac.in
Jadavpur University, Kolkata
Address: Plot No. 8, Salt Lake Bypass, LB Block, Sector III, Salt Lake City, Kolkata, West Bengal 700098
Phone: 033 2335 5215
Website: www.jaduniv.edu.in
Chandigarh College of Architecture, Chandigarh
Address: Sector 12, Chandigarh – 160012
Phone: 0172 274 0685
Website: cca.nic.in
Jamia Millia Islamia, New Delhi
Address: Jamia Millia Islamia, Jamia Nagar, New Delhi-110025
Phone: 011 2698 1717
Website: www.jmi.ac.in
Department of Architecture, NIT Tiruchirappalli
Address: Tanjore Main Road, National Highway 67, Tiruchirappalli, Tamil Nadu 620015
Phone: 0431 250 0370
Website: www.nitt.edu
Manipal Institute of Technology, Manipal
Address: Manipal-Udupi District, Karnataka-576104
Phone: 91-820-2571060
Website: www.manipal.edu
It is necessary for every student of architecture to to get themselves licensed before becoming architects. The candidates need to qualify at the Architect Registration Examination (ARE). Further, apart from an architecture degree from a recognized school, a three years internship is also required.
In India there are many architecture schools and colleges offering different degree programs depending upon the area of interest of the student. Majority of the architecture institutes are part of the engineering colleges in India.