Why Should I Have An Indoor Doormat?
A doormat will not only help keep your feet and floor clean but can also add a personal touch to your home's style or décor. It can be stylish, soft and impress your guests when they enter your home. You can opt for mats with beautiful designs, unique patterns and different sizes to amp up the style of a space.
Indoor door mats can also be functional. Let's say you spilt something on the floor or something is stuck to your bare feet. You cannot step outdoors to wipe your feet clean nor can you let the dirt be stuck to your feet. The first thing you need to do is clean it, and a doormat exactly does just that.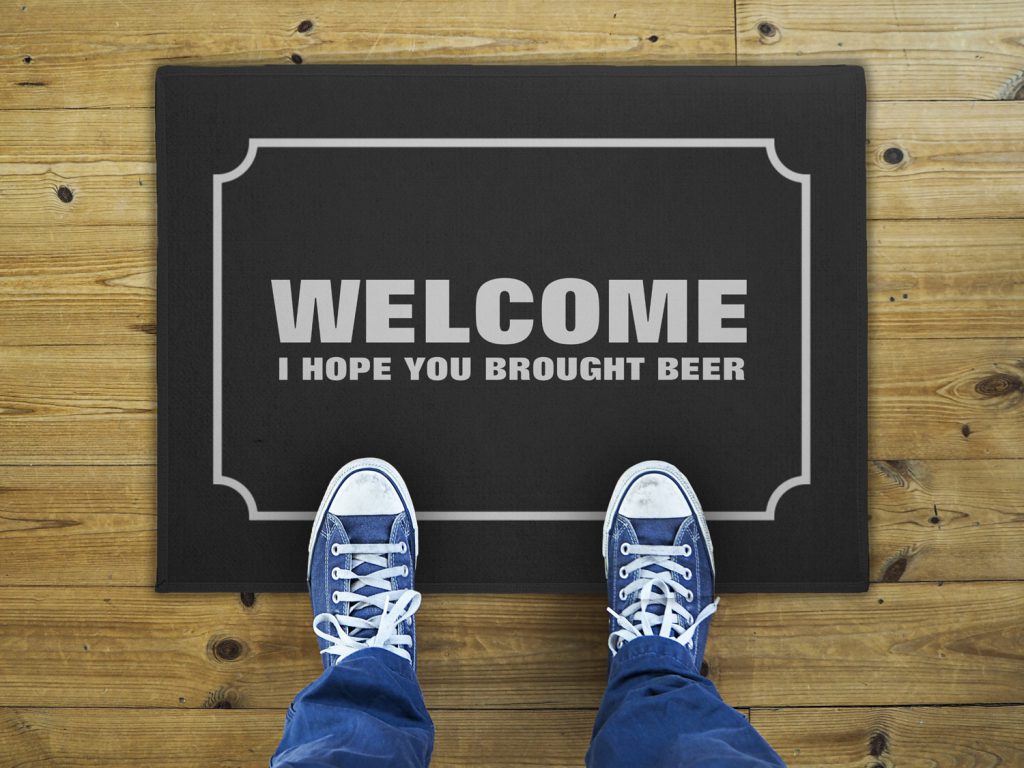 How do I choose an interior door mat?
A doormat can keep your house neat and make the place look beautiful too. There are many to pick from. You can pick –
A mat-based on your flooring. Vinyl flooring will require a different mat from marble flooring.
Functional mats to keep your feet and flooring free from dirt and to prevent germs from entering the apartments to keep you safe.
Attractive patterns to hang on the wall in three different sizes to make it an interesting wall decor.
A polypropylene mat with line patterns can brighten up your room
Fluffy ones can be a nice welcome for bare feet
Mats that blend in or bring-out the colors in your apartment
You can opt for a bright color like blue, yellow or orange
Do not opt for a white mat for the foyer if you live in high pollution area
If the flooring is slippery, opt for a rubber backing
A different shape that can look attractive and make a fashion statement
If you have pets, ensure the doormat must be comfortable for the paws
What makes a good doormat?
A great door mat should satisfy the following:
Should ideally come in different sizes and easily fit most doors if you live in a standard sized apartment
Good quality mat that lays flat like a line and does not slide
Durable in all weather conditions
Mild dirt should be easy to clean with mild soap or vacuum.
Deliver great value for money
Improve your home's style and impress guests
Feel nice under bare feet as well as paws
Ensure it matches rest of the decor
Should not leave a track of liquid when used to wipe
Should doormats be inside or outside?
It depends on what type of doormat you are using and where you live. There are indoor door mats as well as mats for outdoors too. The placement is a personal choice.
A soft mat in light colors including white, is generally used indoors. Soft cotton doormats with rubber around the border or rubber backing kind can be used outside bathrooms.
A coir doormat or a wrought iron doormat can be used outdoors to wipe or clean your shoes on, before entering the house. These are rough and hard when compared to the indoor doormats. They help in catching the dirt and debris from shoes and pollution outside. Makes them an excellent pick to avoid messes.
Many of these can be interchangeably used too.
How Should I Keep My Indoor Door Mat Clean?
You can vacuum the door mat on a regular basis to keep all the dirt away. A hand held vacuum is a safer bet. In case of tough stains and grit, apply some mild soap and rinse off the stain. Then hang it under the sun to fully air dry. Opt for gray or darker colors as they will not get dirtied easily.
How big should an indoor doormat be?
It depends on your usage. If its for the foyer or hallway you can pick big sizes, to make a statement. When it comes to other rooms or rest of the apartment, it should be of standard size that can fit most doorways. Measure the doorway you are planning to buy indoor mats for. Some styles can be a few sizes bigger than the doorway while some can be small too. Small sizes fits almost all spots.
Mats measuring more than an inch tend to get caught below doors
No matter what sizes you opt for, pick a doormat that fits your requirement and matches your decor. It has to be thin so that it does not get stuck under the door. Most importantly, it should not slide and should be effective in cleaning the sand, and grime off shoes and boots.
What goes under a doormat?
Generally, many mats are just placed on the floors. If you are using these mats on vinyl flooring, pick a mat with rubber backing or rubber border to prevent it from sliding or slipping; something like a wrought iron or a a non slip mat under the doormat.
How thick should a front door mat be?
It can be thick and fluffy as it is the first thing a person will notice when they enter. However, it should not get in the way of the door when you want to close it.
How long does a doormat last?
A good quality doormat must last you a few years, if maintained well. Many mats used in high traffic areas last just more than a year. Follow manufacturer's instructions to get the best out of your doormats.
Why is it good for a doormat to be rough?
Rough and hard doormats will trap dirt and debris more effectively. They will not give way when you clean your shoes on them regularly. Such variety are generally used around the front door. These cannot be machine washed. You might need a scraping tool or a garden hose to get rid of everything trapped in it.