Know Your Social Media Audience: A Case Study with L.A. FOODIE.
Meet Drew
Drew Hubbard is Owner and Chief Strategist at L.A. FOODIE, a content marketing brand with over 100,000 social followers.
L.A. Foodie is on a mission to showcase the vast and evolving city of Los Angeles through food. But they don't consider themselves food critics. Rather, they support the local food community of Southern California by curating photos, videos, podcasts, and all sorts of great content around the food they love.
Know Your Social Media Audience: A Case Study with L.A. FOODIE
The Challenge
The team at L.A. Foodie is active on their fair share of social media channels, including Facebook, Twitter, Tumblr, and Soundcloud. But right now, their most important channel by far is Instagram.
With 13.6K followers, it's clear they're doing well there. Despite their wide range of audiences, Drew knows that L.A. Foodie is able to engage most deeply with their followers on Instagram.
The only problem was communicating this insight to potential sponsored partners.
The Solution
With SumAll Reports, Drew finally found what he was looking for: a clear, concise representation of just how well L.A. Foodie is doing on Instagram.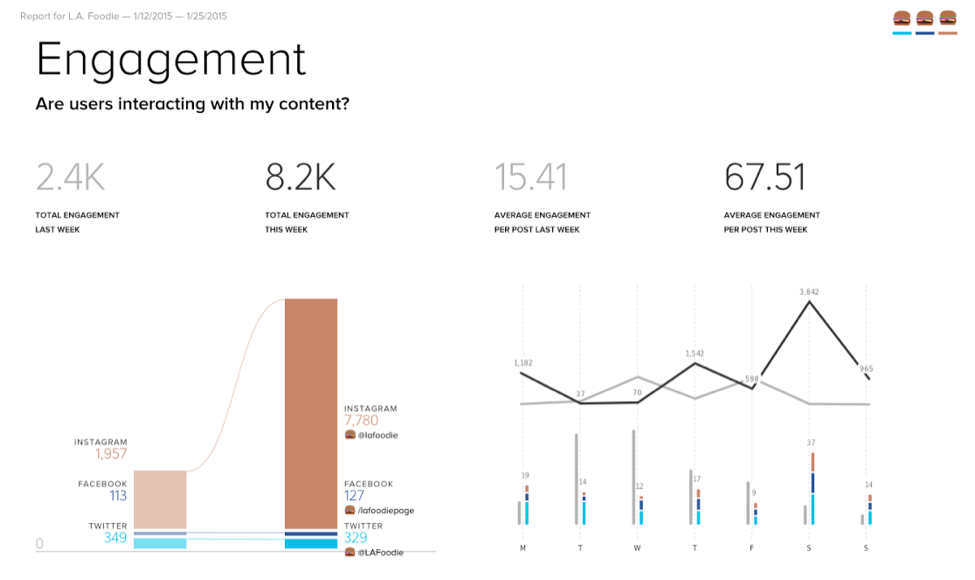 "Before SumAll Reports, we weren't able to reliably quantify our Instagram audience. Now we can show existing and potential clients a more rounded view of L.A. Foodie's total audience."
Drew can now show off L.A. Foodie's impressive Facebook, Twitter, and Instagram audiences all in one, shiny report.