Because graphic and visual design focus on aesthetics, the line between the two disciplines often needs to be clarified, especially when referencing digital designs. There are some distinguishing differences between these two jobs. If you are considering a career in design, understanding the differences well can help you choose the job that piques your interests and best match your career objective. In this article, we intend to compare visual designers and graphic designers and familiarize you with some efficient visual design courses so that you can make an informed decision for a futuristic career!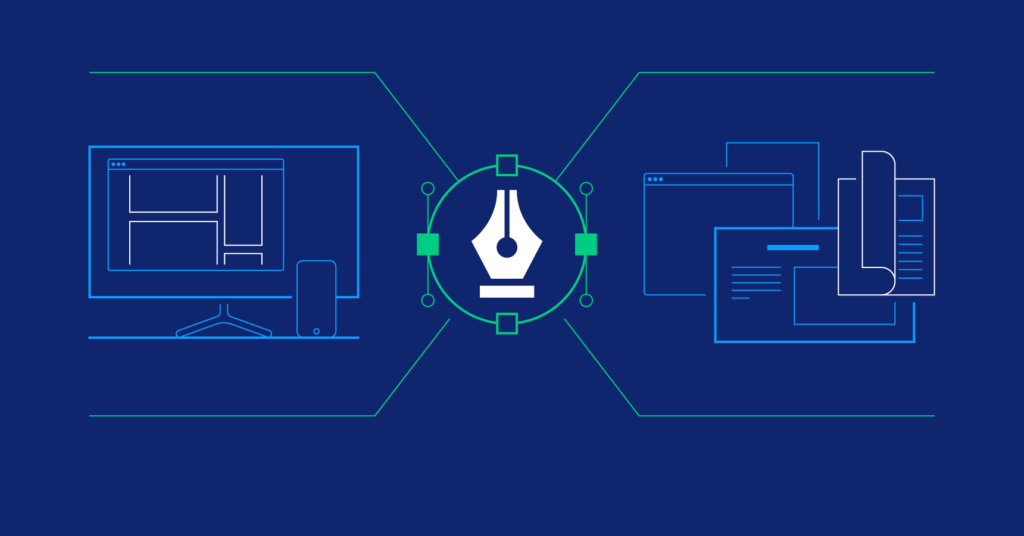 What is Graphic Design?
Graphic design is a creative craft where experts craft visual content to convey messages. They employ visual hierarchy and page layout techniques, using typography and images to cater to users' unique requirements and ensure that the arrangement of elements in interactive designs makes sense, ultimately enhancing the user experience.
What is Visual Design?
Visual design is like the artistic side of digital design. It's all about making things look good. Sometimes, people mix up visual design with visual communication. Visual communication is broader, not just limited to digital design. It's about conveying a message visually. While a visual designer cares about appearance, a visual communication designer prioritizes getting the message across.
How to become a design professional?
Creative technical professionals, or graphic designers, employ their artistic and design prowess to convey and depict narratives. Typically, these individuals require a bachelor's degree in graphic design or a related field. Pursuing a visual design course equips individuals for entry-level graphic design positions and various digital media and web development roles. A standard program offers practical instruction in graphic design tools and software, encompassing essential design principles such as typography, visual communication, and web design.
The visual design courses are offered at various levels, including undergraduate, post-graduate, and online certifications. The online certification programs are gaining momentum as these courses are ideal for designers, researchers, animators, and UI and UX professionals eager to cultivate their visual design and UX proficiency.
Graphic Designer and Visual Designer: The Vague Boundary 
| | | |
| --- | --- | --- |
| Aspect | Graphic Design | Visual Design |
| Scope | Covers a broad range of design applications, including print, digital, branding, and more. | Primarily concerned with digital design and how it appears to users. |
| Elements | Utilizes typography, images, color, layout, and composition to convey information and concepts. | Primarily focuses on the visual aspects, such as layout, color, and aesthetics. |
| User Interaction | May involve user experience (UX) design but extends beyond aesthetics to functional elements. | Emphasizes the look and feel, less concerned with available interaction. |
| Communication | Aims to convey specific messages and information effectively to the target audience. | Prioritizes the visual appeal and may only sometimes have a specific message to convey. |
| Tools | Graphic designers typically use tools such as Indesign, Affinity Photo, Affinity Designer, Illustrator, and Photoshop. | The commonly used tools by visual designers include Sketch, photoshop, adobe XD, and Illustrator |
| Skill Set | Requires a strong understanding of design principles branding, often including UI/UX skills. | Emphasizes a keen eye for aesthetics, color theory, and design software proficiency. |
| Applications | Used in various industries, including advertising, marketing, publishing, and more. | Predominantly applied in digital media, web design, app design, and related fields. |
| Responsibility | Generating concepts and brainstorming ideas for visual communication.Crafting layouts, illustrations, and typography.Choosing and fine-tuning images, colors, and other design components.Working closely with clients or art directors to fulfill precise design needs.Getting designs ready for their final production phase. | Crafting interfaces and interactions for websites, apps, or digital products.Ensuring the visual style and brand identity stay consistent on all platforms.Building wireframes, prototypes, and mockups to showcase our design ideas.Working closely with our UX buddies, developers, and the rest of the team.Infusing user-centered design principles to make things both easy to use and easy on the eyes. |
| Goal: | Balances aesthetics with functionality to achieve effective communication. Graphic designers are all about crafting visual elements like print, digital, and multimedia. They're behind branding, marketing materials, ads, packaging, and website designs. | Focuses primarily on making digital designs visually appealing and attractive.Visual designers have a more comprehensive range of tasks beyond just graphic design. Their job is all about creating complete visual experiences, not just individual design pieces. They're the force behind UI design, user experience (UX) design, interactive media, and motion graphics. |
Future Scope of a Design Career
Design, especially digital innovation, has become incredibly valuable in today's job market. According to the Department of Labor, this field is expected to grow substantially over the next decade. Design plays a crucial role in shaping the websites and mobile apps we interact with, the entertainment we enjoy, the cars we drive, our healthcare systems, and even our everyday grocery shopping experience!
Design is a vast field requiring several professionals to care for different aspects. Therefore, there are a variety of job roles, such as:
Product Designer
Digital Designer
UI Designer
UX Designer
Art Director
Animation Designer
Motion Graphic Designer
These are some of the job roles offered to an individual well-versed in design. There is a high demand for graphic and visual designers in the contemporary world where digitalization is taking over. With the growing demand for graphic and visual designers across different industries, learning design through a visual design course can be a good idea to stay relevant in the contemporary job market.
Relevant knowledge and skills can allow you to work with top-notch companies, including TCS, Amazon, HCL, Wipro, Zomato, Larsen & Toubro, and many more. These companies are highly reputed and can positively impact your career growth.
Although closely related, Visual and graphic designers carry unique roles and responsibilities. Visual designers focus on enhancing user experience and the aesthetics of digital interfaces to encourage engagement and usability. Conversely, graphic designers specialize in creating visual content for print and digital media, strongly emphasizing branding and communication. Acknowledging these distinctions is vital for organizations looking to fully leverage the talents of design professionals in today's multifaceted creative environment.