Social networking is very mush essential  for us in our day to day life. Most percentage of internet  resource   in   the   world   is being  used  for  visiting  social  networking sites likes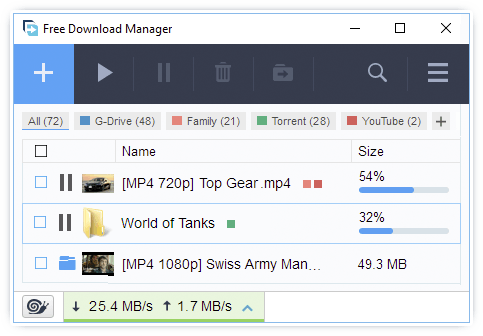 Facebook, twitter, YouTube, Google plus etc.
How To Download YouTube Video Easily Without Go For Any Website?
Among these sites YouTube is very essential which is used to watch, share and upload videos. YouTube is the biggest video sharing site which is using world wide today. All the entertainment and official videos are being get uploaded in YouTube daily. Among those videos, we can watch and share any of the video. But, there is no "Download" option in YouTube. They wont allow the users to download the videos.
But, there is many third party tools and web sites are available for download the YouTube videos. But, those sites will require Java to download the videos. If you want to download a video from any flash video sites, you need to install Java in your computer. But, there is an tool called "Free Download Manager" (FDM) which is a download accelerator.
This tool is not only used for download files, which is also used for download flash videos from video sharing sites like YouTube. You need to just install once this tool in our computer. The benefits of "Free Download Manager" are,
You can download any flash videos easily.
FDM is one of the best download manager. This is much more better than the any other download managers.
You can use FDM as a torrent client too.
The application is free to use and is open source too.
You can resume broken downloads.
You can preview audio/video files while downloading.
Just follow the below steps to download YouTube video using FDM.
Download FDM from web. To download FDM freely . Its easy to download because its size is just 7.3 MB.
Install that to your computer by opening the setup file.
Just open any video in your web browser like Firefox, Chrome etc..
There will be a download button in the top left corner of the browser's flash player.
Click there to download the video. Download and enjoy.
Comment your needs and troubles. Share with your friends.