Description: Here is a comprehensive review of clone SSD software which can clone SSD to a larger one easily and safely on Windows 11, 10, 8, 7.
Keywords: clone ssd software, clone ssd software windows 10, free clone ssd software
Summary: Free clone SSD software AOMEI Partition Assistant can clone HDD to SSD or SSD to a larger SSD without reinstalling, read to know more useful information.
Growing demand for clone SSD software
With the rapid advancement of technology, the demand for larger and faster storage solutions has surged. Many users find themselves in need of upgrading their existing SSD to accommodate growing data volumes or enhance system performance.
In such cases, reliable SSD free cloning software windows 10 is critical for users to seamlessly transition to a new SSD, ensuring that all data, configurations and operating systems are accurately replicated. This not only ensures data integrity, but also saves time in re-downloading software and configuration information.
How to choose the right clone SSD software
When it comes to free clone SSD software, reliable and efficient software solutions can play an important role, and AOMEI Partition Assistant is one of the market leaders. In this review, we'll delve into the product's background, notable advantages and key features to show why it stands out as a great choice for SSD cloning.
Product Background:
AOMEI Partition Assistant Standard is a comprehensive and powerful free partition software developed by a team of professionals. It meets the specific requirements of SSD cloning, offering powerful performance and a user-friendly interface that meets the needs of both experienced IT professionals and less tech-savvy users.
Product Advantages:
1. Seamless cloning process: The outstanding feature of the software is its seamless cloning process. It ensures that all data, including operating systems, applications and files, are accurately mirrored to the target SSD. This ensures a hassle-free transition with no risk of data loss or corruption.
2. Smart Alignment: AOMEI Partition Assistant goes a step further with its SSD 4K Alignment feature. This optimizes the partitions on the target SSD to improve the overall speed and responsiveness of the system.
3. Universal Compatibility: Flexibility is key and AOMEI Partition Assistant ensures compatibility with a wide range of SSD makes and models. This allows users to freely and confidently choose the hardware they need.
4. Simple Cloning Wizard: Recognizing that not all users have extensive technical knowledge, the software includes an intuitive cloning wizard. This walks users through the process step-by-step, ensuring success every time.
Product Features:
1. Sector-by-sector cloning: For users who need an exact copy of the source SSD, AOMEI Partition Assistant offers a sector-by-sector cloning option. This ensures that every bit of data is accurately mirrored, leaving no discrepancies.
2. Partition Resizing and Editing: In addition to cloning, the software offers comprehensive partition management tools. Users can resize, merge, split and format partitions, thus giving them full control over their storage configurations.
3. Migrate OS partition: Apart from whole disk cloning, it can also migrate OS to SSD from HDD while keeping files on HDD.
4. Create Bootable Media: The software allows users to create bootable media, enabling them to perform cloning operations even when the OS is inaccessible.
How does this clone SSD work on Windows 10
Now, I'm going to show you how to clone SSD with AOMEI Partition Assistant Standard step by step.
Step 1. Connect the SSD to your PC. Install and run the cloning software. Click "Clone Disk" in the right menu.
Step 2. Here, We choose "Clone Disk Quickly" and click "Next".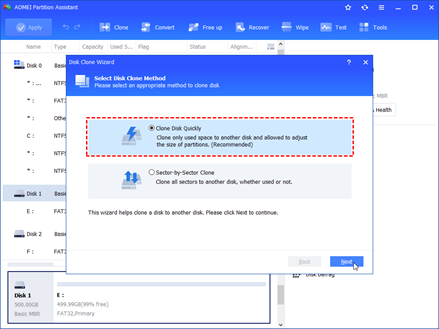 Step 3. Choose the old HDD as your source disk and click "Next".
Step 4. Choose the SSD as your destination disk. Then, check "Optimize the performance of SSD" to improve SSD running speed and click "Next".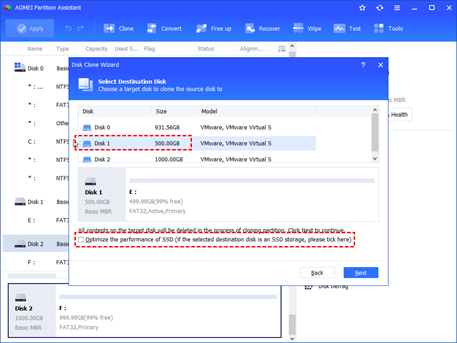 Step 5. When you clone to a smaller disk, there will only be two options available. Choose one and click "Next"> "Finish".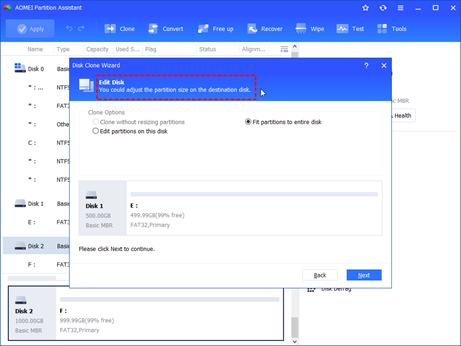 Step 6. Click "Apply" > "Proceed" to implement the HDD to SSD copy after you return to the main interface.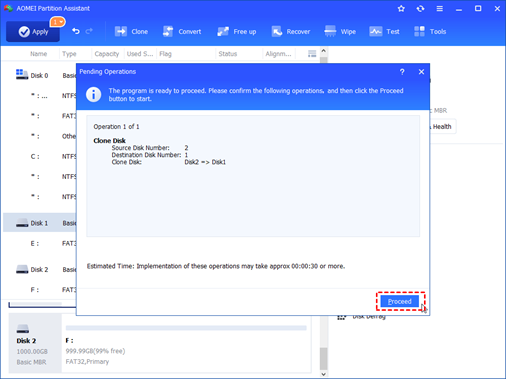 Conclusion
In conclusion, the rising demand for cloning SSD software. AOMEI Partition Assistant is a reliable and efficient solution. With its seamless process, intelligent alignment, and user-friendly interface, stands as a robust choice. Its compatibility with a wide range of SSD and additional features like sector-by-sector cloning further solidify its position in the market.