I don't know about you, but some days I feel like I'm overflowing with great ideas for blog posts, and other days the well is completely dry.
On those days I feel stuck. Every topic I come up with has been written about before. I can't come up with an original idea to save my life. Why am I even blogging again?
I felt that way today as I sat down to write this post. I didn't even have a starting point for what I thought I might want to write about. So I turned to some of my favorite tools to help me come up with some inspiration, and (indirectly) they inspired this post.
I can't be the only one who has trouble coming up with blog post topics (and if I am, please refrain from telling me so that I can maintain my fragile delusion). Because of this, I've decided to share with you all the 5 free tools I turn to when I need to get "un-stuck."
1. The HubSpot Blog Generator Tool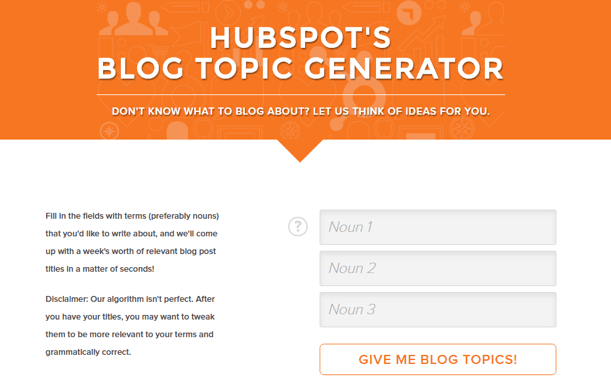 I love how easy this tool is. Simply enter in 3 nouns (even at my worst, I can scrape together 3 nouns), and voila! HubSpot generates a week's worth of blog topic ideas based off of the nouns you provided. For this example, my nouns were "Marketing", "Landing Page" and "Design", and my results were pretty good!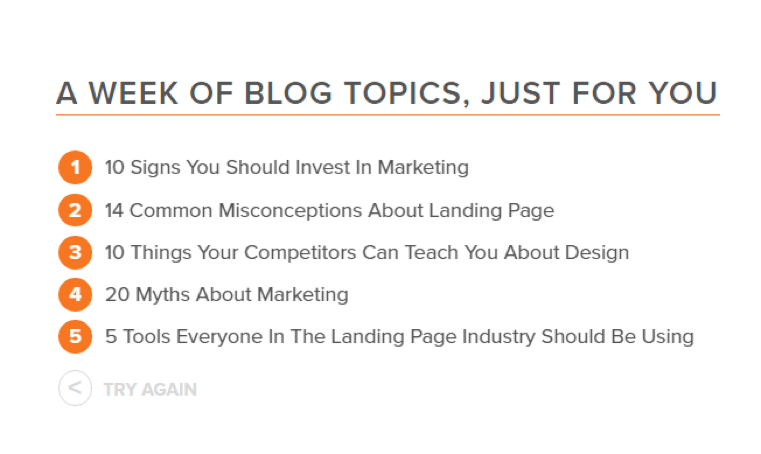 The results weren't perfect (i.e. 14 Misconceptions About Landing Page), but that was due to the nouns I had entered not being in the correct tense. I also love that this tool doesn't mesh the three nouns together in any topic (there are no topics about Marketing Landing Page Design), but instead treats them as 3 separate topics and generates ideas off of that.
2. Portent's Content Idea Generator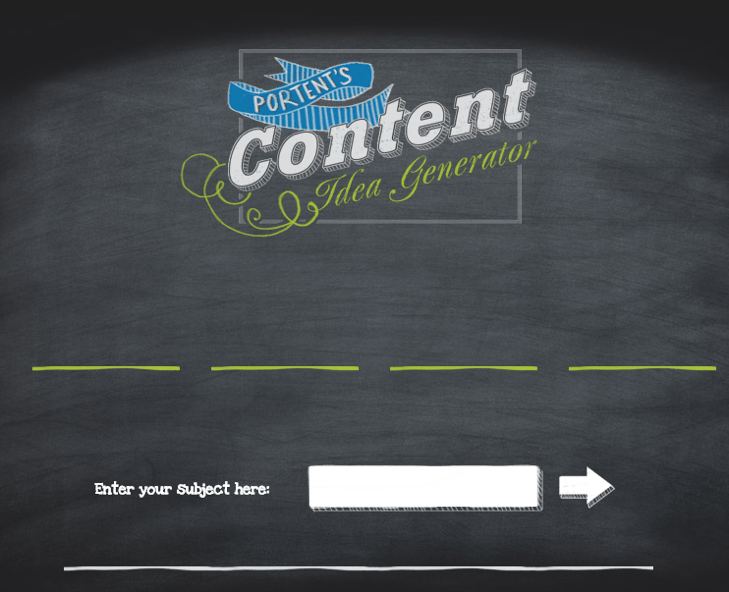 First of all, I love the design of the Portent Content Idea Generator—the chalkboard look really makes me feel nostalgic and I appreciate that. This tool only allows you to input one subject at a time, so I went with "Marketing", and was my result: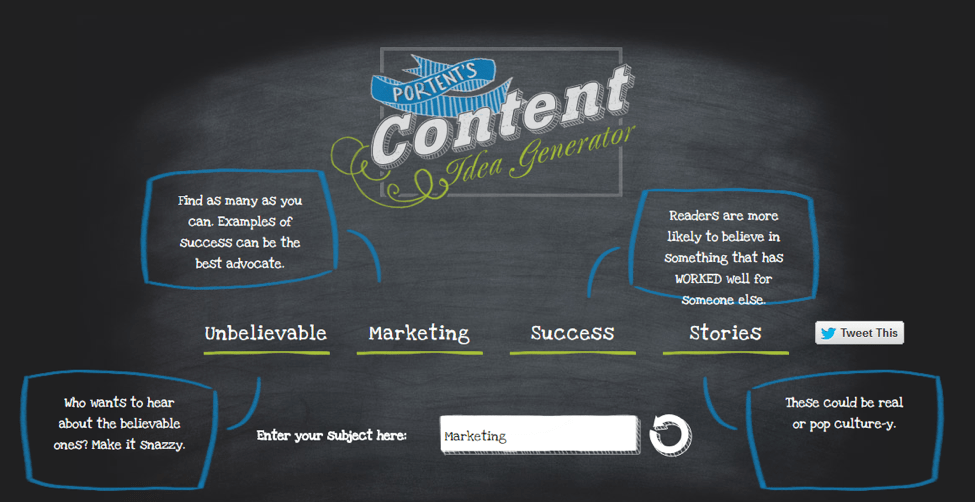 Unlink the HubSpot tool, Portent's generator only gives you one idea at a time, which can be good if you're indecisive like myself. They also include really quirky suggestions which are fun to read and support why they gave you that specific topic idea. Don't like the first one you got? Just click the refresh button to get served up a new idea.
3. Impact's Blog About Title Generator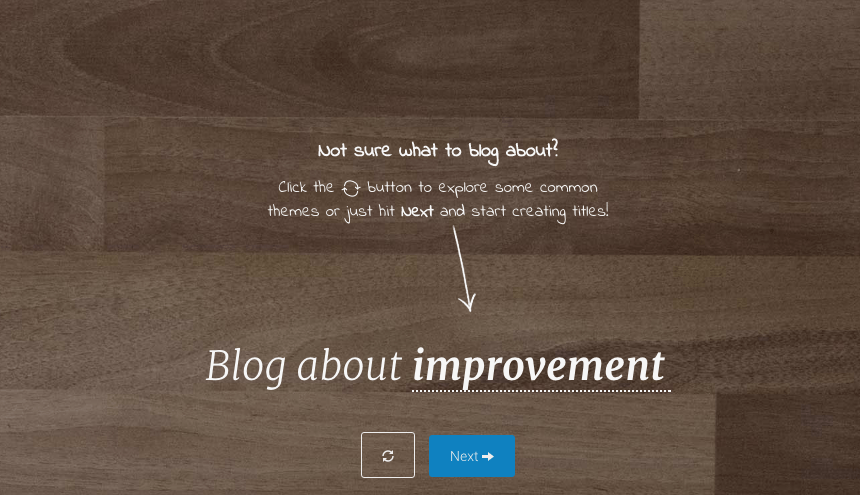 Impact's tool is a bit like Mad-Libs (which I loved as a kid), and definitely requires a bit more user participation than some other tools on this list. When you first pull up the page, they supply you with a subject idea which you can replace with your own—in this case, "improvement," which I replaced with "marketing." After clicking "Next" you're redirected to a page that generates parts of blog titles that lets you fill in the blanks.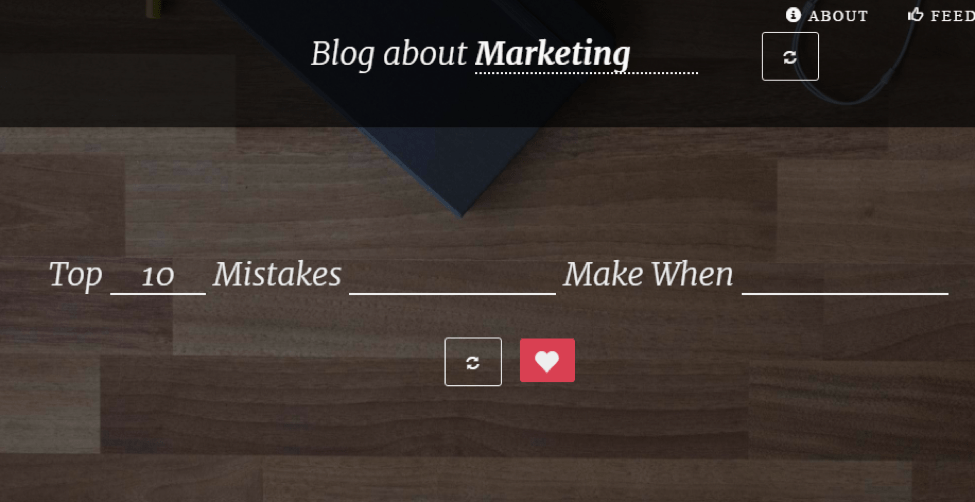 This tool is great for days that you just need a little push, but don't need the whole idea or title spoon fed to you.
4. Fat Joe Blog Post Title Idea Generator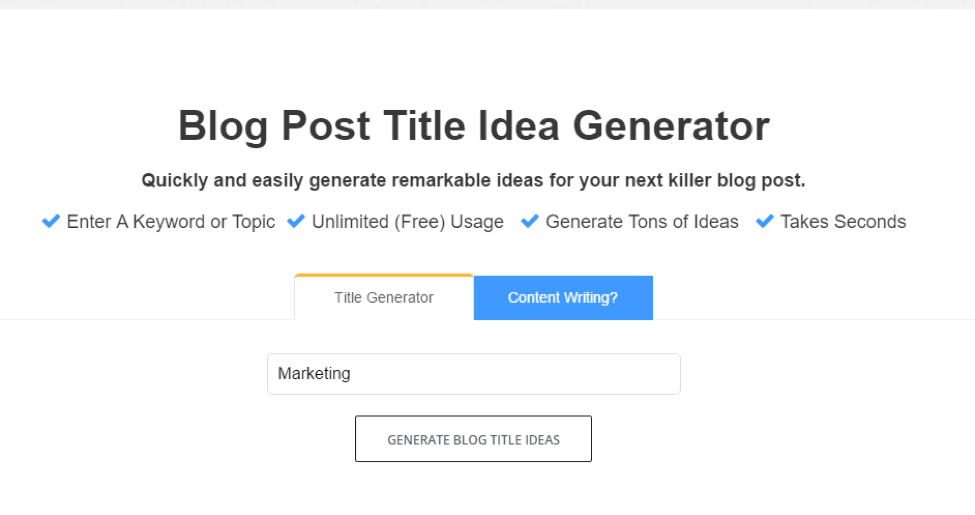 The Fat Joe tool has a super simple, super easy design. Just enter a subject or keyword and you're good to go. I've found that the more broad a term you use, the better your results. I had originally entered "Landing Page Design" as my subject and got results like: 10 Great Landing Page Design Public Speakers. On the second go-around I used "marketing" and had much better results: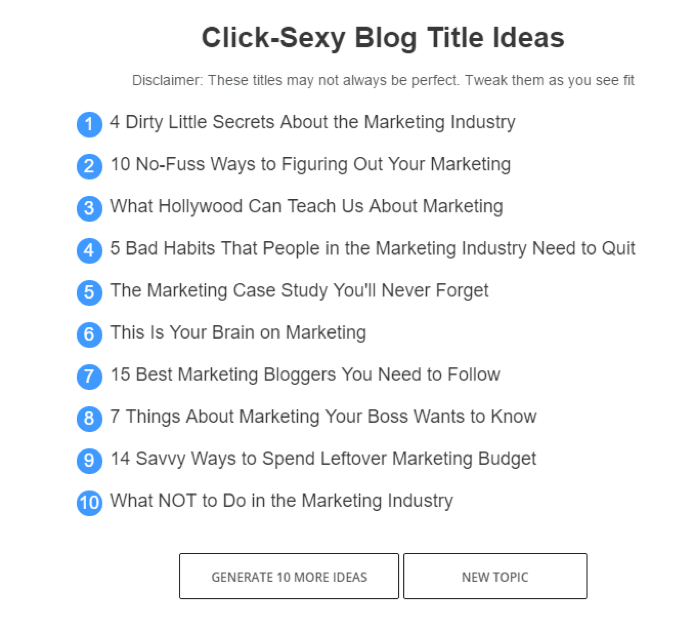 5. Word Storm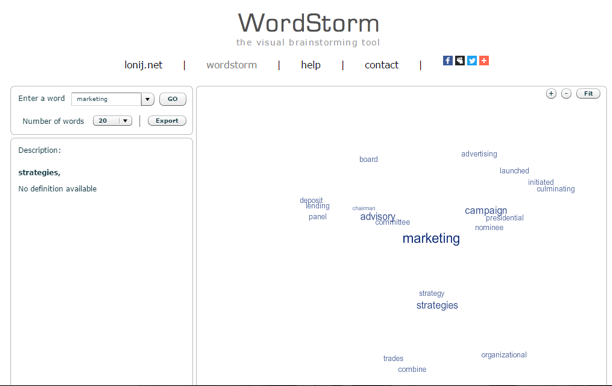 Word Storm is reminiscent of one of my favorite paid tools, The Visual Thesaurus. It's very interactive which is fun, but doesn't provide you with concrete topic ideas—Word Storm is good to get the creative juices flowing.
You enter a word–marketing in this case–and it pulls up similar or related words that you can click on to see other similar words, and so on and so on for however far down the rabbit hole you want to go.
And there you have it! The top 5 free tools I turn to when I'm out of ideas for a blog post. While I didn't use any of the generated ideas for this specific post, the tools themselves inspired the content–so that still counts…right?
Not meeting blogging deadlines because you're not inspired is something we've all experienced. With a content calendar, you can make sure you always have topics ready to go. Get our FREE content calendar template, and never find yourself stuck without blog ideas again.