Bold and Beautiful Designs of Council and Student Housing in Munster, Germany by Kresings GmbH is the complex of student housing erected at the Boeselagerstrabe in the city of Munster takes up these ideas and, with a total of 535 residents on a living space of 18,000 mtsq.
After all, creates a flowing, asymmetrically arranged urban space of its own which conveys an almost rural sense of security rather than having an intimidating effect.
However, symmetry and efficient use of surfaces may also have a chilly and static effect.
 Why is it that medieval urban structures with its crooked streets the ends of which are not visible, with its detailed structure and its scale, make us feel comfortable?
What is it that attracts us in such a magic way, without mentioning the cute facades? It is the instantly sensual and physical effect, a sense of home in terms of warmth and security. Those with an architecture-academic mind may despicably say:
"A doll house!". The body, however, exclaims: "That is exactly where I feel understood and cradled."
Bold and Beautiful Designs of Council and Student Housing in Munster, Germany by Kresings GmbH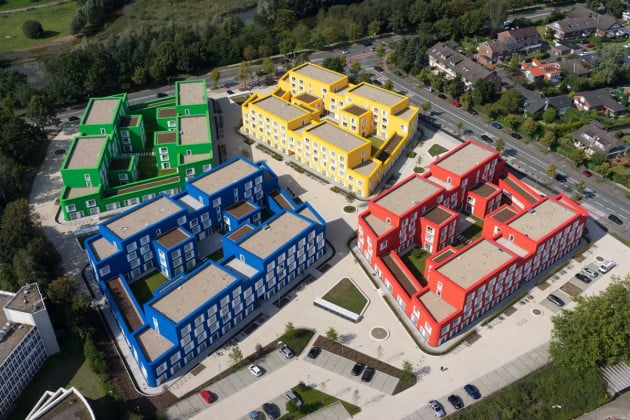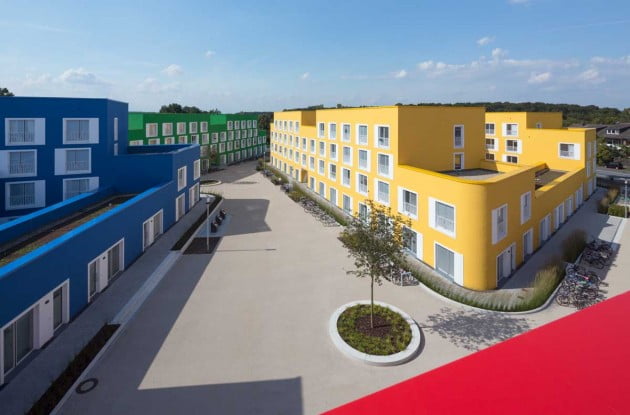 Project Bold and Beautiful Designs of Student Housing Fact File:
Architects: Kresings GmbH
Location: Boeselager Street 75, 48163 Münster, Germany
Architect In Charge: Rainer M, Kilian Kresing
Design Team: Stefan Fuchs, Guido Becker, André Pannenbäcker, Jan Tölle
Year: 2014
Photographs: HG Esch
Building Contractor: Studentenwerk Münster
Landscape Architect: RMP Stephan Lenzen Landschaftsarchitekten, Bonn
Supporting Framework: gwi Gantert + Wiemeler Ingenieurplanung, Münster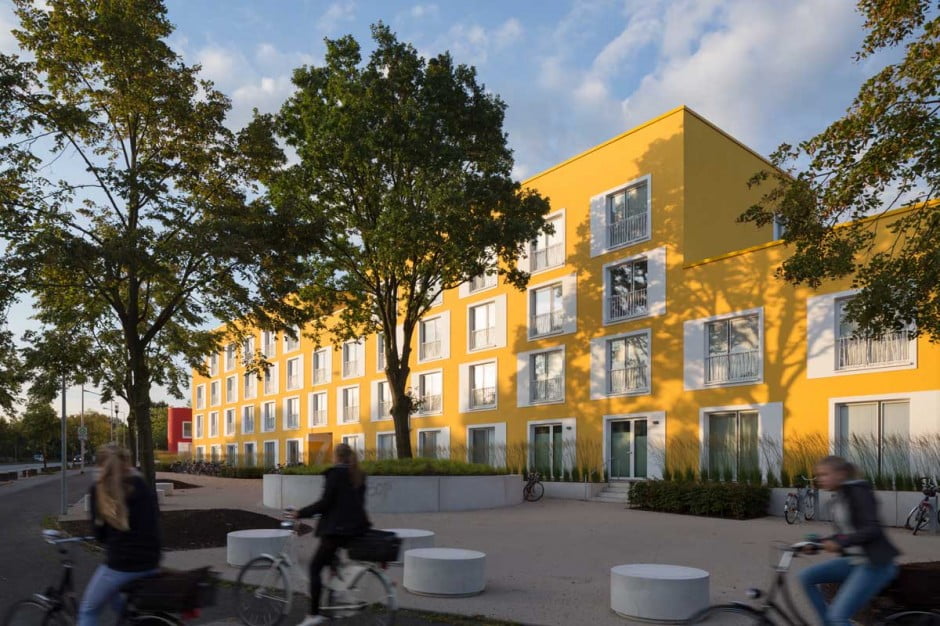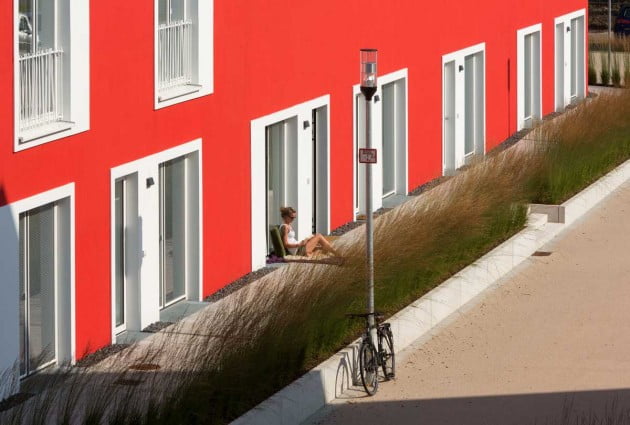 From the Desk of an Architect:
Train of thoughts
What is it that people expect from a new large complex of dormitories? People expect such a housing complex to make efficient and effective use of expensive space by means of a log building system and straight borders.
Right angles, paths and squares, symmetrical bike parking racks, benches and green spaces allow the surface to be used in an optimal manner; in addition, they make straight lines appear orderly and smooth.
The play of contrasts – in this case narrowness and wideness – is typical of the complex of dormitories located next to the lake Aasee in Munster. The structures overlap – interior and exterior, high and low, condensed and de-condensed –, as do the functionalist.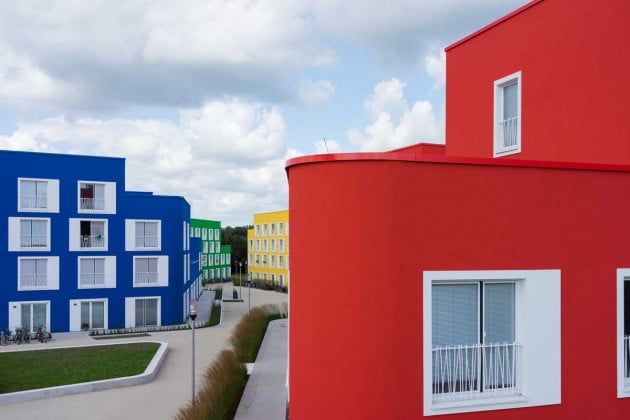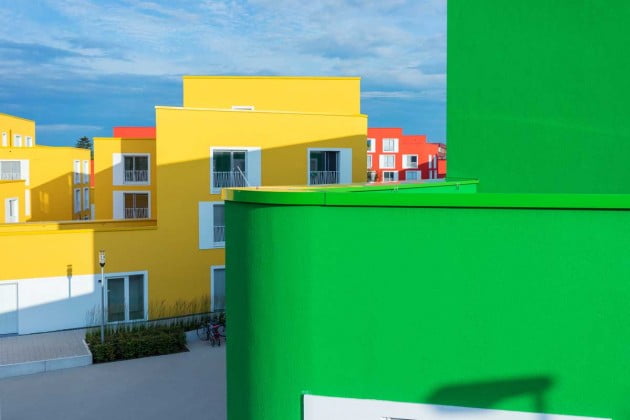 This slight shift alone causes dynamics in itself. The blocks are arranged asymmetrically towards one another, too, and they give the impression of randomly dropped puzzle pieces. Narrow passageways are created at those spots where the building blocks almost touch one another, whereas surprising triangular places emerge at those sites where these blocks are placed further away from one another.
The core of the strategy is formed by four building blocks. They have the same basic form without copying one another though; they rather act as true individuals, this impression being particularly supported by the way they are positioned. The building blocks themselves do not form any regular rectangles, the short sides have different lengths, and there are no right angles.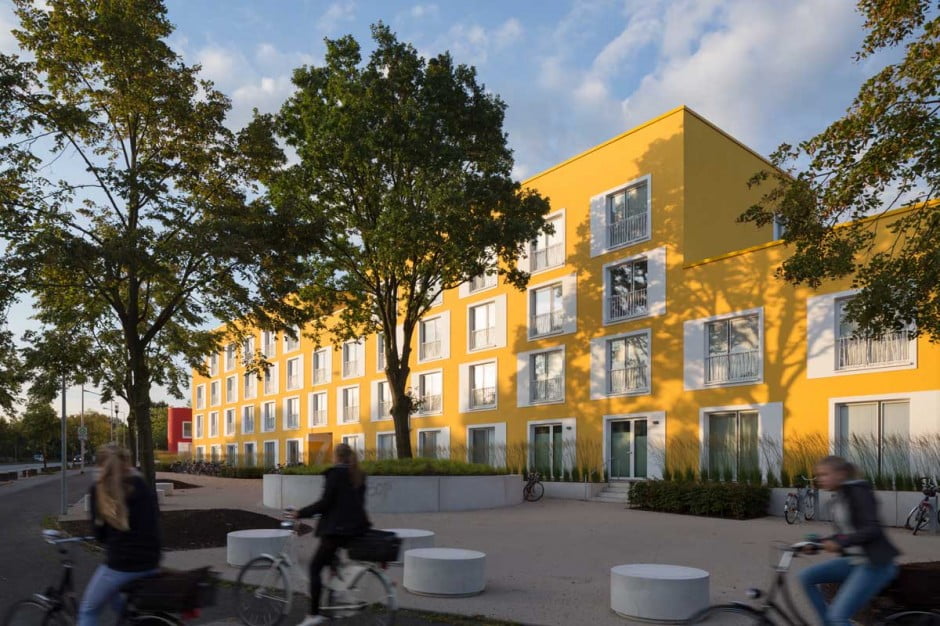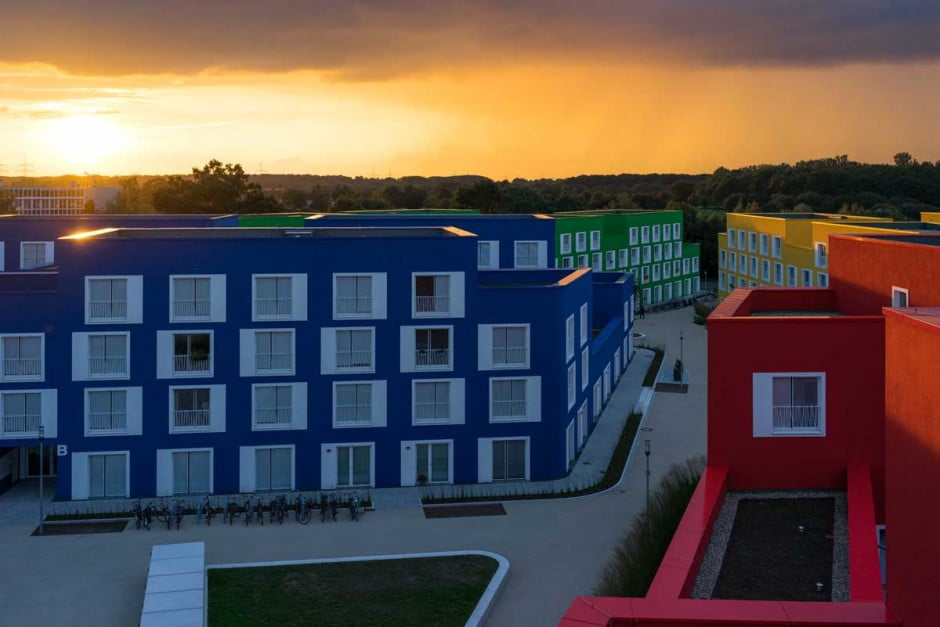 The four building blocks themselves form four closed interior courtyards; and here, too, it seems quite logical to make use of the analogy with the classical building block. The blocks are restful and intimate, but create the shared location of a clearly defined community, and of the urban block.
The building blocks are shaped and formulated in a sophisticated way.
They each consists of four main houses and four rear houses thus creating angles and corners, opened-out areas and narrowing spots as well as beautiful diagonal views in the interior courtyard. The main side of the house leading to the main paths also varies in height and thus leads to an optical denticulation of the interior (courtyard) and of the exterior (public areas) space.
The character of community and block is underlined by the maximum of four floor levels. Everything appears overlapping, small and detailed, despite a lateral length of 75 meters.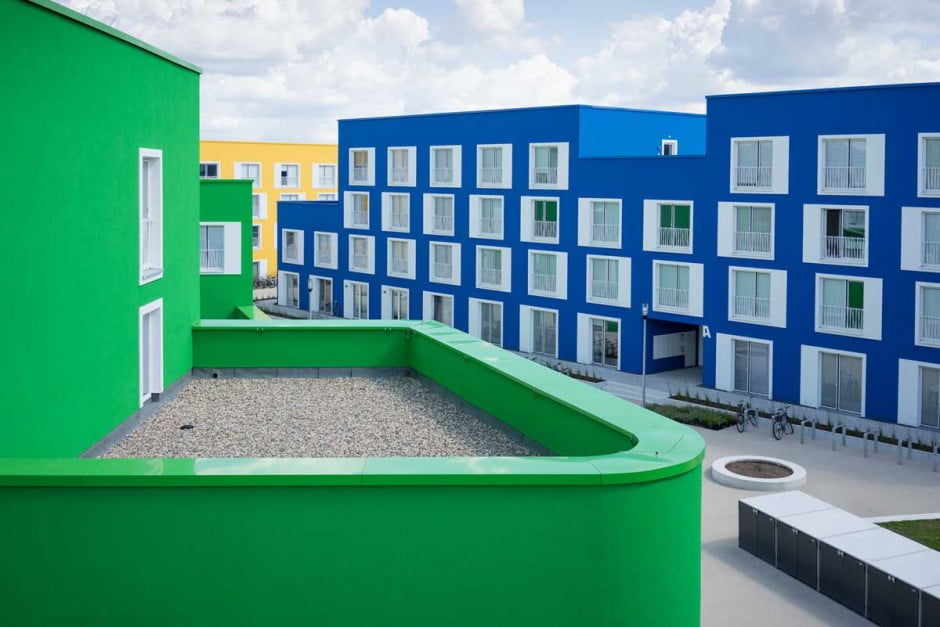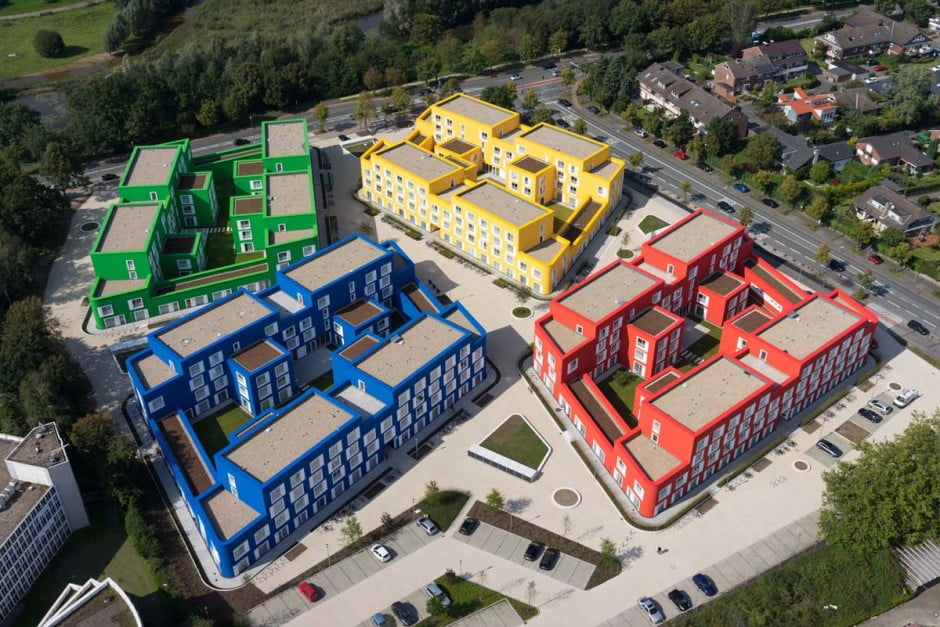 The colors of the frontages provide for vividness.
Consequently, there are not just either public or private areas, but there are many gradings and intensities, similar to structures typical of a city from the so-called Grunderzeit (years of rapid industrial expansion in Germany at the end of the 19th century). There are the clearly public spaces, the streets and paths, the main squares, created by means of the asymmetrical building blocks irregularly positioned towards one another.
There are paths, verandas and stairways close to the house which, although being public parts, answer to both the immediate access to the individual houses and to the residents' recreation and which are therefore a little bit more private than the main paths. This differentiation between public and non-public areas is supported by hedges, walls and fences as well as by private stairways leading to the upper floor levels.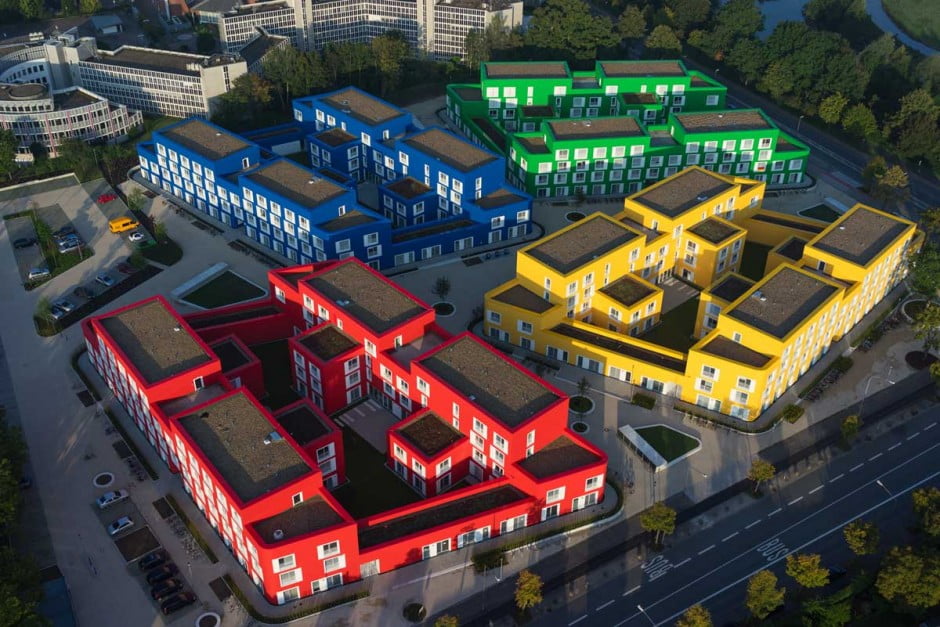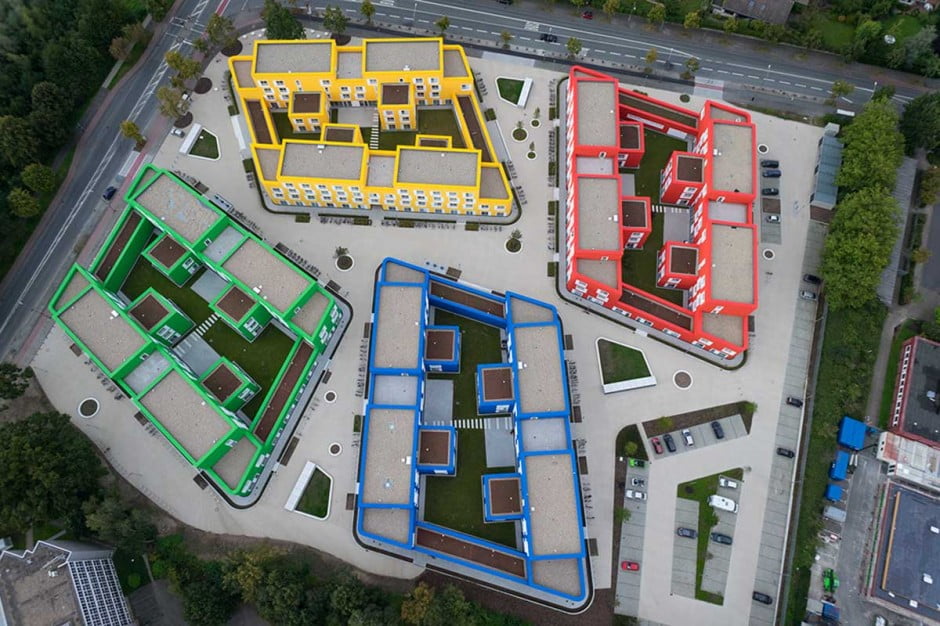 Here, the relationships among the individual elements, i. e. the urban qualities, are almost as important as the individual design. Real spaces have been created, which are usable, individual and urban spaces and not just a temporary scenery of dormitories.
This is where people do not only study and sleep, but this is where they spend the entire day, optionally together with the residents of the same house, of the same block, or of the total areal.
The luscious color shades and their intense brightness create a sense of intimacy and sympathy. The red is a tomato red, the yellow is a sun yellow, the green is a grass green, and the blue color created by Ives Klein reminds people of things like the sky, the sea, the sun, and southern countries.
Combined with white-colored frames that are irregularly positioned around the windows, this builds up a positive chain of associations, a Mediterranean, relaxed, liberal and open flair, which maybe is also young and playful. The nuances may be quite different depending on the various persons, but the linkage of thoughts is always a positive one.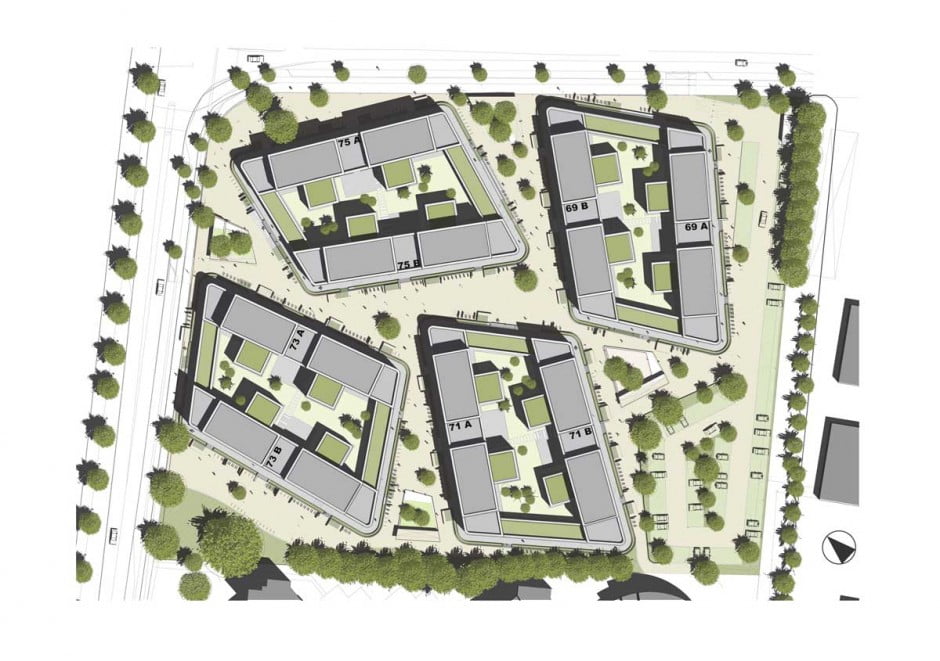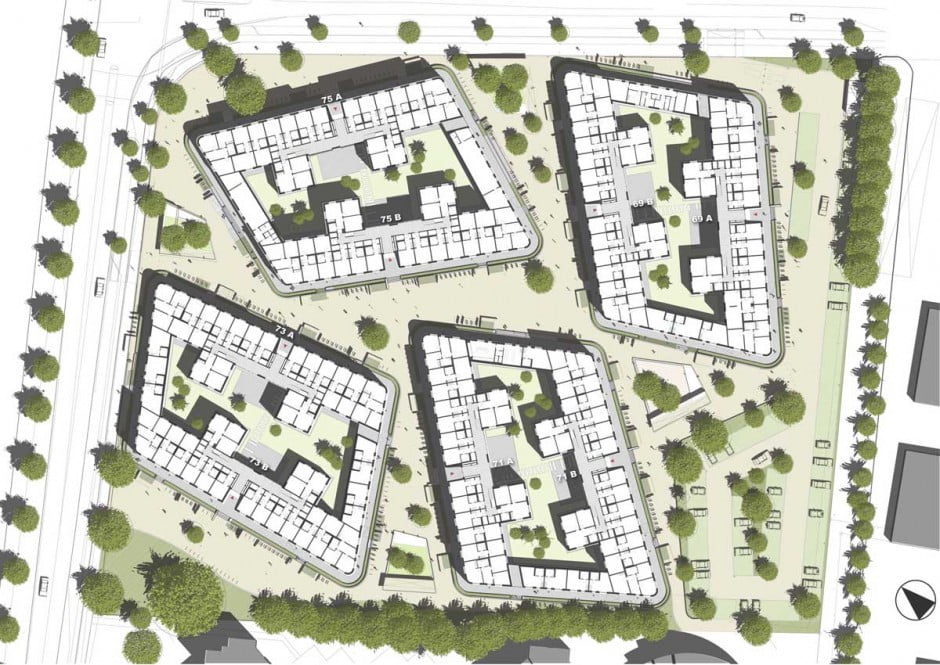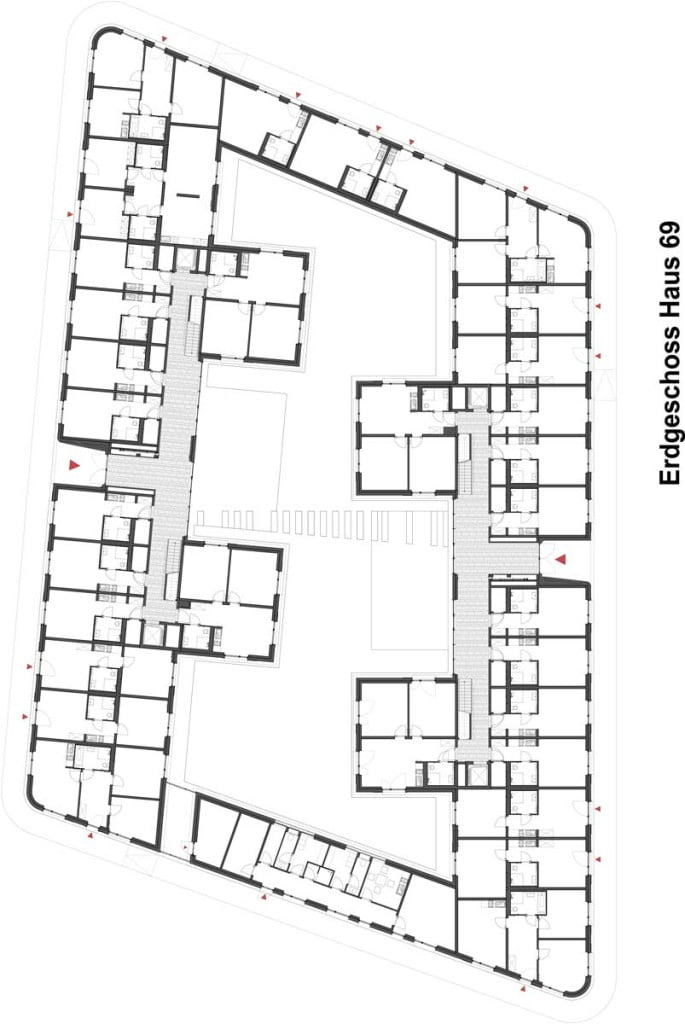 The living spaces of the apartments range from 25 m to 180 m, depending on whether you consider a 1- room, 2-room or 3-room apartment or one of the collective apartments with 5 integrated apartments. The quality of urban building and a high living quality as well as flexible ground plans were crucial requirements indicated yet in the invitation to tender.
The quarter, which was erected in passive house standard, allows mixed coexistence of students, families and elderly people, with the concept of barrier- free building having consistently been adhered to.
Depending on the further development of the number of students, there might be a purely non-student living area one day. In any case, the given infrastructure is able to meet such kind of demands. There is a pub, a kiosk, a daycare facility for children, a launderette, as well as other community facilities.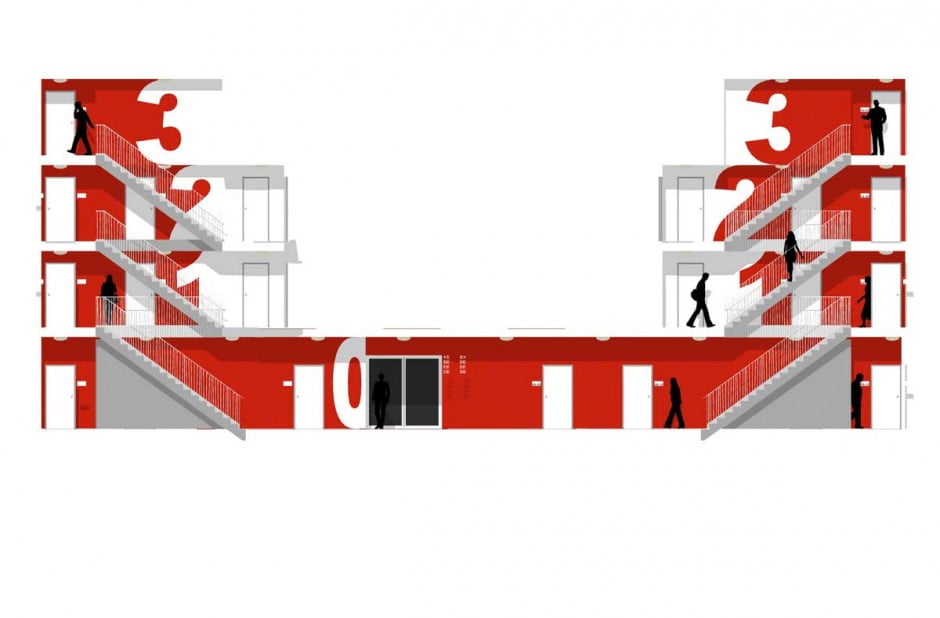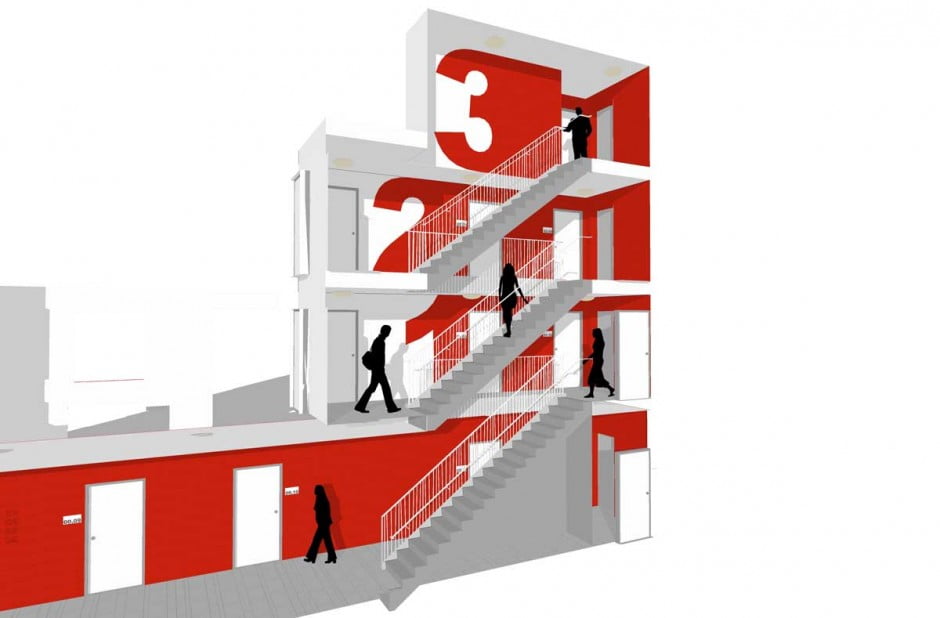 What thanks to a very sophisticated ground plan and the absence of parallel block borders and paths still gives an academic impression when taking a look on the layout plan, makes visitors feel homy and be curious right away.
The visual relationships are dynamic; sometimes, the view is stopped; sometimes, it is redirected, and there are other spots where unexpected places open up. Upon the first visit, nothing is predictable, and the walk through the areal turns out to be a sequence of visual surprises.
So, friends this is all about design and architecture of this Bold and Beautiful Designs of Council and Student Housing in Munster, Germany by Kresings GmbH. Hope you people enjoy the design evolution and architect's explanation on how design and concept of building created their stand out of today's fast changing skyline of urban developments around the world.