Aadhaar card status enquiry: Have you complete your aadhar card online registration? Then this article about aadhaar card status check will help you to track down your aadhaar update. If you don't register for your aadhaar card then visit your nearest uidai approved aadhaar enrollment kiosk as soon as possible. So, this is an guide for checking aadhaar card status online with required details, like Enrolment ID and Date/Time (Identification of your Aadhar card) in UIDAI's official website. But, there is one other way to make aadhaar card status enquiry by using your mobile phone number. We are going in detail step by step ahead in this post. After checking uidai gov in aadhaar portal, if your aadhaar number is generated and you are not received your card. You can easily download aadhaar card pdf file for your document proof. We are also learn in detail about how to check aadhar card status online by name? So, let's not wait more and go over step by step check my aadhaar card.
Check Aadhaar Card Status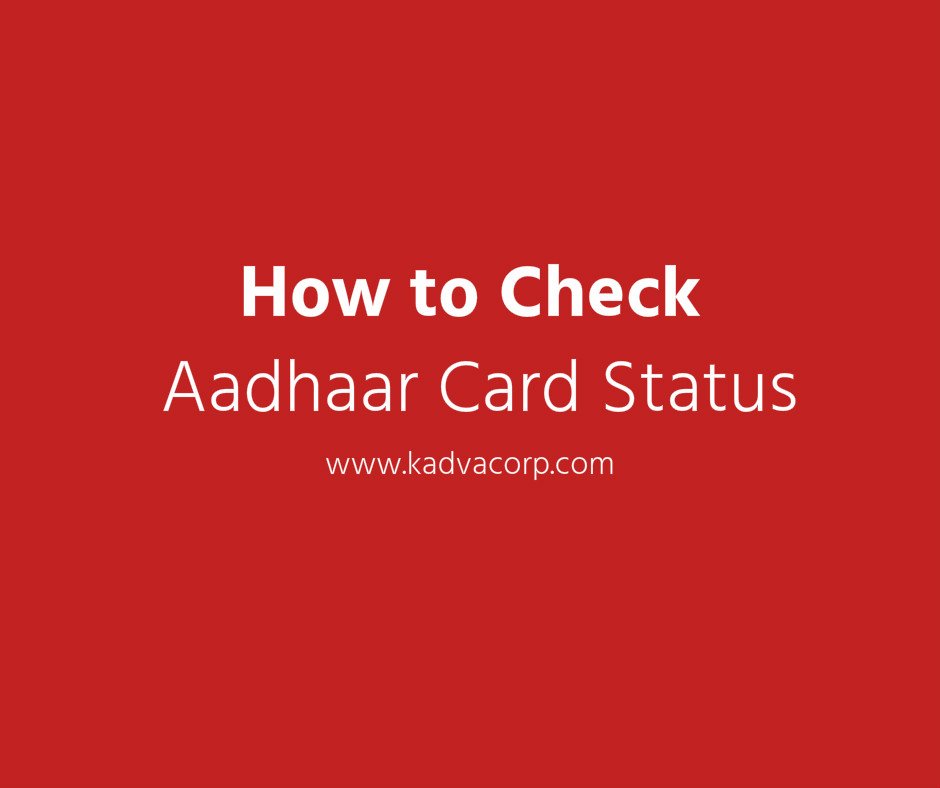 ​Latest Updates from UAIDI regarding Aadhaar Card.
Did you know how to check your Aadhaar card is valid or not?
Recently, news come that Government of India suspended around 81 lakhs aadhaar numbers and deactivate it permanently. But, how to know that your aadhar is still activated and authenticated or not?
Here are the simplest way to check the status of your Aadhaar online.
1. First of all, log on to the Aadhar Card website UIDAI.
2. Now, you have to find Aadhaar online services, in this segment check Aadhaar services.
3. Under the Aadhaar service menu, check for verify Aadhaar number link.
4. Click on verify Aadhaar number link that will take you to new webpage.
5. On this new web page you have to fill your Aadhaar number and enter security code and press the verify button.
6. If your Aadhaar number is already activate, a message confirming the status of Aadhaar number and few basic information like as state and last three digit number of registered sim card will appear.
7. But, in the case of deactivated or suspended Aadhaar number, the webpage of verification Aadhaar number says, the number does not exist and the process of verification immediately end.
So, this is just latest update on aadhar card. Hope this will help you to check your current status of aadhaar card.
---
So, I assume that you have applied for aadhaar card and now you want to check your Aadhar card status online? About what is the current status of my Aadhar card that I applied for.
Step by step guide for check aadhaar card status online:
Open bellow given link that will redirect on uidai gov in aadhaar portal.
[su_button url="https://uidai.gov.in/my-aadhaar/avail-aadhaar-services.html" target="blank" style="3d" size="10″ center="yes" rel="nofollow"]Check Aadhaar Status Here![/su_button]
Or Click here to open aadhaar checking page.
You will see a form where you have to fill Enrolment ID, date/time and security code (Complete the captcha displayed in screen).
After filling the information, check it once carefully then click on Check Status green colored button (that placed just below of form.)
Then new page will be opened that will show you the current status of your Aadhar card that you applied for.
When your AADHAAR is generated, you will receive it via post. It may take several days and even months for Aadhaar to reach you. In emergency case take a print out of E-Aadhaar Card.
How to track Aadhaar status on mobile?
For this aadhaar card status check option, need to go to your messaging option in your mobile or cellphone and then type bellow given details. Follow step by step instructions.
UID STATUS <14 DIGIT ENROLLMENT ID>
Send it to 51969
Note: Keep in mind to type "UID STATUS" in capital letters only. Example, If your Enrolment number is 1201/16161/01726, then the format of sending message will be:- UID STATUS <12011616101726> Keep in mind to remove all the slashes (/) from your enrollment number when you are sending the message.
If your aadhaar card has been generated, you will receive your enrollment number back as SMS. Otherwise you will receive the current status of your aadhaar card.
Keep in mind that to track your Aadhaar status, please enter your enrollment number and date time and the image text in the respective fields. These details can be found on the acknowledgement slip. Which you got from the enrollment center after enrolling for the Aadhaar number.
So, friends this is all about uidai gov check your aadhaar status online and aadhaar card status check. Hope this will help you to track down your aadhaar card easily. Have any doubts, share with us via comment bellow. Also, check aadhaar card status online guide share with your friends and stayed tune for regular updates on aadhaar card related issues.