HOK Completes Acquisition of 360 Architecture, a 200-person firm that is a leader in the design of sports, recreation, wellness, entertainment and mixed-use facilities. The completion of this transaction provides immediate benefits to both firms' clients through the creation of HOK's new global Sports + Recreation + Entertainment practice and expanded capabilities in Kansas City, Columbus and San Francisco.
Merger creates world's leading sports, recreation and entertainment design firm
and gives HOK a significant Kansas City presence
"HOK Completes Acquisition of 360 Architecture because we consider them the world's most innovative designers of stadiums, ballparks, arenas, recreation and wellness centers, and mixed-use entertainment districts," said Patrick MacLeamy, FAIA, HOK's chairman and CEO. "This partnership also enables us to provide design services to all types of clients through new HOK offices in Kansas City and Columbus. It's a transformative acquisition that will bring significant benefits to our clients and people."
HOK's new Sports + Recreation + Entertainment practice will draw on the firm's expertise in other markets including Aviation + Transportation, Civic + Cultural, Commercial, Corporate, Education, Government, Healthcare, Hospitality, Justice, Residential, Retail, Science + Technology and Tall Buildings to provide clients with highly integrated solutions.
HOK Completes Acquisition of 360 Architecture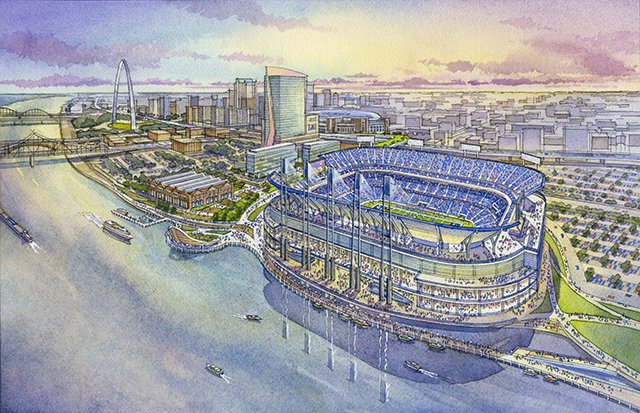 "We're thrilled about leveraging HOK's worldwide network to expand our sports, recreation and entertainment design practice while offering our clients design leadership in many other markets," said Brad Schrock, AIA, a former 360 Architecture principal and a new director of HOK's Sports + Recreation + Entertainment practice.
"This also provides HOK, a design leader in so many building types, with a strong presence in Kansas City and Columbus," added Tom Waggoner, AIA, a former 360 Architecture principal and new managing principal of HOK's Kansas City and Columbus offices. "We're excited about the ability to expand our service offerings to clients in these regions."
HOK's Sports + Recreation + Entertainment practice designs mixed-use entertainment districts anchored by sporting venues that promote urban revitalization. As a game changer for cities, this approach is attractive to developers, municipal leaders and other civic-minded stakeholders. One of the group's best-known projects is the Nationwide Arena District, which helped transform downtown Columbus by catalyzing approximately $1 billion in development around Nationwide Arena. The team also participated on the design of the Sprint Center and its neighboring eight-block, mixed-use Kansas City Power and Light District, and Edmonton's new Rogers Place arena, which will open in 2016 and anchor the Edmonton Arena District that is expected to transform that city's downtown into a vibrant, dynamic community.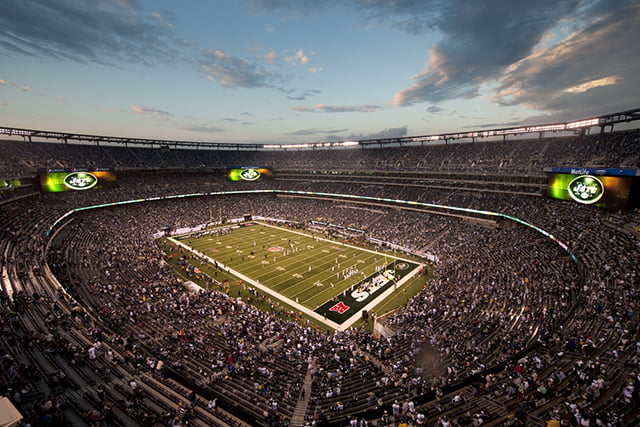 "At the heart of our practice is a desire to help create thriving cities and regions," said HOK President Bill Hellmuth, AIA. "With stadia and arenas hosting more entertainment events, they can act as catalysts to invigorate urban districts or to attract people to a region. These venues need to be integrated with neighborhood facilities including hospitality, retail, residential and office space. With the addition of 360's team, HOK is one of a handful of firms in the world that can bring highly specialized design leaders in each of these areas to create truly integrated solutions."
Teams from both firms have been working on integration plans since announcing the agreement on August 19, 2014. "We have been focused on ensuring a seamless transition for 360's people and clients," said Hellmuth. "This process has confirmed the strong cultural fit between our firms. We both have a passion for design excellence and helping clients succeed."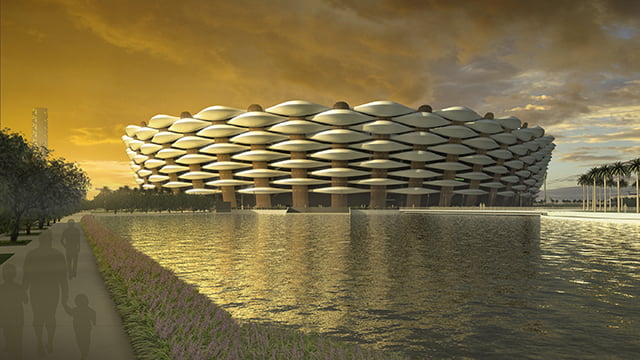 HOK's re-entry into the Sports + Recreation + Entertainment market in 2015 coincides with the celebration of its 60th anniversary. After starting HOK Sport in 1983, the firm became a pioneer in redefining sports facilities and the fan experience. HOK spun off its sports practice in 2008. 360 Architecture was founded in Kansas City in 2004 through a merger of CDFM2 Architecture Inc. and Heinlein Schrock Stearns.
In addition to Schrock, directors of HOK's global Sports + Recreation + Entertainment practice are former 360 Architecture leaders Nate Appleman, AIA, LEED AP, and James Braam, AIA, LEED AP, in Kansas City, and John Rhodes, who joined HOK in early 2014 and is in the London office. Based in Los Angeles, Christopher Lamberth is the director of business development for HOK's new Sports + Recreation + Entertainment practice.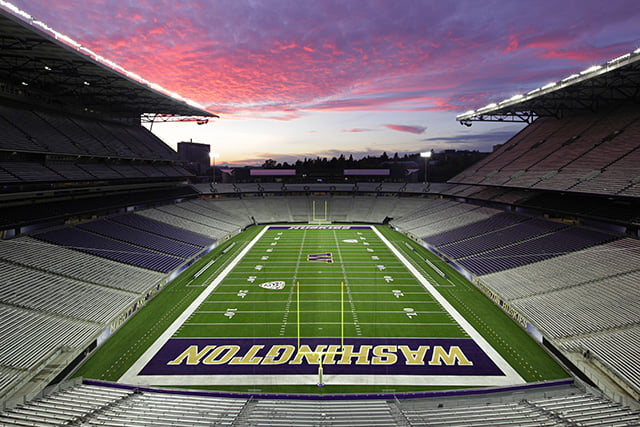 The leadership team in HOK's new Kansas City office is made up of four former 360 Architecture leaders: Tom Waggoner, AIA, managing principal; Bill Johnson, AIA, design principal; Gus Drosos, AIA, technical principal; and Amy Chase, marketing principal. Other Kansas City-based 360 Architecture senior principals who have joined HOK are George Heinlein, AIA, Tracy Stearns and Chris Trainer. Dan Hanes remains practice leader in Columbus.
With the finalization of this merger, HOK's global Sports + Recreation + Entertainment practice is participating on design teams for a retractable-roof, multipurpose stadium in Atlanta, which will be home to the National Football League's Atlanta Falcons and a Major League Soccer expansion team; the proposed St. Louis NFL Stadium on the North Riverfront area of downtown St. Louis; the renovation of Sun Life Stadium for the NFL's Miami Dolphins; the Rogers Place arena for the National Hockey League's Edmonton Oilers in Edmonton, Alberta; the AT&T Center renovation for the National Basketball Association's San Antonio Spurs in San Antonio; the design of Cisco Field, a proposed new ballpark for Major League Baseball's Oakland Athletics in San Jose, Calif.; a new stadium for MLS's San Jose Earthquakes; the Dubai Expo 2020 host venue in the United Arab Emirates; and the redevelopment of Fort Regent on Jersey, the largest of England's Channel Islands, into a leisure and entertainment venue.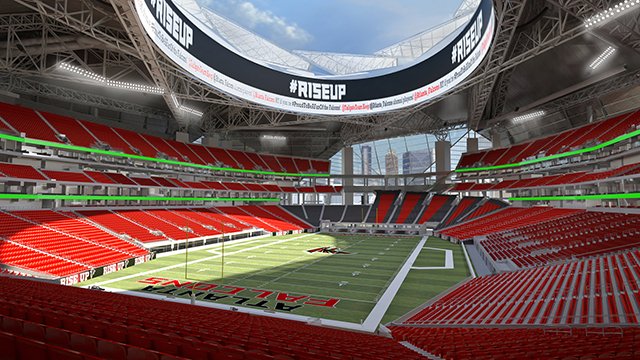 In the higher education sector, HOK is playing a major role in the design of buildings that promote collegiate athletics, recreation and wellness and an overall healthy student lifestyle. Current and recent projects include Notre Dame University's Campus Crossroads project in South Bend, Ind., the Beauchamp Recreation & Wellness Center at the University of Portland in Oregon, and the renovation and expansion of Mississippi State University's Davis Wade Stadium in Starkville, Miss. The firm recently completed the design of recreation and wellness centers at Auburn University's main campus in Auburn and at its campus in Montgomery, Ala. In addition, HOK is involved in creating athletic facility master plans for the University of Missouri and the University of North Carolina.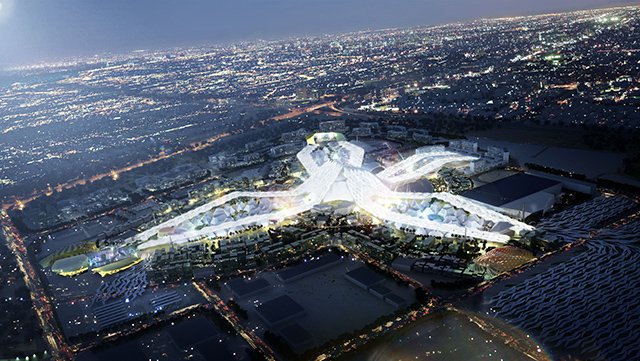 Past projects in which 360 Architecture has played a significant role include MetLife Stadium, site of the 2014 Super Bowl and home to the NFL's New York Giants and New York Jets in East Rutherford, N.J.; Basrah Sports City in Iraq, which includes a 65,000-seat stadium; American Airlines Arena in Miami; the renovations of the University of Washington Husky Stadium in Seattle and Southern Methodist University's Moody Coliseum in Dallas; new Class A office space for Nationwide Insurance in Columbus, Ohio; law firm Polsinelli's headquarters in Kansas City; AMC Theatre Support Center in Leawood, Kan.; and H&R Block's World Headquarters in Kansas City.
HOK is a global design, architecture, engineering and planning firm. Through a network of 25 offices worldwide, HOK provides design excellence and innovation to create places that enrich people's lives and help clients succeed. For five consecutive years, DesignIntelligence has ranked HOK as a leader in sustainable and high-performance design.