Home Renovating Ideas: The word alone conjures images of Eyesores Objects, dust-filled rooms. Think of kitchen renovations where the stove, fridge and dishwasher have been pulled out, and placed in the middle of the TV room, optimal for entertaining guests, right?  Even worse, bathroom renovations where your entire family of five is forced to share ONE bathroom while the work is being done. Yes, home renovating can definitely induce high-levels of stress. Home Renovating can be especially stressful when we encounter problems, and let's face it, how often do you hear of a renovation going smoothly with no unexpected surprises, hardly ever.
Here, I can try to help you avoid some of the biggest, most costly renovating mistakes. Whether you do it yourself, or you hire a professional, there are common mistakes that are encountered time and time again.
Where to start Step by step Home renovating process yourself?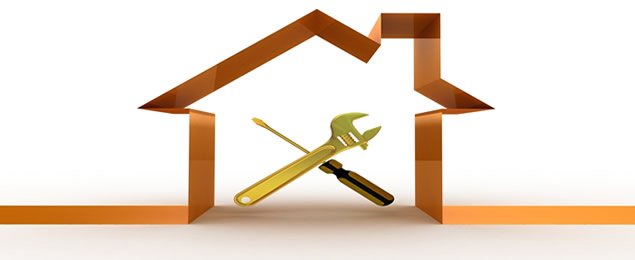 Let's look at some of the top mistakes people make when home renovating and how to avoid them:
Is It The Right Home Renovating For You?
Why do you want to renovate home? Take a good, hard look at the renovation project, that you have in mind and make sure, that you are doing it for the right reasons. Ask yourself if the time, effort and expense will be worthwhile.
Will this renovation be an investment into your home, ensuring you get the money back when you sell? If this is not a house renovation, that will make your home more profitable, or if it is one that will potentially detract buyers, then maybe you need to reconsider-unless this is your forever home.
There are a lot of home renovating, that add value to your home, and then there are some that seem like a good idea at the time but will lead people to ask, What were they thinking?  Do your homework to stay in the aforementioned group of renovators.
Poor preparation Of Home Renovation
A proper home renovating takes preparation, lots of it. A detailed plan will help keep you on budget and on time. Set out a very specific agreement with your contractor, Before the work begins and get everything in writing.
You should be able to see on paper how your home renovating work is going to play out before it even begins.
Consider The Cost Of Home Renovating
Home Renovating work always costs, more than you expect. This is because some problems are not revealed, until you start work and uncover them, but mostly because items are forgotten from the budget, or because you change your mind and alter the design or specification.
Professional renovators always leave a contingency, of between 10-20% to cover these costs of home renovating and fully expect to have to spend it. Before you can start to predict home renovating costs, you need to have a good idea of your proposed plans, your specification for fixtures and fittings, and have decided who is doing what.
To estimate costs, look at other people's renovating projects, expect to spend a similar renovating amount, taking into account how much work they did themselves, when the renovation project was completed, and the variation in labor costs.
Alternatively, get a builder's estimate. This is a builder's best guess of what your home renovation project is going to cost, based on what they can see and the information you have provided them with. This is not a quote and the builder cannot be held to it, but an experienced builder should be able to give a fairly accurate guess.
Finally, prepare your own, home renovating budget by listing all tasks, the materials required, and who is going to do the work. You can then go out and get quotes for materials and estimates for each trade. Make sure you allow for skips, scaffold hire, plant hire, and tools.
Selection Of Contractor For Home Renovation
Hiring the wrong contractor can literally make you broke, and leave you living with a half-finished or poorly done home renovating project.
Hiring the right contractor, is above all the very most important aspect of any remodel. You will want to hire someone who is reputable, honest, an expert, and has plenty of references.
Be sure your builder-contractor knows your expectations and budget constraints, and is able to work within them. Take plenty of time with this decision, and interview numerous builders-contractors.
The lowest bid never equals the best home renovating job, Recommends bringing in at least three contractors and getting written estimates from each. Some give cheap quotes just to get the job, then tack things on or cut corners and install low-quality products.
The written estimate should include home renovating details (e.g., exact cabinets, hardware, flooring, and install costs, not just "new room"), a waste removal plan, permit costs, insurance, general contractor fee, an explanation of how design changes are handled, and the warranty on the work.
If your estimate doesn't include these, the contractor is either not very thorough or he's underestimating the home renovating project.
Planning a Budget and Follow Them
This one is tough. While it's easy to know the amount you want to spend, it is much harder to stay within that amount.
Sit down and thoroughly plan your budget. Itemize every little expense that you can think of, and then review it with the contractor that you plan to hire, making sure there are no other expenses he/she can think of.  This house renovation budget calculator is a great starting point.
Make sure you can afford the financial commitment of home renovating before grabbing that sledgehammer. If there are things you cannot afford, then simply pick and choose wisely, opting for the renovation projects, that will make your home most profitable and you the happiest.
Buying Before Planning
I can't stress this enough: Don't buy materials or appliances until, your home renovation is planned out, and all measurements have been taken. Online sales can be tempting, but that great deal on a 24-inch dishwasher isn't going to save you any money, if you only have room for an 18-inch model.
Doing The Wrong Type Of Home Renovation
The reason many renovators overcapitalize, isn't just because they spend too much money on their improvements, it's more to do with the types of renovations they choose to do. "This shouldn't be a judgement call, but rather based on what's going to achieve the best returns".
It's really important for investors to be selective about, which renovations they're going to perform, and only do the ones and use the materials, that will add the most value. To give you an example, French doors cost about half of the cost of putting in bi-fold doors, however they add just as much in value with most properties.
What home renovations you choose, to do will depend greatly on the type of property, where it's located and who your target market will be for resale. There's no point putting in high gloss tiles into a family home, where they'll likely have kids and pets and be safety concerned, no matter how good they look.
Most people don't know all the ways, in which you can add value to a property through renovation. It's the renovator's job to find the best and most appropriate use of the site at a profitable outcome.
Most people don't have the knowledge to undergo this home renovating process, or have such tunnel vision when assessing renovation deals that they can't find creative options, the property to maximize its true potential.
Home Renovating Issues Ignorance
When you tear down walls or rip up floors, there's a good chance you're going to find something you weren't expecting, especially in an older home. Electrical and plumbing issues need to be dealt, before you close the walls back up.
It might be an unexpected renovation cost up front, but it will save you tons of money in the long run.
Make Renovations Match the Rest of the House
Do you live in an ancient Victorian home, or a modern minimalist mansion? Whatever the style of your home, it is best to consider sticking with, its main theme and style when home renovating.
There is nothing worse than the ruination of a Victorian beauty by adding the wrong windows, doors, trims, etc…And attempting to turn a contemporary home into a countrified, rustic cabin can also result in a nightmarish atrocity.
If your overhaul doesn't match the current home, then maybe it is best to sell the current home, find one that better matches your needs-desires. This is not to say that you cannot overhaul the theme of your home, but be sure to do it in a manner that flows, where the design is balanced throughout the entire home.
Make Home Renovating Safe
Do you have a first aid kit on hand? Unfortunately, accidents are common occurrences on home renovating sites. They are messy, tool-filled construction sites with sharp objects scattered about, of course something is bound to happen, so be sure you are prepared for it.
The first step is to be sure your contractor is insured and bonded. Also, don't be shy when interviewing contractors, ask them about their safety records; ask them what steps they take to avoid on-site accidents.
If you are planning to go it alone and do your own renovations, then be sure you are not messing with load-bearing walls or electrical hazards. Unless you are an exceptionally skilled do-it-yourselfer.
I would not suggest you remodel anything that requires electricity, gas, or that alters the homes main frame. One last thing, be sure to get a permit before undergoing any home renovating project. You know the motto-Better safe than sorry.
Renovations are messy, dangerous and expensive propositions. As you can see there are a lot of obstacles that can get in the way of your dream remodel.
Do your homework, hire the right contractor, organize a realistic budget and stick to it, and most importantly, renovate in a manner that makes you happy and makes your homes value increase.
Have you undergone a nightmare remodel? If so, what did you learn from your mistakes?
Avoid Too Much Home Renovating DIY
Undertaking work yourself can allow you to control costs and quality, but don't be over-ambitious and plan to do more work than you really have time, or the skill, to undertake successfully. You could end up slowing the whole home decorating project down, living in a building site for years, which can in turn lead to family conflicts and potentially to accidents.
Bad DIY will also cost you dearly, slowing down the other trades, wasting materials, sometimes causing work to be done twice, and ultimately devaluing the property if it is not put right.
You can get so tied up in DIY work that you lose focus on running the home decorating project and keeping up with decisions. I love ambitious homeowners, who want to take part in their home renovatings, but there comes a time when it's best to hand the reins over to the professionals.
Projects like cabinetry installation, complicated tile work and carpentry are beyond the scope of most homeowners and can reduce the value of your home if done incorrectly. My advice? Involve yourself in the demo, it's the most fun part, anyway!
Confusing Fiction With Home Renovating Reality
Many people think home renovating, is about donning your funky bandanas, and ripped jeans, and getting messy with the paint cans. Enter reality, a property cannot be magically transformed in a weekend, it's more likely to be a matter of four weeks at a minimum and everything doesn't magically go to plan as well as the TV shows depict.
Renovators should be aware of the realities of how long their projects will take, what effort will be required and the costs involved to complete the home renovating project. They never show this on the TV renovating shows.
So instead of watching house renovation shows to see how it's done, get off your couch, turn off your TV and get yourself onto a real home renovation site to see what it's really like.
Avoid Cutting Corners On Materials Or Finishes

I encourages renovators to stick to one suburb they know well or three suburbs maximum. Many renovators lack focus or specialization in three suburbs or less. They dart from suburb to suburb, looking for home renovating opportunities, anywhere and everywhere, and therefore don't acquire intimate knowledge on the supply, and demand factor in suburbs.
It's important for renovators to become a master of one, not a jack of all trades when doing their suburb due diligence. Don't do it. Much like ignoring issues, cutting corners on materials or finishes is only going to cause you problems in the future.
It's always better to go the extra mile, and do it right the first time than have to go back and redo everything. Hire competent people to do the job, buy quality materials and take the time to complete all the necessary steps.
If time is against you, you're likely to spend more than you have to on your renovation. When a renovator lacks time, it's likely they won't have time to negotiate on their goods and trade labor, and therefore end up paying too much for their goods and materials, which diminishes the financial viability of the home renovating project.
Home Renovating Financial Feasibility Homework
Once you've worked out how much the renovation will cost you, the next step is to calculate how much profit it will make you. many investors struggle to analyze a deal and calculate profitability before purchasing a property, so they either miss out on an opportunity or walk away with little or negative returns.
When analyzing to see, if a home decorating project is going to be profitable, they need to take into account all project costs, including purchasing, holding, adding value, selling, loans, and also take into account the resale that can be achieved following the renovations.
Performing profitability analysis is key to knowing just how much profit there is in a potential deal. This not only helps investors compare different deals, But it also makes it easier to analyze different variations within the same deal.
Regardless of whether you intend to renovate and sell, renovate, subdivide and sell, knock down and develop, or renovate and develop in the backyard, it all comes down to being able to calculate the profitability of each option and look at a profit figure based on how long it takes to do that strategy.
A big renovation might not yield as much profit, but it averages at only three months of effort before it's put back on the market, instead of 18 months' average with a development.
Home Renovating To Your Personal Tastes And Ignoring Your Target Market
If you don't know the demographics of the suburb you're renovating in, who the buyers or tenants are and what they want in a property, you may create something nobody else wants.
Renovators should always know who the buyer of the renovated property will be before they buy the property themselves.
Many renovators make the mistake of renovating a house based on their personal likes, not the likes and needs of the demographics buying your renovated property.
Become an expert in your suburb due diligence.
Involvement Of Unlicensed Trades
Another trap DIY renovators fall into is using contractors, who don't have the skills to complete the work to the standard required. It's important, when undertaking any home renovating project, Licensed and suitably experienced tragedies are engaged, and appropriate per-qualification should be completed prior to engaging the toadies.
There are projects that any reliable contractor can take on; then there are specialized projects that require a licensed professional to complete. Electrical, plumbing, HVAC, asbestos removal and anything to do with gas or the structure of your home should always be completed by a licensed professional in that specific trade.
Reasons Failing Home Renovating Plan
Not having a clear home renovating plan, of what your renovation will involve, lead to cost overruns and the outcome may not meet your original objective.
This can be solved simply by ensuring you have a proper, and appropriate home renovating plan, which should include either a written scope of works (a specification) or, for more complex works, a set of drawings providing a visual representation of the works required.
If you're outsourcing the renovation to professionals, this may mean paying an architect or draftsman to draw some designs. If you intend to coordinate the home renovating yourself, use different tirades for different aspects of the home renovation project, then it helps to show them magazine clippings and photos of the look, you're trying to achieve.
Proceeding without having an adequate written agreement, on the scope and quality required leaves both, the scope and quality, open for interpretation by the trades person, who may have a very different idea than the investor.
Lacking Time Management And Organizational Skills In Home Renovation
They lack professional (skills) and a structured discipline onsite, rarely work to a system and as a result don't manage their projects in an effective and efficient manner," she observes. "A lack of a structured system will cause time and cost blowouts.
She says a standard six-week cosmetic renovation typically takes five months from start to finish, while a standard six-month structural renovation takes almost a year from start to finish.
For investors who intend to flip the property (renovate and sell), this includes the purchase settlement period, the renovation process, marketing the property for sale and the selling settlement period. For investors who intend to renovate and rent, it includes the purchase settlement period, renovation process and the time taken to find a tenant.
The problem is that most people factor in mortgage holding costs for the renovation time only and don't factor in the other time elements of the deal. Mortgage costs are a significant project expense and, if not factored correctly into your feasibility, can lead to a cost blowout and a reduction in profit for many renovators.
All too often you see someone buy an renovated property, start the home renovating, and then not have enough funds to complete the project. This is because they didn't factor in, when cash would be coming in and out over the period of the project.
Using the Wrong Materials In Home Renovating
The use of modern impermeable materials, such as very hard cement mortar mixes, plastics and impermeable coatings, can create all sorts of problems in period houses constructed using traditional materials, leading to damp that can result in damage to the structure.
In the case of earth-based construction systems, such as cob, clom, clunch, clay daub and dabbins, the effects of insensitive repairs such as chemical damp-proof courses can be disastrous.
Avoid replacing soft lime mortars with hard cement mixes when re-pointing.
Avoid hard cement renders on traditional solid-walled buildings – use a breathable, flexible lime-rich mix.
Do not use waterproof paint or sealant on a traditional solid-walled building.
Avoid hard cement backing for gypsum plaster on the inside of the external walls in solid-walled buildings.
Ensure materials are visually sympathetic. Avoid stone cladding, pebble dash, roughcast or PVCu on a period building.
Don't Ignoring Rules & Regulations At Home Renovating Time
There is no point in ignoring the requirements of the law, as it will eventually catch up with you, so do not undertake any work without first checking the following:
Do you need planning permission? Ask the local authority.
Do you need Building Regulations approval? Ask the local authority.
Do you need to notify neighbours? Check the Party Wall Act.
Do you need to notify leaseholders or get permission from others? Check your deeds for restrictive covenants, leases or other overriding interests in the land.
If you fail to get planning permission, you can apply retrospectively, but if this fails you may have to undo alterations or extensions. Altering a listed building without consent is a criminal offense.
If you fail to get Building Regulations approval, you will have to prove compliance. This may mean undoing completed work. If you fail to observe the Party Wall Act, it can lead to an injunction and delay your project whilst you get an agreement in place.
Breaching a restrictive covenant or the terms of a lease can lead to an injunction, and you may have to make a financial settlement or remove your alterations or extensions.
Avoid Wasting Existing Space In Home Renovating
Before making plans to add an extension to your home renovating project, consider how you can use the existing space. There are many measures that will help to make a property feel more spacious and which will add to its value, yet which cost a fraction of the price of extending.
Think about converting the attic, garage, cellar or other attached outbuildings. The following ideas can be applied to any property but are particularly appropriate to those where space is an issue:
Reuse wasted circulation space.
Use carefully positioned mirrors.
Use a space-efficient staircase.
Create mezzanine levels.
Improve the flow, adding doorways.
Change the direction a door swings in, or use sliders or bi-folds.
Remove walls and remodel.
Use space-efficient furniture with dual purposes.
Add patio doors to create the illusion of the garden being part of the house.
Improve lighting design.
Use informal room dividers.
Use space-efficient storage.
Combine rooms — such as open plan kitchen/dining room layouts.
Use borrowed light.
Install space-efficient heating.
Taking Wrong Energy Saving Measures
The energy saved by installing double glazing in place of single will take 15-20 years to pay itself back, by which time you may have moved on. There is no point, therefore, in replacing period windows that could be repaired just to save energy.
Instead, focus your budget on those energy-saving measures with the shortest payback. These are as follows:
Draft exclusion
Energy-efficient light bulbs
Hot water tank and pipe insulation
Loft insulation
Cavity wall insulation
Upgrading to a condensing boiler
It is worth investigating whether your local authority operates any grants to help with energy-efficiency measures by calling or visiting their website. Grants and VAT relief are also available on some energy-efficiency measures. Visit www.est.org.uk for details.
Creating New Damp Problems With Home Renovating
Solving damp is one of the most important tasks for any renovator, but sometimes well-intended improvements can inadvertently create new damp problems. Here are some of the common causes:
Raising external ground levels above the dampproof course (DPC), or above floor level, leading to penetrating damp.
Painting the exterior of a solid-walled building (no clear cavity) with impermeable waterproof paints or sealants—leading to penetrating damp.
Adding double glazing and blocking fireplaces, flues and vents without compensating with adequate alternative ventilation — leading to condensation problems.
Sloping new paths towards rather than away from the building, leading to penetrating damp.
Making new additions, such as a conservatory or extension, without fitting flashing, cavity trays, or other suitable means to divert any damp away from the building.
Using hard cement fillets as a weatherproofing measure in valleys, abutments or at the base if chimneys, it will crack, and damp will be able to get in. Use lead flashing, valleys and skirt-apron.
Sealing the roof structure with new felt or spray-on urethane insulation without ensuring the timbers are adequately ventilated.
Using hard cement render mixes on the exteriors, as they will eventually crack and draw in penetrating damp through capillary action.
Pouring a new concrete floor in place of a suspended timber floor without adding adequate damp-proofing measures, both horizontally and vertically, and compensating for the loss of sub-floor vents.
Don't Make Unsafe Structural Alterations At Home Renovating Time
Removing structural elements such as load-bearing walls, chimney breasts, lintels, columns, piers or buttresses, or cutting out roof timbers without compensating for the alteration can lead to disaster.
The building may not collapse, although this is not unheard of, but it will lead to major movement in the building, followed by all manner of problems, from stuck windows and doors to warped floors and partial collapse of walls, roof or chimney stack.
An experienced builder will be able to identify, which components are structural and how to compensate for their removal. The building inspector will want to know of any changes and how you propose to deal with them, and they may request calculations from a structural engineer.
Living on Site During the Major Work
Living on site can offer many advantages such as improved security, being on hand for weekend or out of hours deliveries, being available for early site meetings, being able to keep an eye on the work, or having the home renovating project close to hand for those working on a DIY basis.
The downside is that the home renovating project is always there and you cannot escape it, which can become oppressive. It is best to move out at least whilst the major work is being undertaken, such as major demolition or construction, especially if you have children or pets.
If you cannot move out, try and isolate the construction work from your living space using plastic sheeting carefully taped up, by avoiding knocking through to connect new and existing parts until you are ready to plaster, and by making sure the builders have separate welfare facilities, i.e. a WC, rest room and access to water and a kettle.
Leaving Builders to Make Decisions
Home Renovating involves making countless decisions, from which improvements to make and the choice of fixtures and fittings, down to the route for new services such as plumbing, or how details should be finished off.
Many of these decisions need to be made quickly, if they are not to hold up work, and so you need to allow time for this, based on what will be the most practical and aesthetically pleasing solution.
If you leave such decisions to builders, they will invariably do whatever is easiest and quickest for them, and this can look awful. The trouble is, once the home renovating work is done, you have to pay twice, if you later want to make changes and the builders will hate you for it too.
A good builder should warn you well in advance, the decisions that they need you to make. Listen to them, spend time on site visits, and keep up to speed.
Getting Carried Away With Fixtures and Finishes
As you reach the second fix stage of the project. It is easy to think you are on the home straight, under budget. And that you can start splashing out on designer bathrooms, taps, expensive handmade tiles, luxury showers, chrome sockets and switches, column radiators and all manner of great features.
The trouble is you probably still have a third of your budget to go, and you can easily run out of money. Keep track of your budget throughout the project and always have an idea of how much you have left.
If you do under spend, or you have budgeted for high-quality finishes, then no problem. But do not end up running out of money needed to pay for work or bills still to come.
Know More About Buying Properties,
You've found an undervalued property that screams potential and is a great opportunity to renovate for profit. Congratulations! You're off to a cracking start.
But before you roll up your sleeves and start looking at color charts. There are a few things you need to know to protect your finances, your profit margin and above all, your sanity.
For couples undertaking a house renovating together, there's also the important matter of a relationship to preserve!