I don't know who you are, I don't know what you want. If it's a paid link, I can tell you, I don't have money.
But what I do have is a particular set of skills. Which makes me a nightmare for websites like you.
If you disavow the links, I will not pursue you.
TLDR.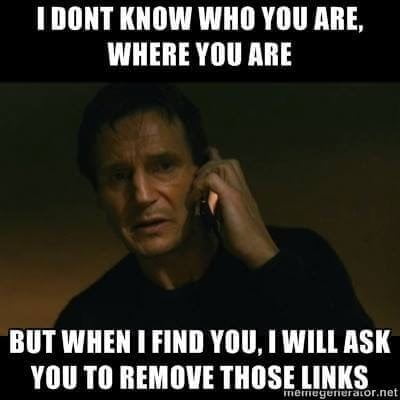 There's a Bryan Mills in every SEO analyst who comes to life when they see anything going wrong with the link hygiene of their website.  
Let's not waste anymore of your time enunciating how integral backlinks are for improving rankings and the overall health of a website.
Just like content that makes people stay, a social presence that helps brands slay, link building isn't just a chore to procure a bunch of links to boost rankings.
If you think otherwise, well, it isn't good news. At least not for the long run.
Why?
Link building has evolved from the age-old 'link exchange.' Even more, it's considered a black hat SEO technique now. 
Like we always say, shortcuts in SEO are an absolute cop-out.
'Building links' should be to double down on your content marketing efforts so the right people come across what you write and impart value, big or small.
So, help your visitors reach the right content they intend to find. Be it interlinking within your website, or citing externally to relevant sources.
Keeping this very thought close to our hearts, we'll look at some of the tools you can use which will make this part breezy. Well, strike that. It wouldn't be that breezy.
These 20 link-building tools will help you optimize your content marketing & outreach efforts. 
20 Best Link Building Tools of 2022
Let's sort the best link-building tools into different categories, list them alphabetically, cross-reference them based on utility, and label them all using differently colored… wait!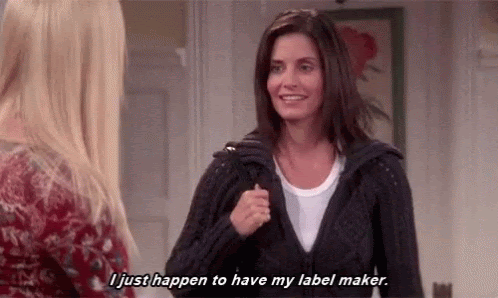 You know what, let's just group them like how normal people do. (The Monica in me low-key chagrins!)
Link intelligence
Link prospecting
Link prospecting & automation
Digital Press Release
Influencer Marketing
Link Audit
Link Intelligence Tools
Link intelligence or link monitoring tools help you find competitors' links that bring them traction. In most cases, entering the URL of your competitor's domain will visually bring you the linking domains which you can potentially target for your website.
Not a direct link-building tool, but helps you keep a close tab on your counterparts in the same domain or even a different one for that matter. 
Majestic SEO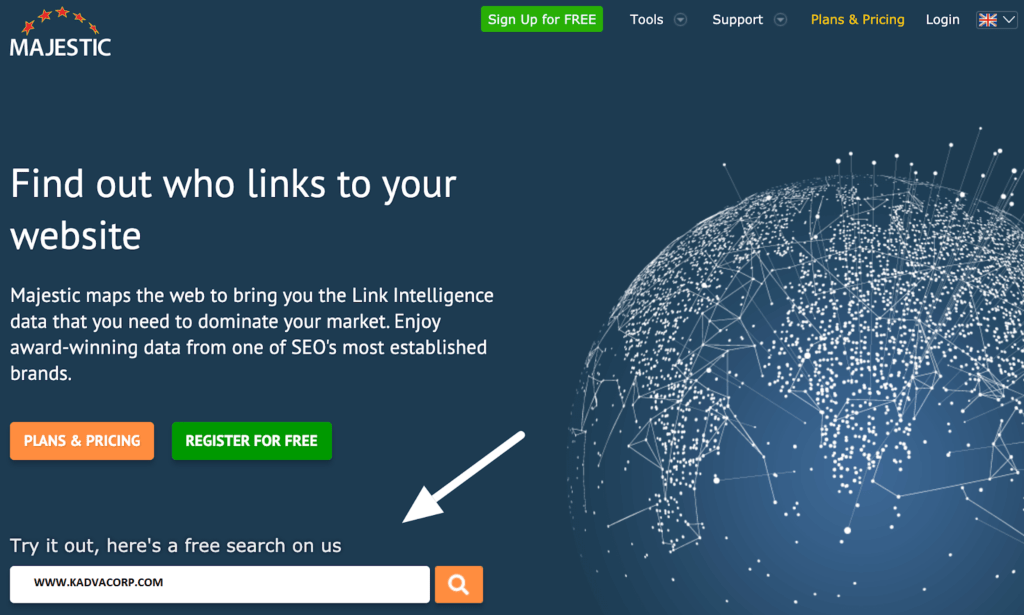 Majestic SEO is a link analysis tool that specializes in helping you focus on backlinks and keep a track of them. According to them, the tool is credited to have the 'largest link index database'.
While it's counterparts, like Ahrefs, branch out into keyword research & organic traffic analysis, Majestic SEO directs all the energy towards the backlink profile of your website. 
Some of the things you can easily gather from this link intelligence tools are:
Crawled URLs
Indexed URLsTrust Flow
External Backlinks
Referring Domains
Referring IP Addresses
Citation Flow
Topical Trust Flow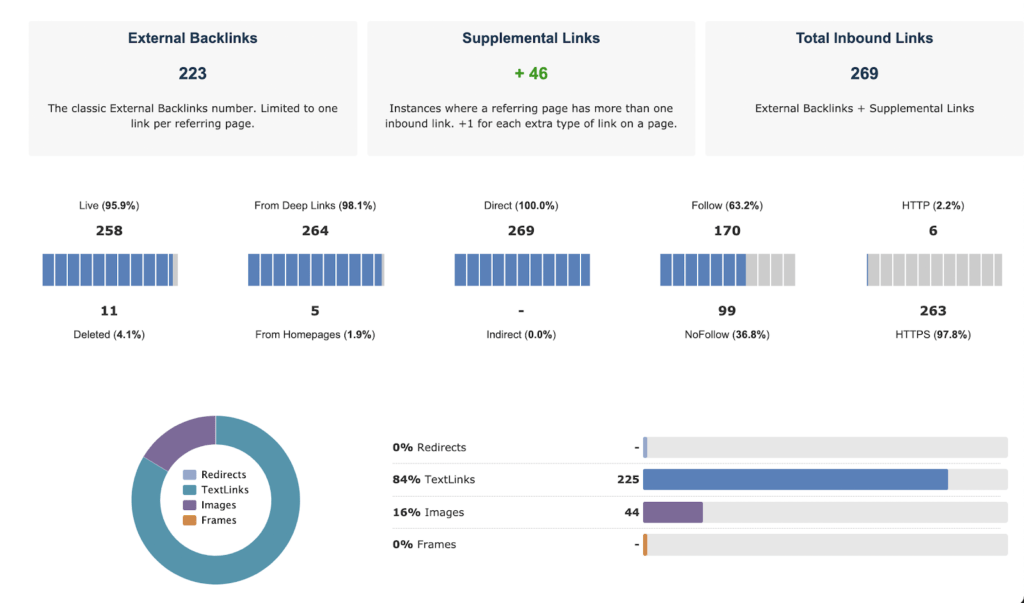 Among these, Trust Flow, in particular, is pretty awesome. It's the tool's unique messing parameter, just like Moz's Domain Authority, and scores the backlinks based on the credibility of the linked websites.
Pricing: $49-$99/month/annually. Full API plan at $399 for agencies.
Our 2 cents: The tool isn't an all-encompassing SEO tool. But, again, it lives up to its name of being on the best tools dedicated to backlinks & analysis. For the value paid, the tool is worth every penny you pay.
Ahrefs
The list of best link-building tools and Ahrefs. Could I be any more obvious? Of course, there's no deal without Ahrefs.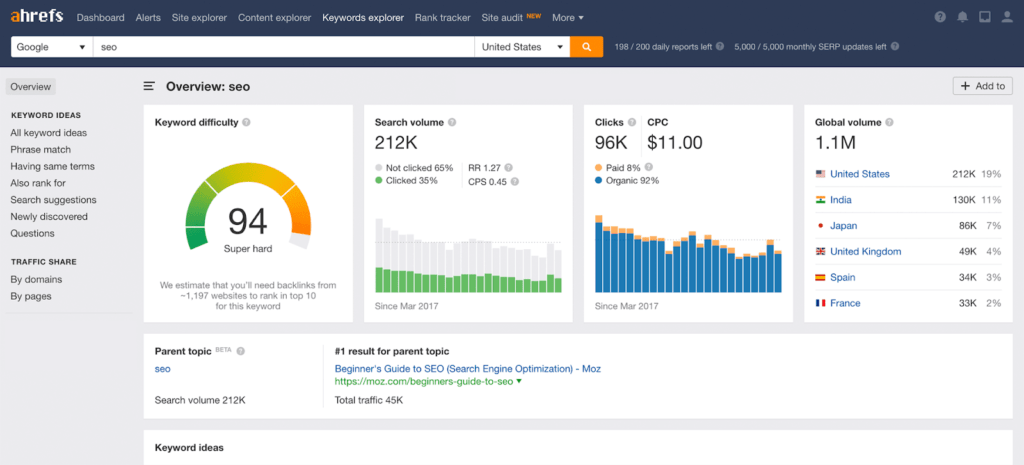 Source: Ahrefs
The 7 distinct tools within Ahrefs are:
Website Dashboard
Site Explorer
Keywords Explorer
Content Explorer
Rank Tracker
Site Audit
Alerts
The dashboard gives an overview of your website, including a host of scores such as Ahrefs ranks, or Domain Rating which is the strength score of your backlinks. You can make use of keywords & content explorer to kickstart your content marketing efforts while rank tracker will help you understand how well pages perform in SERP.
Site audit, personally, has been a lifesaver to figure out what's amiss on the website. The tool shows errors, warnings, and improvements so you can prioritize the activities to improve the health score.
How many web pages have unique websites linking to them?

We took the entire database from our Content Explorer tool (over 1 billion pages) and studied how many referring domains link to each page.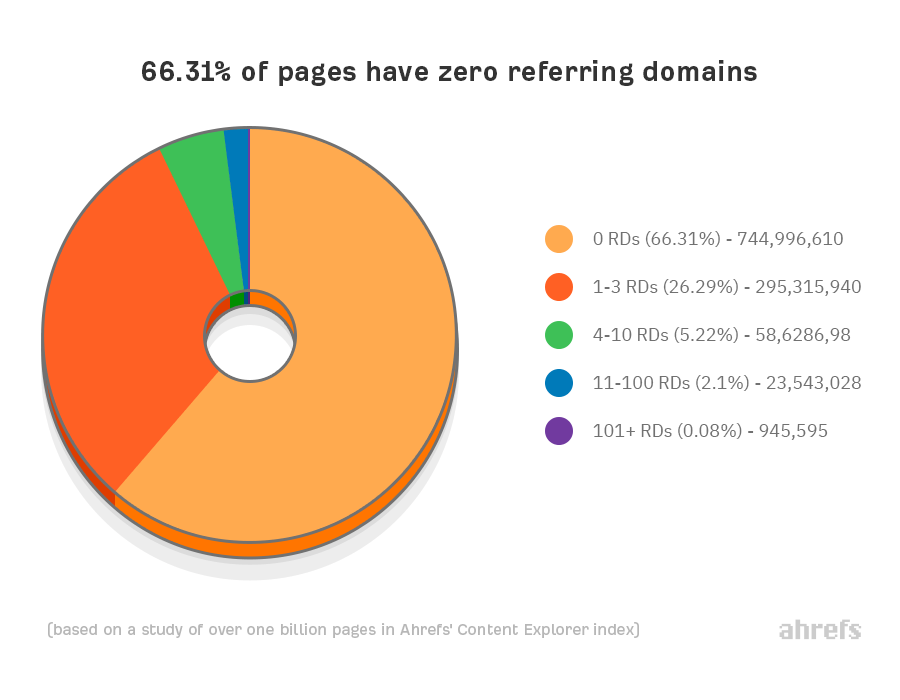 Here are the results. pic.twitter.com/fbSDquvXd9— Ahrefs (@ahrefs) 
Wait, what?
Missing an H1 on your page? Canonical links not working properly? Ahrefs will tell you the rest of the story.
Pricing: $99-$999/month/annually.
Our 2 cents: If you're looking for a robust SEO tool, look no further. Ahrefs gives a run to all competitors when it comes to both features & functionalities. The pricing could be on the higher side, however, considering there are multiple tools at your disposal, makes it worth it.
Linkody

Linkody is a user-friendly link intelligence tool that comes at a very affordable rate and gives you the complete picture of how your backlink profile looks like.
Linkody's link building tool helps you to:
Track backlinks that you've won & lost
Assess the strength of your backlink profile
Keep a tab on competitor links that you can leverage
Identify unwanted links and disavow those.
You can sign up for a 30-day free trial and tour the features offered by it before paying up.
Pricing: $11.20-$115/month/annually.
Our 2 cents: The prices are much suited for businesses that are just starting out with the SEO efforts. The trial version is a good opportunity to explore and learn the ropes if you are new to SEO.
Monitor Backlinks
Monitor Backlinks is a link analyzer tool that helps you out in link building, tracking the ranks of your pages, and keeping a watch on competitor links.
Monitor Backlinks tells you which of the backlinks are contributing to the success of your website and the ones which are dragging it down.
Rather than setting up their own link index, this backlink analyzer tool pulls data from Moz & Majestic, prunes it up, and then gives it to users.
The tool also comes with additional features such as rank tracking and keyword research.
Pricing: $20.75-$156.19/month/annually.
Our 2 cents: Identifying harmful links and disavowing them is a walk in the park with this tool. It could be a good tool to start off for new businesses.
Link Prospecting
Link prospecting is the method of scouting for new links and identifying potential link opportunities. Very crucial to finding new and relevant backlinks, these tools will help with simplifying the process of hunting.
Ontolo
Source: Ontolo
Ontolo's link prospecting tool helps you gain exceptional insights to scout and get highly relevant backlinks for your business. Based on your configuration, the tool furnishes targeted links that can help you on the way to the top of SERPs.
The tool searches through around 80 sources to bring you link opportunities; it helps you find relevant keywords and links within your database.
In addition, the platform helps you watch competitor backlinks to find good ones for yourself and possibly better ones in the process. Broken links? No worries! Ontolo searches through your links and notifies whenever there's a broken link or a change in the backlink on a third-party's website.
Pricing: $97-$297/month. Custom pricing for agency plan.
Our 2 cents: The tool is best suited if you have a fair knowledge about SEO & backlinking. We wouldn't suggest it for a beginner as the tool could get a tad overwhelming. This link prospecting tool may not have the best UI to help a beginner.
BuzzStream
Source: BuzzStream
BuzzStream is a link prospecting and outreach tool that connects you with the right contacts after finding a relevant backlink opportunity. It not only helps in link prospecting but also to manage all the conversations in one place. Call it like a CRM sorts, if you will. 
BuzzStream tracks email parameters as well: Open rates, CTRs, clicks, replies, and smartly manages follow-up mailers as well. It's easy to manage bulk emails without turning out to be spammy and annoying with BuzzStream.
Au revoir, Google Sheets. Marketers have much handy tools that save them time and a tonne of effort.
PS: They have a cool extension called BuzzStream Buzzmaker that helps you find, save, and add prospects while on a website. 
Pricing: $24-$999/month.

Our 2 cents: There's a free trial available to check out the tool and see if it's to your liking. BuzzStream is primarily a backlink-enriching tool and that job it does beautifully. If you're enthused to invest in your backlink profile, look no further. 
Whitespark
Whitespark is a Local SEO tool that helps you get traction and bring home customers right from search engines like Google for your brick & mortar business. 
The tool predominantly offers:
Rank Tracker
Reputation Builder
Local Citation Finder
Review Checker
Google Review Link Generator
Local SEO Checklist
Google My Business Explorer
Review Handout Generator
Whitespark cleans your local SEO listings, removes duplicates if any, and helps you claim important citations that you could have missed otherwise. It's an all-in-all wonderful tool to improve local search appearance.  
In addition to tools, this Local SEO tool also offer services like:
Google My Business Services
Yext Replacement Services
Citation Building
Citation Audit & Cleanup
Data Aggregator Service
Enterprise Services
Do keep in mind that the tool has more of an À la carte touch and you can purchase the tools/services as needed.
Pricing: Free plan available. $20-$100/month. Source: G2 Crowd
Our 2 cents: The tool could lean towards being pricey and they mostly cater to enterprises. If you're an SMB, Whitespark may not be the best option. They also offer discounts for voluminous citations, which is attractive if you have multiple locations.
Dibz.me
Dibz is a link prospecting tool that helps you reach out to the right people to strengthen your backlink profile. These could be bloggers, podcasters, or influencers. 
The tool filters your searches using their advanced algorithms, APIs, and custom spam parameter to give highly relevant opportunities.
This link prospecting tool helps you manage contacts easily with CSV, group them based on campaigns, send campaigns, and track performance.
While focusing on keywords, you can start off with broad terms in your domain; such as SEO or Content Marketing, and then narrow down as you go along.
Pricing: $25-$270/month/annually.
Our 2 cents: Very user-friendly, even a beginner can find their way through the tool easily. You can make use of Credits to access more information outside your plan limits. 5 is the minimum.
Link Prospecting & Automation
The very core idea of scouting for new links, but with the added benefit of automation. Let's take a look at some of the best tools falling under this category!
Respona
Stop Spamming. Build Relationships.
This is the motto of Response. 
A clean tool with a refreshing UI. Response is an all-in-one platform that combines digital PR and link building. 
First, find relevant opportunities within Respona's database. You can either use the tool's database or import your contacts. Create email sequences that are automated yet still retain a touch of personalization, find email contacts of relevant stakeholders, blast emails, and track the performance & responses.
The platform brings in a high degree of automation, be it for auto-reply or follow-ups. Respona is also a great medium to reach out to influencers to invite them over for collaboration, be it a podcast or an interview! Not just influencers, you can reach out to journalists and bloggers either for digital PR or guest blogging/
When you reach the pricing page, Respona has compared the pricing with fellow competitors such as Buzzsumo so you can make the right choice. Bold, very!
Pricing: $95-$245/month/annually.
Our 2 cents: Respona combines email marketing, outreach program, with link prospecting to help you build a solid backlink profile. One of its best features includes automation without losing personalization. Don't shy away from giving it a whirl.
Postaga
Postaga is an AI-powered outreach tool that helps you find relevant opportunities to link your blog and attract the right traffic.
It helps you find the right contacts, reach out to them with highly personalized email drip campaigns, and actually get responses.
We love how they've demonstrated the journey you can take with Postaga's link prospecting tool.
Enter your domain. Find your posts with outbound links.
Find linking domains along with the email contacts of stakeholders.
Send personalized mails without expending too much time. The author's name is autofetched and included in the email. Imagine the time you can save writing emails while sending hundreds of such outreach campaigns? Send drip emails after regular emailers, automated neat & nice.
We've just shown you one of the link-building campaigns you can run with Postaga. Digging deep, here are some of the ways you can get started:
Mention
Resources
Tools
Reviews
Expertise
Round up
Custom
Skyscraper
After entering your domain, Postage brings 'Opportunity Searches' or all potential articles where a link to your website will be useful for readers. The outreach tool then fetches contact lists along with the company's About page, LinkedIn, pricing details, and more. Just in case you want to throw an extra dash of personalization.
Pricing: Free plan available. $99-$299/month/annually.
Our 2 cents: Life would be much easier if you have a tool like Postage with you while venturing out to build your backlink profile. It comes with a lot of features that save you time and helps you get results, such as credible contacts or outreach templates.
Digital Press Releases
A PR is not just good for spreading the word about your brand and receiving visibility. Most journalists drop a link back to your website to increase
HARO or Muck Rack
HARO or Help A Reporter Out is a PR methodology that enables journalists access to thousands of credible sources to cite in their upcoming stories or content. And, Muck Rack is an alternative tool to HARO. 
If you're looking to build PR presence using HARO or Muck Rack, here's how to go about it:
Sign-up for either HARO or Muck Rack. You can do so as a source or journalist. Choose source option.
Set daily alerts about relevant opportunities in your domain from journalists
Send a detailed explanation or a quote and ensure your snippet of information drives value and isn't just a string of words or jargons.
If selected, your name along with a backlink to your website would be credited by the journalist in the story.
It's not a quick process and sometimes it may take a while to find an exact match to your relevant domain. Don't feel disheartened, HARO has been hailed as one of the best ways to earn links from PR or journalism.
Pricing: HARO: Free plan available. Paid plans $19-$149/month. Muck Rack: Custom pricing.
Our 2 cents: Don't go into this method expecting overnight success. You'll need to ensure the information you provide is highly relevant to the article being written. If not you, the journalist can always pick from the many hundreds. Use it wisely!
SEOJet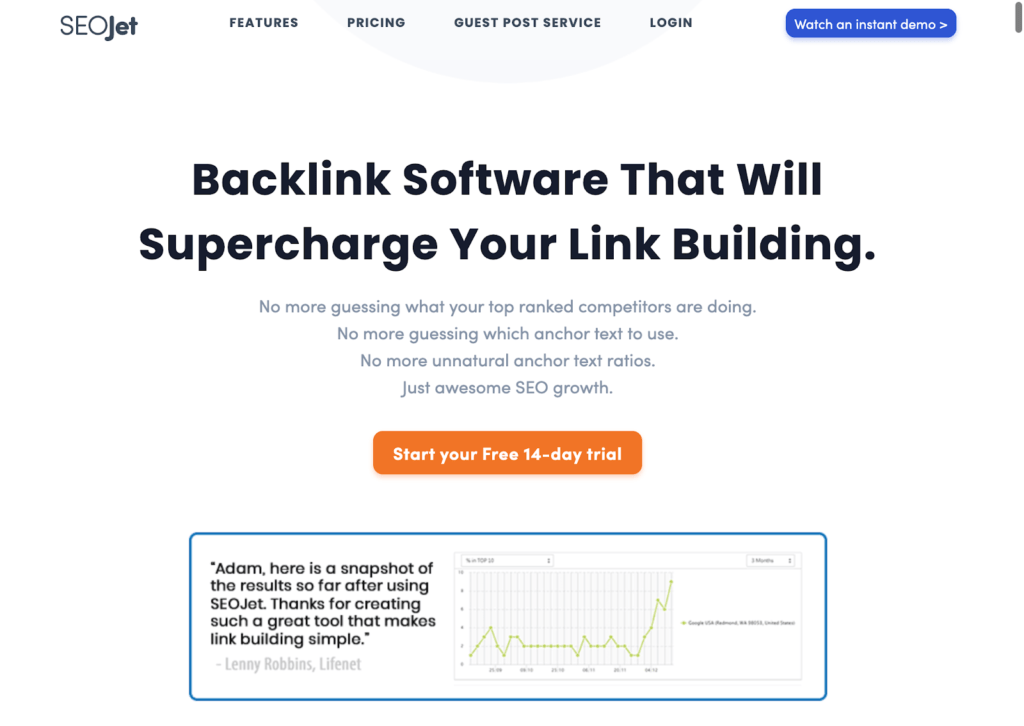 This link monitoring tool has been fondly called as one that helps to 'build links naturally.' Without the worry of falling under the radar of Google's ruthless updates. Monitor backlinks easily to and reports to you how natural your backlink profile appears to search engines. Woah!
SEOJet offers an anchor text management service to optimize all the linking text along with a premium members-only guest blogging service. Take guest blogging and bringing home good traffic, a notch higher. 
You can also run competitor analysis with SEOJet to analyze anchor text distribution, backlinks, on-page content, etc.
In case you want to give the tool a whirl, they offer a 14-day free trial.
Pricing: $57.50- $165.83/month/annually.
Our 2 cents: This tool is great when you're taking the deep plunge to build links, the natural way. The tool searches through thousands of links to find the most relevant one and even takes care of anchor text optimization.
Just Reachout
Just Reachout is a digital PR tool that helps you build a list of highly targeted journalists, bloggers, or influencers to amp up your PR, guest blogging, or marketing initiatives respectively. 
Source: Just Reachout
An alternative to HARO, you could target both brand visibility and building links from the process. The tool routinely notifies you about new press opportunities to connect with journalists. Just Reachout then provides you contacts to send pitches to the right people and analyzes the success of each pitch so you can replicate.
Alongside, it checks for broken links under your domain and brings it to your attention.
Pricing: $159-$559/month/annually.
Our 2 cents: The software keeps a tab on a variety of sources to understand the latest press opportunities. It's been regarded as best suited for startups and solopreneurs who are just setting out with their PR initiatives.
Influencer Marketing
Traackr
Traackr has been around even before the fancy term 'influencer marketing' even came into being. When the product, that measured the reach across social media, was launched it seemed pretty superfluous in the marketing weather in 2008.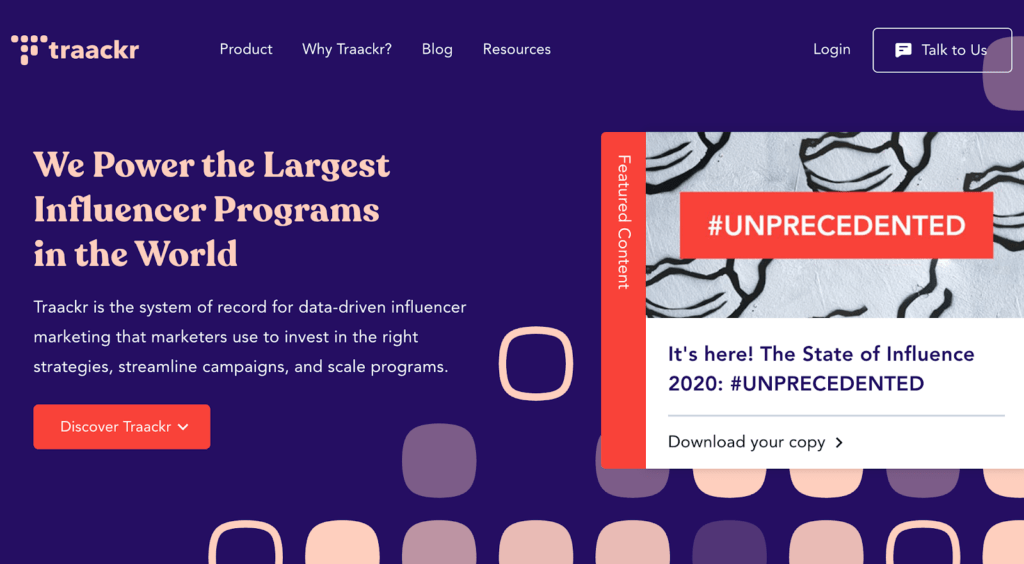 It has since then stood the test of time, adapted with the ever-evolving social media, and has turned out to be one of the best tools available in the domain.
TLDR, Traackr is an influence marketing tool that helps brands to quantify and measure the impact they create on social media. In addition, you can learn in-depth about influencer marketing from its Academy of Influencer Marketing.
Pricing: Custom
Our 2 cents: The tool helps you plant, nurture, and grow your influencer marketing game. Traackr tends to fall on the expensive side. The absence of a free trial might be a disadvantage for beginner folks.
Klear
Klear is an influencer marketing platform that helps you discover, connect, and collaborate with influencers in your domain. 
The tool helps you filter searches in terms of:
Location
Influencer tier
Social channels
Demographics of target audience
Pricing
Souce: Klear
Klear is not just a platform for influencers. If you're a content creator, you can sign up with the platform to connect with brands and collaborate easily.
It offers free tools for users that include:
Facebook Page Analysis
Twitter Analysis
Top Influencers By Location
Find Twitter Influencers
The analytics offered by Klear is detailed and helps you analyze the campaign performance both influencer-wise and channel-wise.
Pricing: Custom
Our 2 cents: Klear's AI-powered algorithm scores and quantifies the influencing power of a content creator. It also helps you laser-target your audience from a demographic that's segmented based on age, gender, location, and preferences/interest. Startups, do check out their custom plan that could tailor-fit your requirements.
Link Audit
URL Profiler
URL Profiler is an audit tool that helps you extract bulk website data both at a domain level or URL level. Some of the insightful data you can pull out and analyze are content, backlinks, social media data, and more!
You can enter bulk URLs at one go, tick all the things you wish to analyze, and then go! Some of the things you can sort in order using URL Profiler would be:
Content audit
Link prospecting
Penality audits
Social & contact data
Domain Research
Elaborating a little more,
Pricing: $19.95- $64.95/month/annually.

Our 2 cents: URL Profiler may not be the first choice for people who are just stepping foot into SEO and technical aspects of it. Nonetheless, the non-limit it offers sure goes a long way in helping you clean up your website and strengthening your backlink profile.
Phew! And, with that we wrap the list of 15 best tools for link building and prospecting.
Or, so you thought.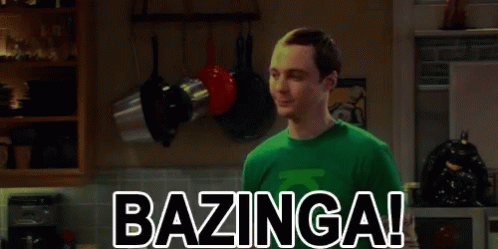 Source: Tenor
Alright alright, what I mean is, we still have 5 bonus tools to end 2020 on a happy note.
5 Bonus Link Building Tools (Yay!)
Bocain Designs
Who would have thought of finding a link outreach tool on a website design service company? Ladies & gentlemen, Bocain Designs!
It's link outreach tool called Chase the Footprint helps you to find link building opportunities with just a couple of clicks. Enter the keyword and select the footprint category, followed by the footprint. And, set a time interval of your choice. 
The footprint category includes:
Content pages
Blog commenting
Contribute to pages
Message boards & forums
Google searches
Other websites
While the type of footprint could be Facebook, Twitter, Tumbler, Instagram, etc.
Attrisource
The tool helps you automate your link building with a simple copy & paste. Wait, what?
Source: Attrisource
The tool automatically adds the source URL to any text snippet that you copy.
Copy-pasting can take you a long way. Even in SEO!
Hunter
We've already met Hunter in our blogs of content marketing tools & SEO Chrome extensions. It's our favorite already. 
Now, here's why it's going to be your favorite too. Ever struggled with writing good emails to crack your outreach?
Bonjour, Hunter's SEO Templates!
A simple copy-paste will help you, yet again!
RocketReach
Connect with the right folks with this link outreach tool. RocketReach boasts of an impressive database consisting of 450 million professionals, worldwide, working in over 17 million companies. 
Not just for marketing or sales, the tool also helps you hire the right talent before your competitor does. Integrate seamlessly with any of your existing tools, CRM for instance, and manage workflows like a boss.
And, with that, me and 2022 signs off! 
I hope you're only happy about the latter leaving, though! Until we see you next year with loads of informative content.
Stay safe & happy!