Although COVID-19 has affected our lives for a long time and changed the way we studied and worked a lot, the world is still getting closer because of all kinds of online technologies. For businesses, online meetings become a daily need, and many teams need to meet online to communicate with each other to make sure that work can run as normal.
So, when online meetings have been so important, how can we make sure these communications are effective when all of the members are not staying together? So in this article, 4 effective tips will be introduced to help you let your online meetings have higher quality.
Record Your Meeting Even Without Permission
Ask Everyone to Activate Webcams
Host Online Meeting on PC
Ask Everyone's Opinion
Record Your Meeting Even Without Permission
Having meetings online can be very convenient because you can join in them everywhere no matter you are at home or on a business trip. But some of you may be afraid of missing some important messages from the meetings. So the first tip to make sure you will get everything from the meetings is by recording all meetings down. After saving the recorded meeting videos, you can play them back later again and again, making sure that you have marked them down and remembered all details mentioned in the meetings.
Knowing such a need, many online meeting platforms such as Zoom and Teams also offer the meeting recording function to let you record the meetings.
But it is a pity that they would only allow the hosts of the meetings to start the recording. If you are only the one who are invited to join the meetings, you can't have the recording right or even watch the recorded contents unless the hosts invite you to do them.
So having a tool to record online meetings without permissions at anytime you want, and that's how VideoSolo Screen Recorder can help.
VideoSolo Screen Recorder provides several recording modes to help you easily record different activities on computer screens, including online meetings, webinars, lessons, gameplay, live streaming, and so on. For meeting recording, the software can let you flexibly control recording the screen with system sound, microphone, and also the webcam based on your needs. It will not send a notification to the hosts, so you can directly start recording online meetings without needing any permission.
The software also provides a panel while the recording is processing, letting you to add annotations or add notes on the meetings directly. If you are the hosts, you can even use the mouse effect feature to let the recorder capture your cursor, to make the presentations much clearer for others to see. As a powerful screen recorder, VideoSolo Screen Recorder can help online meetings to be even more efficient and of higher quality!
Key Features:
Provides 20+ recording modes to let you record online meetings in the way you like
Offers HD quality to keep the recording videos good enough
Allows to adjust the recording area freely and turn to audio or webcam in your needs
Offers powerful audio recording feature to save the voice in the best quality
Supports selecting different output formats and quality based on your needs
Provides some simple editing features to adjust the recordings before saving them on computers
How to Record Online Meetings Using VideoSolo Screen Recorder
Step 1. Select Video Recorder
Firstly, you need to finish installing VideoSolo Screen Recorder on your Windows/Mac computer. Then open it to select "Video recorder" from the Home Screen.

Step 2. Adjust Recording Settings
In "Video Recorder", you can first set the recording area and also test to set the system as well as microphone volume. If you need to record your webcam, also turn it on in advance.

Tip: There is a function called "Scheduled Recording". You can preset the starting and ending time to let the software automatically record the meeting for you too.
Step 3. Record Online Meeting
When the meeting begins, click the "REC" button and let VideoSolo Screen Recorder to start recording the meeting for you. During the recording, you can use some provided painting and annotations adding functions on the recording bar to take notes on the recording as you need.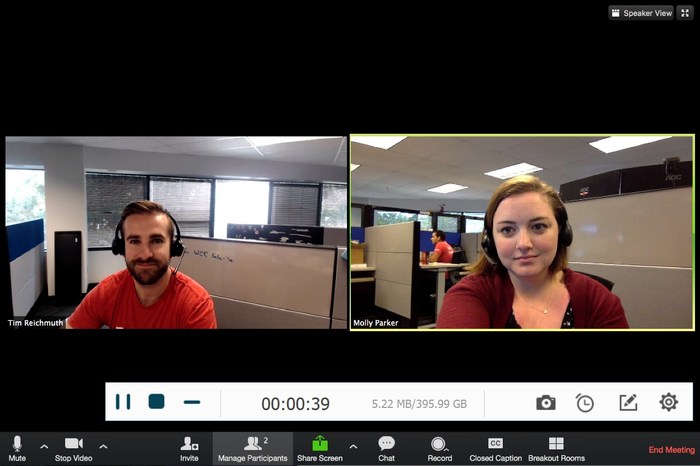 Step 4. Save the Recorded Meeting
After ending the meeting, you also need to click the "Stop" button to stop the recording. When you in the preview window now, you can check the recorded video. Finally, just press "Save" and the video will be saved offline immediately.
Ask Everyone to Activate Webcams
Facial and body behaviors can help the communication to be more successful and efficient. So when we are going to have an online meeting, it is recommended to ask everyone who are going to attend the meeting to turn to their webcams. Then during the meeting, all of you can notice how others are behaving and what are their reactions to some messages. Sometimes it would just be much quicker to see the actual integration than listening to words' explanations for a long time. When VideoSolo Screen Recorder also also mark the webcams messages down, it would also be more convenient for you to review the meeting later, or you can share the recording with those who can't attend the meeting as well.
Host Online Meeting on PC
Another tip to improve your online meeting efficiency is to hold them on PC instead of using a small mobile phone! Especially when you have to open all kinds of files and documents for sharing, it would be time-wasting to load switch between apps using a small-screen devices. Instead, you can prepare all the necessary files well before the meeting on your PC, and when the meeting is processed, you just need to drag and open the one you need to share with others immediately. This can save time wasted on unnecessary files loading and apps switching processes, and they can also be captured through VideoSolo Screen Recorder in a clear way to playback later.
Ask Everyone's Opinion
After recording the online meetings down with VideoSolo Screen Recorder, you can review the recordings and observe who are less expressive and won't like to express his/her ideas. Actually, it would be a little difficult for some people to express themselves positively online. So next time, try to encourage them to share their opinions! This can also help your meetings to be more successful because you are just getting everyone involved and let all of them share!
In Conclusion
Although online meetings sometimes can be less effective than face-to-face communication offline, there are still ways to overcome these problems! Try the 4 tips introduced above next time when you are going to hold an online meeting – you will surely get good outcomes!