Dropbox is One of the Top File Sharing Cloud Services. It will allow you to store all your personal and business files to Online Cloud account. Dropbox is one of the best ways to store and share small and large files. If you want to move or Change the Location of Dropbox Folder then here is Guide for you.
Dropbox is offering 2GB Free space to all users and after that, you can earn some more free space by referring friends to Dropbox. If you required more space, then you can Upgrade to Premium Version.
Dropbox is Cross Platform, and you can use it on Windows, Mac, Android, and iPhone. Dropbox is also offering Camera Upload Feature on Mobile Phones. By this way, all your latest Photos will backup with your Dropbox accounts.
Now if you want to Move or Change Location of Dropbox Folder Then first, you need to understand that you can't just copy-paste or cut-paste folder from once place to another Place. As Dropbox keep sync with folder and if it does not find the target folder then it will give you an error.
If you have default installed on C Drive and now want to Move Dropbox to other Folder or Drive. Then Follow this Guide, We will also show you that how you can move your Dropbox folder in external storage.
How to Change The Location of Dropbox Folder:
1. Click on Dropbox icon in system tray.
2. Now Click on Gear icon in Dropbox list.
3. Select Preferences from the drop down menu.Useful: Best Screen Recording Software For Windows
4. Now you will see all the tabs; you need to Click on Account Tab.
5. Now You Will See Location Option and Your Dropbox location also mentioned.
6. Click on Move Button.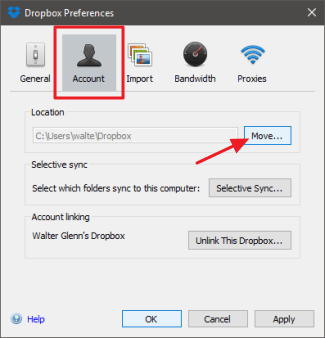 7. Now Select New Destination Folder for Dropbox and then click on OK Button.
8. Now You Will get Popup Confirmation, Click on Ok Button.
That's it You have Successfully Change The Location of Dropbox Folder. Now All your Files and Folder will get Sync with a new folder., if you have large data size, then it will take some time to sync Dropbox.
How To Move Dropbox Folders To an External Drive:
If you want to Move Dropbox Folder to an External Drive, then also it's possible. You just have to plug your external hard drive and then select a folder.
Keep in Mind if you are using External Drive for Dropbox. Then it should be available; Once Dropbox starts to sync, and if it does not find folder, then you will get an error.
Many External Drive takes the time to ready for send and receives data. Hope this guide has helped you to Change The Location of Dropbox Folder.