No doubt Youtube is the best platform to watch videos but while using Youtube you will come across many errors. But "This video is not available in your country" was the common error.This is because the content owner or video uploader have blocked his/her video from some certain country. So in this article, I am going to tell you How to watch blocked youtube videos in your country.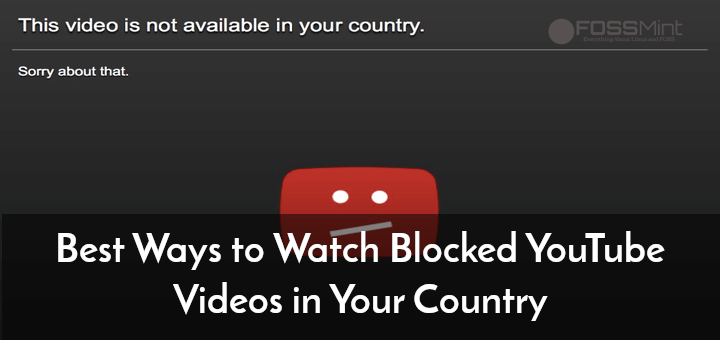 1. Watch Blocked YouTube Videos In Your Country Using Proxy
There are a lot of methods available to watch YouTube videos but this one is the easiest method. YouTube blocks the video from a particular country by determining your IP blocker address. So, the best way to watch YouTube video is to hide your IP. You can use proxy servers to do this.
You can use HideMyAss, Proxfree or any other proxy site. Chrome and Mozilla extension Proxmate also available to use.
Here is the step to step guide to use Proxy –
Copy the video link you want to watch on YouTube.
Go to Proxfree site.
Paste the blocked YouTube video link you want to watch.
Now Click on the "IP Address Location" and select any location from the drop-down menu.
Paste the URL into the search bar and click on the Blue Proxfree Button.
Now ProxFree will search for your blocked video and if the video is not banned in the IP Address you select then you should able to watch it without any problem.
Note – Because you are using a proxy server so results can take some time to load.
2. Watch Blocked YouTube Videos By Downloading
Another method to watch blocked videos is by downloading them from YouTube. If the above method is not working then you can try this one.
Watching video offline by downloading is better than watching videos online as it consumes the same amount of data. Another benefit of downloading video is you can watch the video anytime. Here the step to step method to download YouTube videos –
To download YouTube video at first copy the URL of the video.
If the video URL is – https://www.youtube.com/watch?v=td_CYmQujd0&list=RDMMtd_CYmQujd0
Just remove the https://www. of the URL with SS (it looks like – ssyoutube.com/watch?v=td_CYmQujd0&list=RDMMtd_CYmQujd0)
Now choose the resolution you want to download.
Click on Download button to start downloading your video.
3. Use VPN To Watch Restricted Videos On YouTube
Downloading video is the best option to watch but if you want to watch video online then you can also watch the video using a virtual private network. Both free and paid VPN's is available on the internet. You can use any of them which suits you best.
Finch VPN is available for free up to 3 Gb data per month. In VPN you just have to change your IP by selecting the location where the video you are watching is not blocked. Different VPN's is available for different platforms.
Here is the list of some VPN for mobile and PC –
For Mobile users –
Droid VPN
Tunnel Bear (500 MB Data/Month)
Windscribe (10 GB Free/Month)
Hotspot Shield Free VPN
For PC Users –
5. New Trick To Watch YouTube Video Blocked In Your Country
Here is another new and one of the easy trick to watch blocked video on YouTube videos. Here is the step to step guide –
Copy the URL of the blocked video.
For example – http://www.youtube.com/watch?v=yRw36GfDNKLw Then just replace /watch?v= with /v/
New URL will look like this – http://www.youtube.com/v/=yRw36GfDNKLw
Now open the new URL in your browser.
Done! Now you can watch your video even if it is blocked in your country.
6. Unblock Blocked YouTube Videos In Your Country Using Hola Extension
You can also use extensions in your browser in order to watch restricted YouTube video. One of the extensions you can use is Hola Extension. Here is the step to step tutorial to use Hola Extension to watch blocked videos –
Open the video you want to watch in your browser.
Go to Hola extension icon and select the United States from the menu.
Refresh the page.
Done now you can watch blocked YouTube videos in your country.
You can also use Browsec Extension to unblock your video.
So these are some methods you can use to watch restricted YouTube videos in your country. All the methods are personally tested by me. Hope you liked the article do not forget to share it with your friends.
Comment if you have any suggestion or query. Keep Visiting I will update the article as soon as I got to know about any new method.