Since its launch in 2016, the Maruti Vitara Brezza has been the logo's first choice in the sub-4-meter SUV segment (sub-compact SUV). At the time of launch, it only came with a diesel engine. But in March 2020, the company introduced it with a petrol engine giving face lift updates. 
Maruti Suzuki Vitara Brezza 2020 Review
Since this face lift was an update, there is an update in the design.  So let us know in detail how the 2020 Maruti Vitara Brezza Petrol:
Exterior Photo's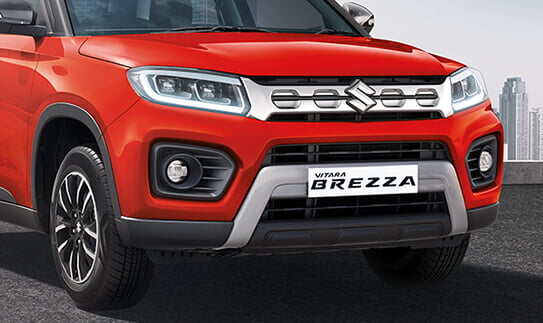 The 2020 Vitara Brezza Petrol at first glance looks similar to its older model. But by looking carefully, you will find that the company has made small changes in it.
Talk about its front profile, so it has a new blade chrome grille. The overall shape of the headlamp of the car is the same as before but it now has double barrel LED units.
Integrated LED DRLs (day-time running lamps) are also provided in the headlamps. They will also act as DRL turn indicators. The car's bumper and fog lamps have been minor changes to the design with the new update.
Now Brezza has LED fog lamps
Its new fog lap housing with black cladding features horizontal lining patterns that give it a rugged look. At the same time, the silver colour fox skid plate found on its bumper adds strength to the front look of the car.
The car's side design is boxy like its pre-facelift model. However, it now has 16-inch new alloy wheels.
With the face-lift upgrade, the company added three new dual tones ( Midnight Black Roof with Metallic Sizzling Red, Midnight Black Roof with Blue and Autum Orange Roof with Granite-Gray) and two new monotone colors ( Metallic Sizzling Red and Torque  Blue) Is also offered. These dual tone exterior paints enhance the contrast of the car.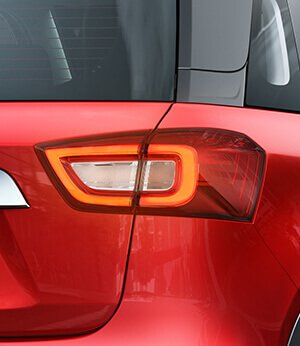 At the rear, with the facelift update, the company only provided LLD elements in the taillamps and changed the design of the Fox skid plate on the rear bumper.
Apart from this, in the automatic variants of the car you will also get "hybrid" badging on the tailgate.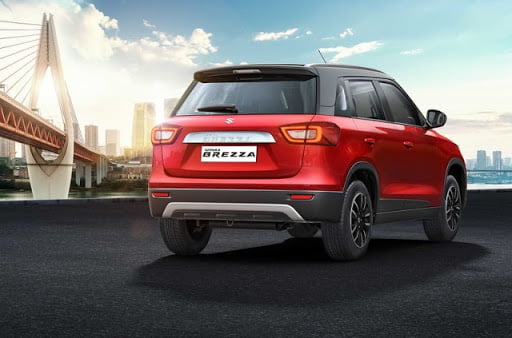 Overall, the facelift Vitara Brezza Petrol has the same design as its old diesel model.
Yes, the company has offered LLD elements in its lighting system as per the modern turn, which is a good thing.
But considering the total changes, it would be more correct to call it a mild-face lift version.