There is a massive hike in the car rental business with the rise in travel and tourism activities. Lately, the industry's fast growth has captured many people's attention and made them intrigued to invest money. Digital and technological evolution is the leading reason for this quick car rental market growth. Car Rental Software tools help owners establish their business by creating a unique identity and setting a solid foot in the market. This software is an advanced technology that helps rental car providers a platform to manage and systematically handle bookings.
This article offers a list of top steps to implement a car rental system if you consider taking a plunge into the car rental business.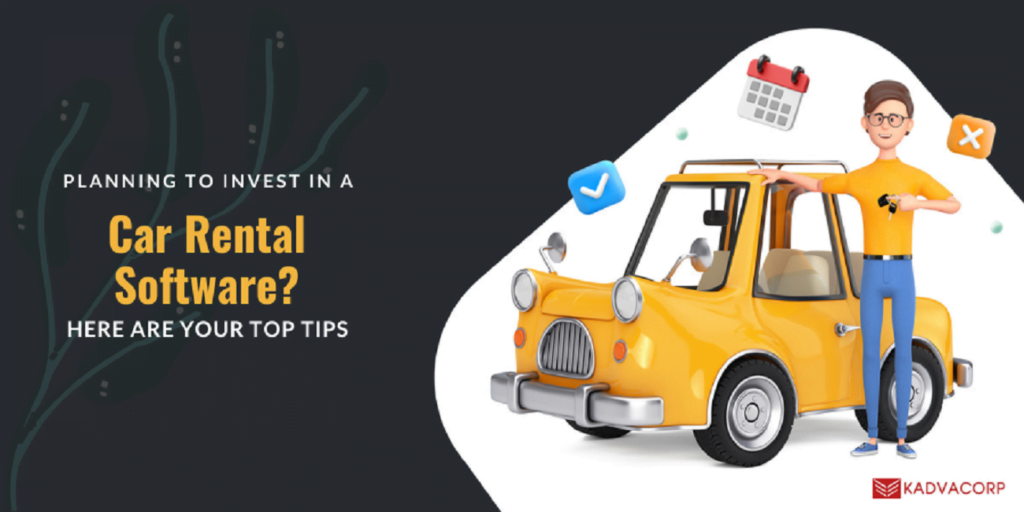 Top Tips To Consider Before Investing In Car Rental Software
In order to generate commendable revenue, owners need to focus on specific details to achieve smooth business activities for a car rental company. The following points will explain how car rental software connects different resources to ensure sustainability in today's cutthroat market.
1. Accurate Data Collection:
A thorough study of the market is the most important thing out of all. The market study provides different aspects of the industry, such as customer demand, peak hours, vehicles in demand, supply ratio, competition, popular payment methods, etc. Such information gives a great insight into how to start a business, marketing strategies, vehicle, and driver recruitment fixing charges, and many more profit-driven decisions with the help of car rental software.
2. Business Modernization:
Upgrading in any industry is an unavoidable part of growing. The car rental business requires constant customer updates and feedback to meet their expectations. Depending on the current demand, car rental software offers to guide various business prospects, e.g., electric cars, two-wheeler service, AC & non-AC cars, car app features, etc.
Car rental software is agile and adaptive. The tools of the software can easily integrate with other systems like CRM Software and AI technology. Such flexibility offers multiple solutions to please the target audience and double the profit.
3. Strategic Partnership:
Car rental businesses cannot survive alone. It becomes necessary to collaborate with local businesses to establish a presence in the market. Constructive partnerships with the hotel and airline industries can gain faith in the audience. In other words, certain airline travelers get special offers on their first ride or get discounts. Such marketing gimmicks can welcome new customers and give businesses a chance to provide the best services to hold onto them.
Tying knots with local hotels can quickly help as they recommend and use your car rental business in return for a particular commission. In both scenarios, car rental software collects more information on customers, gets in touch with them based on their personal information, and builds one-on-one relationships with customers.
4. Real-time Tracker:
GPS setting in the app is one of the best investments in this industry. Customers can constantly check the update on the driver's moment, and drivers can reach their destination by avoiding traffic based on real-time updates. Besides, customers can keep track of their relatives through such features, which can help to earn a brownie point. This feature helps car rental software to gather information on different areas, audiences, and requirements.
Car rental software provides guidelines for different areas and highlights more profitable routes and locations for the business where drivers can make more money. Businesses can take advantage of information such as peak hours, travel hours, most used routes, traffic routes, etc., to guide drivers and attract more customers. 
5. User-Friendly Platform:
A well-built empire is nothing if it is not serviceable to its audience. User-friendliness is the most important thing when creating a website or an app for the car rental industry. Car rental software should be easy to use and offer features that make the audience's life smoother. Car rental businesses can rapidly accept car rental software that crashes less and takes less time in data reviving from the cloud. The car rental software's performance and ease of usage can also make the car rental business popular.
6.   Robust Tech Support:
A well-integrated system requires persistent backup from the tech team. The IT team's job is to improve performance by fixing various bugs. The tech support can get in touch with customers via live chat and mail to resolve technical issues and introduce new features to ensure uniqueness in the market. Customers opt for an app that provides the latest facilities and takes less time to recover after regular updates. A continuous market survey through car rental software can guide engineers in providing much better rental services. 
7. Inventory Management:
After deciding the target audience, it becomes effortless to pick the fleet of the rental business. For example, if your target is business class, tourists, and leisure customers, you can choose luxury cars, SUVs, and RVs. The right choice is to invest in a care rental tool that syncs with inventory management. Car rental software collects sufficient information about a particular market, allowing owners to expand their business.
8. Pricing Tactics:
Price fixing is one of the most crucial factors for car rental companies. Businesses must ensure their prices aren't too low or too high to pull the target audience while making profits. By optimizing car rental software, companies can record vehicle usage and distance to decide on a persistent and reasonable price for renting. Setting the right price can help car rental businesses to cultivate, retain customers, and stay competitive. Additionally, companies need to avoid unnecessary overcharging to stay ahead of their competitors.  
Final Thoughts
A solid business plan is the backbone of any business. Without a clear vision and objective, no business can execute or function. Both existing players and new entrants to the car rental business can rely on car rental software to run the business efficiently and make a profit.