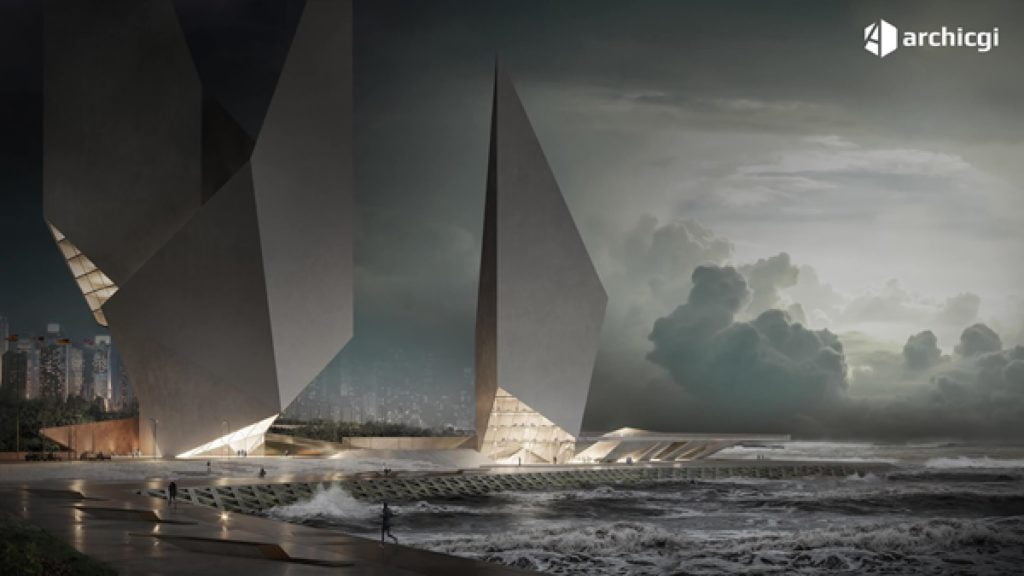 Making an effective presentation of an architectural project can be a challenge. That's because architects often have to explain their ideas using drawings and sketches. Though these materials provide accurate information, they look too schematic and unrealistic for people without an architectural background. So, oftentimes, potential clients and investors cannot visualize the presented concept correctly. Which is why they might reject even the most brilliant projects.
To avoid this, architects can use physical mock-ups of future buildings. But these models also have plenty of disadvantages. First of all, it takes ages to create them. Secondly, they are fragile and thus difficult to transport. Not to mention that it is barely possible to introduce any changes to a complex mock-up after it is finished.
Luckily, now these problems can be solved with ease. Modern technologies gave architects a precious gift called 3D visualization (aka 3D rendering or CGI). This powerful digital tool completely transformed architectural presentations. Thanks to CGI, it is possible to show design ideas with previously unattainable impact and with minimal effort from an architect's side. Let's see how!
3D visualization shows houses in realistic quality before they are built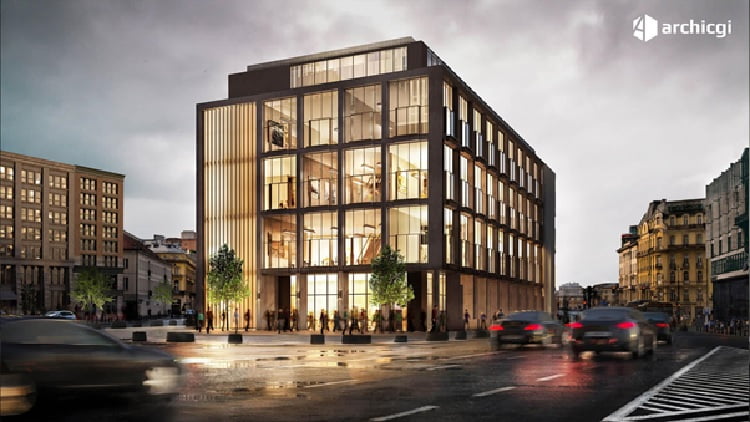 3D visualizations are computer-generated images that can hardly be distinguished from real photos. They are made by professionals called 3D artists who use specialized software for it. 3D visuals can depict anything including the expected look of architectural projects. So, with CGI, one can show a future house in realistic quality before the construction even starts. This way, architects can illustrate every aspect of their projects. They can showcase everything from cladding materials to amenities in the neighborhood. To get a CG visualization of a building, one should contact a 3D rendering company and send them drawings and visual references. And then, 3D artists will make eye-catching photoreal images out of these materials. Yes, preparing a top-notch architectural presentation is as easy as that!
3D rendering helps highlight the benefits of the architectural design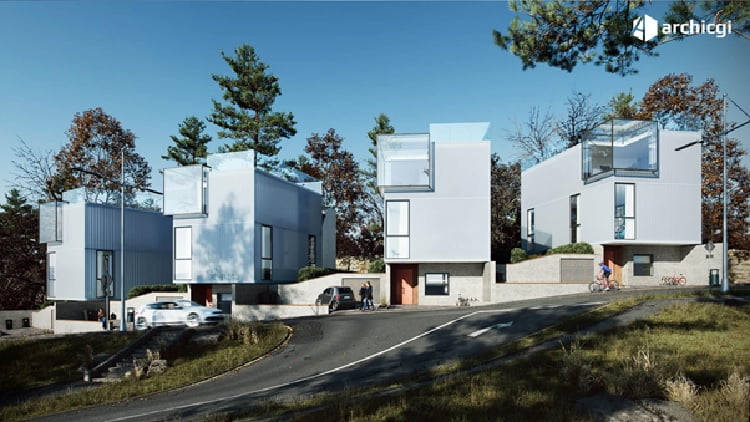 3D visualization does not just show the buildings – it presents them in the best possible light. That's because 3D artists know how to use camera angles, lighting, composition, and other aspects of CGI to emphasize the benefits of the design. For instance, to draw the attention of the audience to a restaurant on the rooftop, 3D artists can show it from a bird-eye perspective. Or, if there is a need to put the focus on the gorgeous staircase inside the top-class penthouse, artists can make a close-up view of this element. So, with CG visualization, an architect can be sure that no benefit of their design will go unnoticed. This way, digital visualization also assists in justifying the cost of the project. Because it lets potential clients see that the presented project is worth its price.
3D visualization allows for showing many design alternatives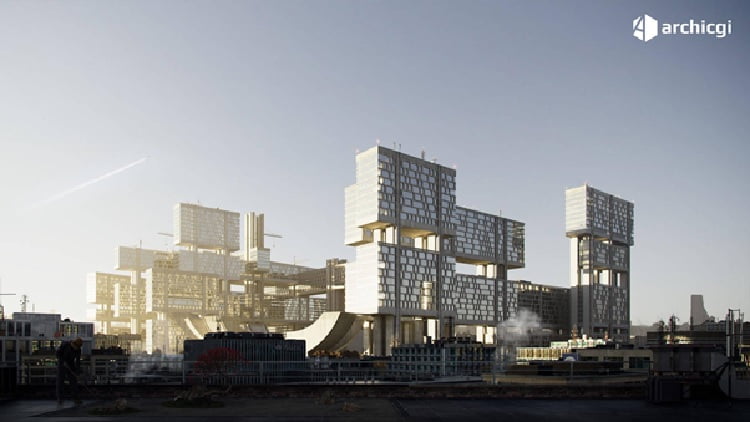 Sometimes, the clients of an architect cannot decide which design option would work best for them. For instance, they could hesitate in choosing a type of flooring material or shape of windows for their home. In this case, the best thing an architect can do is to present all considered options in realistic quality using 3D visualization. With CGI, clients will compare the impact of each design variation and pick one that really speaks to them. Since they can see all the options in advance, they won't regret their choice. So, CG visualization helps to prepare presentations that allow for making well-informed decisions.
CG visualization shows architectural projects in the most appropriate context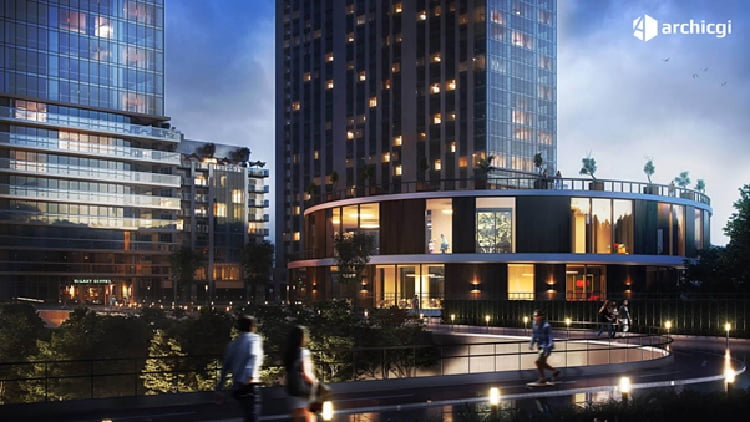 Another advantage of architectural visualization is its ability to showcase buildings in the most suitable setting. This means that the architect can pick the context that emphasizes all the benefits of the project. It is possible to choose weather, season, time of the day, and contextual elements to be shown in 3D visualization. For example, if an architect needs to present a project of a seaside villa, they can ask 3D artists to showcase it in the context of a sunny summer day. It is even possible to add some seagulls flying in the sky and a yacht sailing on the horizon. When shown in such an attractive setting, the design is destined to win the hearts and minds of the audience.
3D visualization is indispensable for remote presentations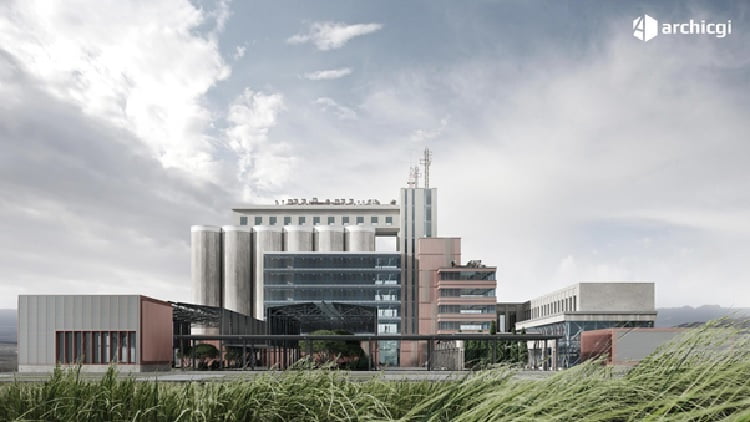 In the times of the pandemic, holding an offline project presentation is rarely an option. So, the architects need to adjust to the new reality. Which means that they have to make effective presentations for their clients remotely. And this is where digital visualization saves the day once again. CGI eliminates the need for the clients to puzzle over technical drawings during a Zoom or Skype call with the architect. Instead, they can look at a sleek photoreal visualization of the design at their screens and get a full understanding of the concept. This makes getting project approval easy even if the author of the design and their clients are in different parts of the globe.
3D visualization wows the audience with cutting-edge innovations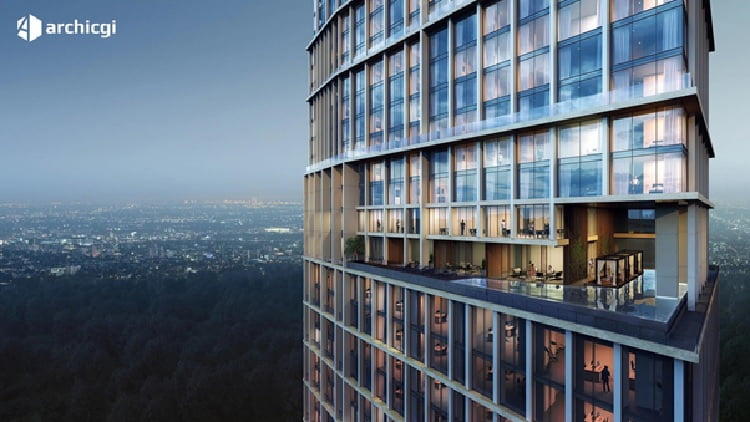 Digital visualization allows architects to engage the audience with innovative presentation formats. Apart from static images, 3D rendering studios provide 3D animations, interactive virtual tours, and AR/VR assets. These visual tools provide the viewers with an immersive, life-like experience of the design. They let the audience see the future property in motion, interact with it, and feel as if they were actually visiting the place. This is how a presentation turns into an exciting hi-tech experience, increasing the odds of clients signing the deal.
3D visualization makes architectural projects presentation ultra-powerful, informative, and convincing. It helps authors of the projects and their clients speak the same language and understand each other with ease. All in all, CGI  takes architect-client communication to a whole new level. With this asset, getting project approval becomes faster and easier than ever before. If you have never tried this amazing tool, it is definitely a good time to start!