Vintage Industrial Style Interior Design, Of Brewery Converted From Old Police Station in Argentina. Guillermo Cacciavillani, Bar Makers completed the development of Captain Central Brewery (CCC). This Industrial style interior design, an original bar design in the bohemian neighborhood of Guemes in Cordoba, Argentina. The architects transformed an old police station into a an engaging meeting space, where beer lovers can unite and share recipes.
Vintage Industrial Style Interior Design Of Beer Bar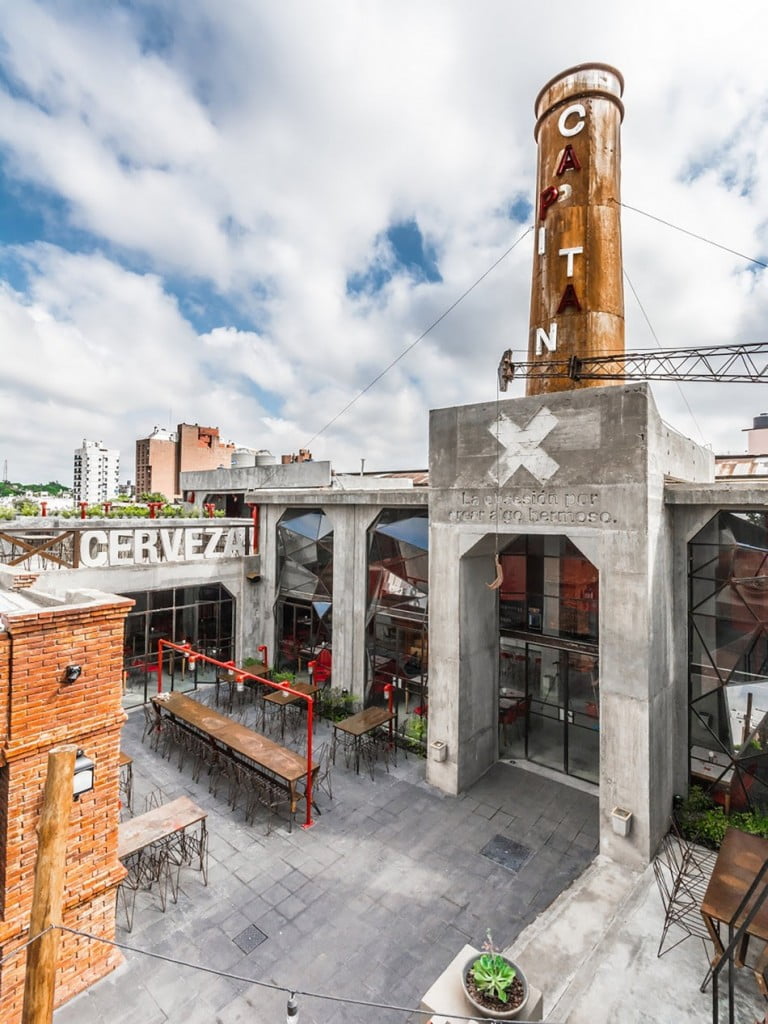 Industrial Style Interior Design
By merging cement, iron and glass, the building has a fascinating exterior design, which attracts passers-by like a magnet. Exposed red pipes powerfully contrast the gray cement, resulting in a playful and dynamic visual scheme. These pipes distribute bear to lines to different bars and support the lighting installation.
The 600 square-meter conversion was planned on two levels, and displays quite a few inspiring details. Morphologically, the bar reveals a marked industrial imprint through icons in its design.
A stripped facade, an imposing five-meter concrete portal with an angular arch, extended at the top by a rusty chimney over seven meters high.
A text in neon embedded in the concrete at the entrance that reads "obsession to create something beautiful," makes for a synthetic and forceful sentence." Connection between the two levels is achieved through a concentric red staircase covered by a metal strip.
Large terraces and patios offer guests the opportunity to enjoy a drink outside and contemplate the surroundings.
Industrial Style Brewery Pictures
Photographs: Gonzalo Viramonte