Bored? Or looking for a different way to kill your time? We thought of providing our readers interesting ways of doing that. So that you can really spend your time very well in case of stressed or difficult situation. Presenting you the Funny, Weirdest and Strange Websites. These bizarre yet funny sites will be helpful to you.
Top 20 interesting and funny websites to kill boredom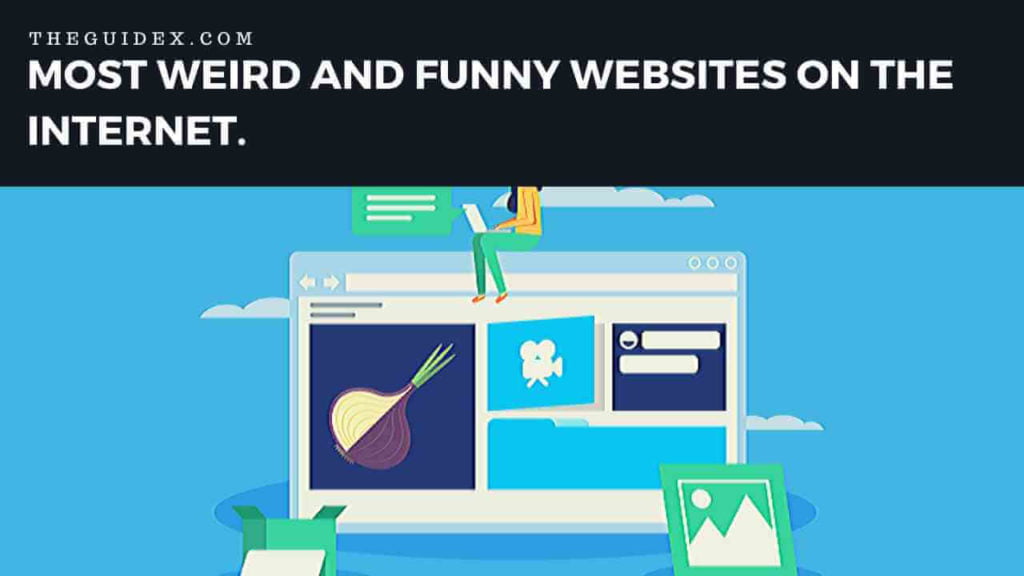 Let's have a look at the list of best top 20+ interesting cum weirdest websites – interesting websites.
Cleverbot is a hilarious website based on the AI or artificial intelligence algorithm and chats just like a human being with you. What you can do is just start typing on the chat window and you will be surprised the way it answers or talks with you. You can go on chatting with it for hours when you have no one around to talk.
Link funny links : Clever Bot
•Always judge a book by its cover
Always judge a book by its cover is the unique database of books. There are some book's names that will fascinate you and you will feel like really reading them. Visit it and see its interesting topics. Not only that but you will also find the link to purchase them.
Funniest sites visit: alwaysjudgeabookbyitscover.com
• ZoomQuilt
When you are looking for some sort of timepass, go on searching this website. It shows the best illusion over the internet. With ZoomQuilt you can experience an endless infinite zoom.
• Eat This Much
On Eat This Much website you are offered a virtual diet on the internet. User can fill a form with fields such as the amount of calories the user is willing to consume and the number of meals. It also asks for the type of food the user would like to eat virtually.Then according to the entries it generates a meal plan. Specially useful for health conscious people.
Funniest website: Eat This Much
• Smashthewalls.com
Smashthewalls.com is among the weirdest websites available online. It shows a wall which keeps smashing down on clicking or touching it. It just keeps breaking down.
Strange websites : Smashthewalls
• Eel Slap
Eel slap is a funniest website that allows you to slap a man on the screen with the help of an eel's hand. Interesting no? Well, you can do this with your computer mouse or simply by touching the mobile screen. You can consider visiting this site especially when you are frustrated.
Link funny sites : Eel Slap
• Pointer Pointer
With pointer pointer the user has to move their cursor or pointer and he or she can see the pic of another person pointing to the same point as yours. Its worth visiting once guys.
Strangest websites: Pointer Pointer
• Trypap.com
Welcome to Trypap.com. The site displaying that its a passive aggressive password machine wherein you have to enter any password. It tells you to Imagine your in-laws are helping one with a password…. this is what they'd say. When you proceed with it, you get the interesting messages generated by this machine that fascinates you. Visit it now.
Link to visit: Trypap.com
Buzzfeed is an American media site which is also available in most of the countries around the world. It displays the website posts as per your country of residence. You'll find memes, videos, news content and much more.
funny websites pictures : Buzzfeed
9Gag has 35 million+ Facebook followers since it offers a wide range of videos, images, memes, hilarious news and much more. All its content is published by its logged in users.
Link weirdest sites: 9Gag
• Bury me with my money
This site also allows you to hear a voice. Its the interesting interface. Have a look at it if you haven't. Just tap or click anywhere on the screen.
Link weird sites visit: Burymewithmymoney
When you are in Canada, Must Check out the Top 3 Healthy Restaurants you can order in from today on Facedrive Foods!!!!
• rrrgggbbb.com
Click on rrrgggbbb.com to see how its unique. Most of us already know what is RGB, correct or not? Well, for those who do not know the code, it stands for Red, Green and guess what? Blue. Browse the below given link to know the unexpected behavior of RGB. It is a good place to spend a leisure time.
cool websites to visit: Trypap.com
• Endless.horse
Endless.horse as the name suggests displays the image of a horse. It is again a must visit site for those who are looking for a perfect way to spend their time while browsing online.
So, click on the following link and there you get it.
Craziest websites: Endless.horse
• Down For Everyone Or Just Me?
When you are facing the problem of unable to see the website content or if the particular website is down, you get frustrated. So, Down For Everyone Or Just Me? is really a productive application website that allows you to crosscheck if a particular internet site that they are unable to open is only down for them or to anyone in the world. This is really a useful application when you really want to know it.
really cool websites to visit: Down For Everyone Or Just Me?
• A good movie to watch
Good movie to watch is a very an app for movie lovers and those who are unaware of what movie is good to be watched. The website offers various categories of movies as per the "Mood", "Genres" or "Latest movie " for users to find one that they would really love watching.
interesting web sites : A good movie to watch
• What The Font?
What the font is a website and application especially useful when you want to know about various fonts. With this you can fetch the name of any font that you see on a website or a piece of content. The user just has to upload a screenshot on the website and you get the name of the font as its result for the user. In addition to that it also displays details like the size, color of fonts present in the screenshot.
Link to visit: What The Font?
• Bored Button
Bored Button website contains a red button which has to be pressed by the user when he or she feels bored. On the occasion of clicking this photo, another page is opened that shows interesting content like card tricks, games, riddles to follow and thing like that for the user's purpose.
funny homepages : Bored Button
• Awkward Family Photos
Strange right? Awkward Family Photos is a website. As its name suggests it displays some of the real life family photos that look weird or awkward. These photos are submitted by nothing but their own family members. On uploading their photos on website after cross checking done by its site owners they get some benefits. So, just have a look at these funny websites pictures!
amusing websites: Awkward Family Photos
• The Useless Web
The most favorite of people to fix their boredom. In deed, this website displays the message saying "Take me to another useless website PLEASE." And hence the user clicks on the word "PLEASE". After which he's redirected to a random useless or funny website for that matter. The interesting thing is that every time when the user clicks on it, he is directed to new and craziest websites.
Link to visit: The Useless Web
• 100,000 Stars
A webpage that is loaded with a good thought and self-realization. It is a graphical representation of the universe and the stars in it. By looking at it you will realize about the place where we live is so small in the universe and so the problems in our life too.
Link to visit: 100,000 Stars
• heeeeeeeey.com hoooooooo.com
heeeeeeeey.com is the website with a different name. On clicking the URL of this site, you get to see some text on the screen and not just that, but the URL keeps changing automatically. It toggles between the two URLs continuously i.e. heeeeeeeey.com and hoooooooo.com. Both of them are showing different text to the viewers. It is another interesting website.
Link to visit: heeeeeeeey.com
• Feed The Head
This is a must visit site in order to perform strange things with the body parts such as head, eyes, ears. You can make it disappear by playing this game. This is a challenging and wonderful game to play. Get addicted to it. Lol.
Link to visit: Feed The Head
Staggering Beauty
Wanna see animated beauty of a worm? Open this website, and get a chance to see an animated, wiggly worm. Shake it vigorously to see the effect. Move your mouse cursor around the screen to see what happens.
Link to visit: Staggering Beauty
Are you a card aficionado? Well, you don't have to be to enjoy this fast-paced and exciting card game. The online version of Cribbage is similar to the physical game, players must score points through a variety of card combinations: the game is won when someone reaches 121 points. Cribbage is available in easy, standard, and pro modes and features a comprehensive look into the rules and history of the game.
A game that's been used to kill thousands of hours of boredom since the late 1980's, Minesweeper has remained the same. A simple to play, yet difficult to master computer game. Players choose buttons on a grid with the goal of identifying all the bombs without clicking on one. The game is available in beginner, intermediate, and expert modes.
• Jacksonpollock.org
Welcome to Jacksonpollock.org. With this you can type the content in different and artistic way. Whatever thing you type on screen looks beautiful and colorful by its way.
You will understand this once you open the website.
Link to visit: Jacksonpollock.org
• Staggering Beauty
Wanna see animated beauty of a worm? Open this website, and get a chance to see an animated, wiggly worm. Shake it vigorously to see the effect. Move your mouse cursor around the screen to see what happens.
Link to visit: Staggering Beauty
If not enough, go on to view interesting, informative and strange content from sites such as Pinterest, Quora, or Rotten Tomatoes.
So, isn't this amusing list of 20+ funny website links interesting one? If you anytime feel like browsing cool websites to visit, go through this article once again. Enjoy!