Earlier we already seen top Tallest European Buildings, out of that we see here interesting Architectural Fact File of Eurasia Tower Moscow Russia. Integrate a striking 70-story, mixed-use tower into Moscow's existing infrastructure. A joint Turkish-Russian development team commissioned SHCA to design a 208,000 sq. m. (2,239,000 sq ft) mixed-use, 70-story tower on a 14,000 sq m (150,700 sq ft) site in central Moscow. SHCA's design accentuates the purity of the tower volume over the complexity of the program. The sheer glass tower sits atop an expansive multilevel podium. A unitized curving curtain wall allows the transition from the fixed-glass facade of office floors to operable windows on the residential floors.
Transparencies, shadow box textures and vertical projections define the scale and dramatize the broad faces of the tower. Combining 50 floors of Class "A" commercial office space with 20 floors of luxury residential apartments, the project features a landscaped garden and cafeteria for commercial tenants and gymnasium and pool for residents. The tower sits on a retail and entertainment podium that includes boutiques, restaurants, bars, a service hotel and a 3,000 sq m (32,290 sq ft) casino. An underground link to the city's existing retail concourse and metro system weaves the project into Moscow's urban fabric.
 Architectural Fact File of Eurasia Tower Moscow Russia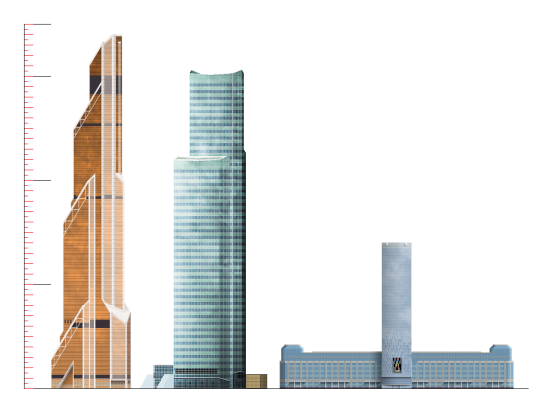 Project Highlights of Eurasia Tower Moscow Russia :
Eurasia Tower is a 308.9 m tall skyscraper in Moscow International Business Center Moscow, Russia.
The complex will house offices, apartments, a hotel, and other entertainment.
Height: 309 m CTBUH
Opened: 2014
Construction started: 2004
Floors: 70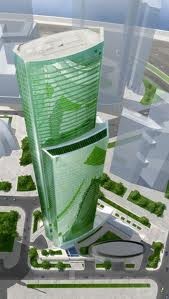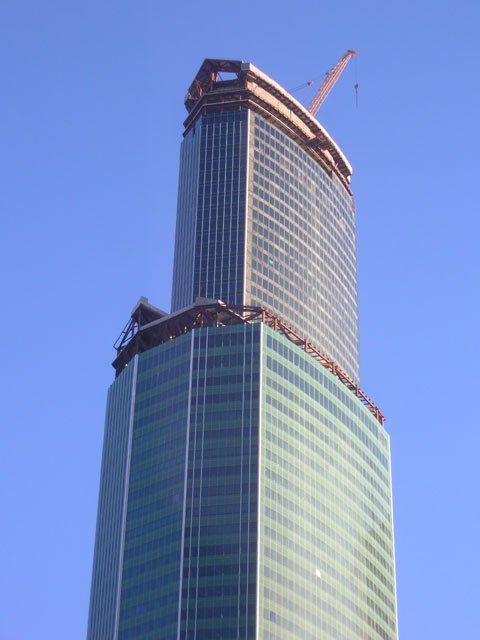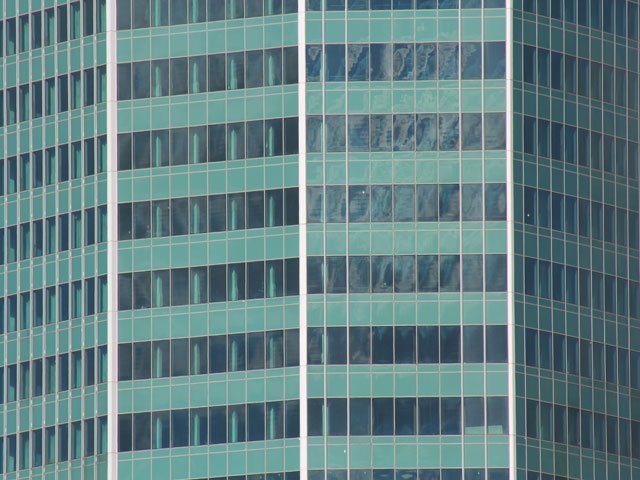 Location of Eurasia Tower Moscow Russia :
Address as text : Moskva City, Plot 12
Zone : Moskva City
Neighborhood : Presnensky
Borough : Central
City : Moscow
Region : City of Moscow
Country : Russia.
Technical Data of Eurasia Tower Moscow Russia :

Height (tip) : 308.90 m
Height (architectural) : 308.90 m
A height (roof) : 301.98 m
Height (main roof) : 299.08 m
Height (top floor) : 288.04 m
Floors (above ground) : 67
Floors (below ground) : 5
Construction start : 2006
Construction end : 2014
Floor-to-floor-height : 3.80 m
Elevators : 44
Escalators : 4
Parking places : 953
Building costs : $250,000,000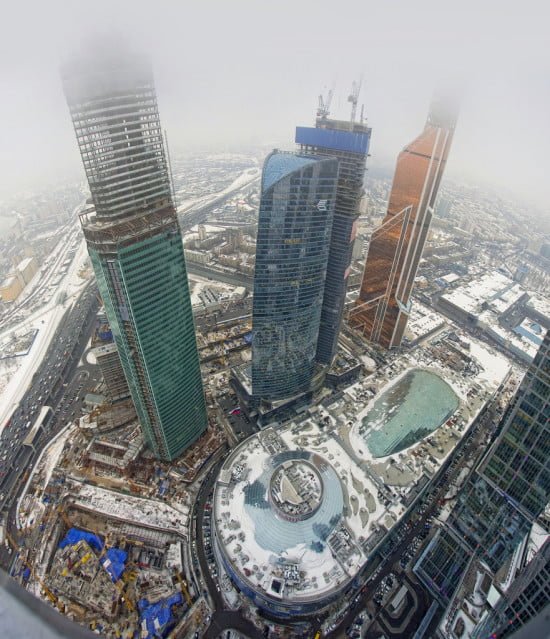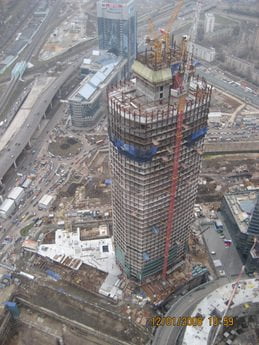 Facts of Eurasia Tower Moscow Russia :
The building is designed as a two-tier skyscraper: 30 floors in the first tier and 37 in the second one.
The second floor of the building is occupied by a casino.
The 47th floor is occupied by a gymnasium.
Offices occupy the 4th through 45th floors, while apartments are on 48th through 66th floors.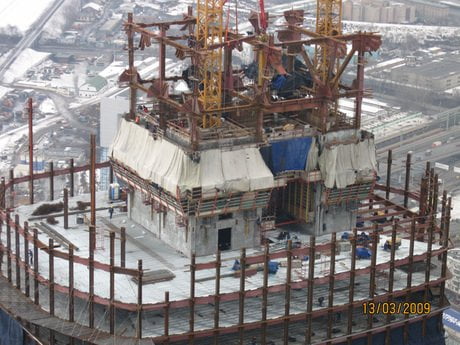 Structure in General of Eurasia Tower Moscow Russia :
Building type : skyscraper
Building status : under construction [topped out]
Structural material : composite structure
Facade system : curtain wall
Facade color : dark green
Usage of Eurasia Tower Moscow Russia :
Main usage : commercial office hotel
Side usage : casino residential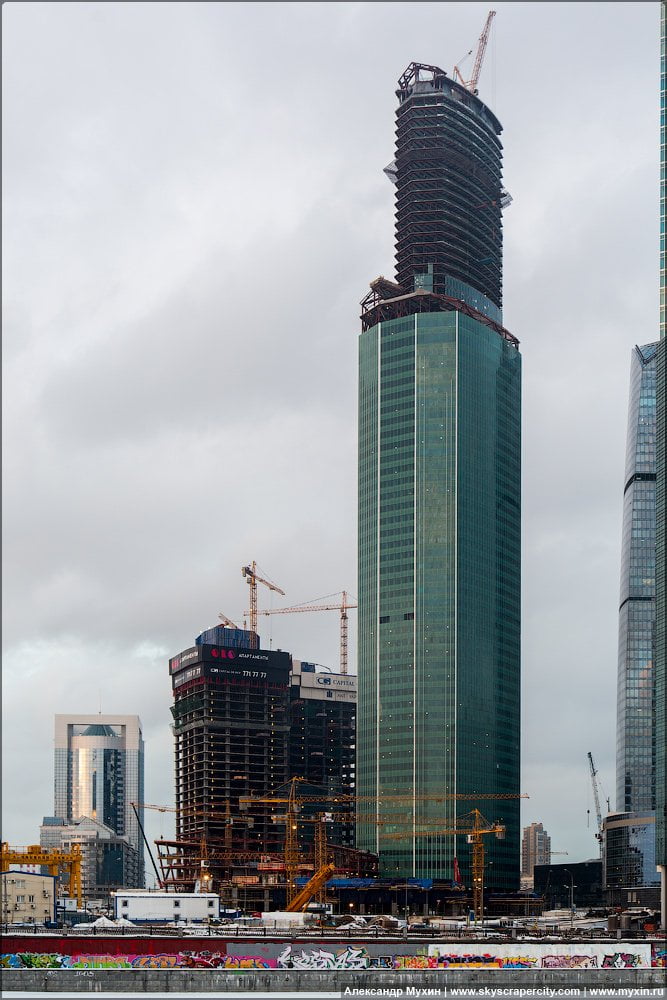 Involved Companies of Eurasia Tower Moscow Russia :
Design Architect : Swanke Hayden Connell International Limited
Associate Architect :Summa International Construction Inc
Also recorded for this building : elevator supplier, escalator supplier, investor, project management, structural engineering
Ref :   emporis.com, www.thorntontomasetti.com, skyscrapercity.com, velko.ru, shca.com