Wow! The moment of celebration for the Indian architects and architecture alumani! Reason is very special for all Indian architects and upcoming architects. Our first generation architect B.V. Doshi is the name for Pritzker price of 2018. Jury of Pritzker price select an Indian architect Balkrishna Doshi, aka B.V.Doshi or architect Doshi. He is and first generation Indian architect practicing almost over a 70 years of time frame. Also, he had studied and worked with 20th centuries both master architects Le Corbusier and Louis Kahn.
Many of us don't know the value of Pritzker Price values but if we need to understand – The Oscar award or Nobel Prize in the field of architecture! And Ar. Doshi is the first ever person from Indian architects regime that select for this architecture's highest honor.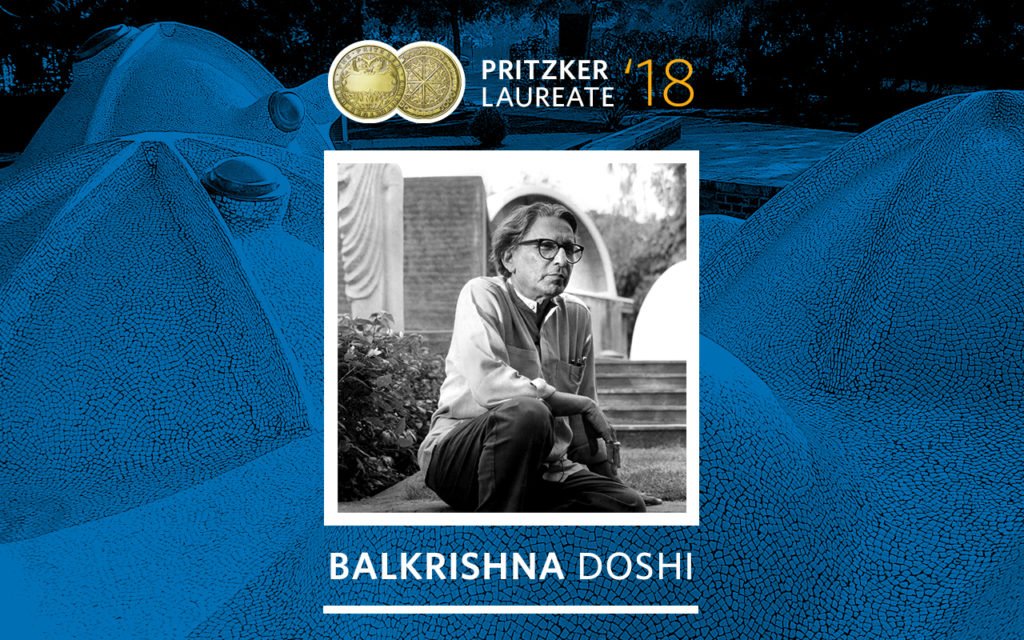 What Pritzker Prize Jury Citation for 2018 Winner:
Indian architect Balkrishna Doshi has continually exhibited the objectives of the Pritzker Architecture Prizeto the highest degree. He has been practicing the art of architecture, demonstrating substantial contributions to humanity, for over 60 years. By granting him the award this year, the Pritzker Prize jury recognizes his exceptional architecture as reflected in over a hundred buildings he has realized, his commitment and his dedication to his country and the communities he has served, his influence as a teacher, and the outstanding example he has set for professionals and students around the world throughout his long career.
Doshi, as he is fondly called by all who know him, worked with two masters of the 20th century – Le Corbusier and Louis Kahn. Without a doubt, Doshi's early works were influenced by these architects as can be seen in the robust forms of concrete which he employed. However, Doshi took the language of his buildings beyond these early models. With an understanding and appreciation of the deep traditions of India's architecture, he united prefabrication and local craft and developed a vocabulary in harmony with the history, culture, local traditions and the changing times of his home country India.
Over the years, Balkrishna Doshi has always created an architecture that is serious, never flashy or a follower of trends. With a deep sense of responsibility and a desire to contribute to his country and its people through high quality, authentic architecture, he has created projects for public administrations and utilities, educational and cultural institutions, and residences for private clients, among others.
He undertook his first project for low-income housing in the 1950s.  Doshi stated in 1954, "It seems I should take an oath and remember it for my lifetime: to provide the lowest class with the proper dwelling." He fulfilled this personal oath in projects such as Aranya Low-cost Housing at Indore, 1989, in central-west India and the Co-Operative Middle Income Housing, Ahmedabad, India of 1982, and many others. Housing as shelter is but one aspect of these projects. The entire planning of the community, the scale, the creation of public, semi-public and private spaces are a testament to his understanding of how cities work and the importance of the urban design.
Doshi is acutely aware of the context in which his buildings are located. His solutions take into account the social, environmental and economic dimensions, and therefore his architecture is totally engaged with sustainability. Using patios, courtyards, and covered walkways, as in the case of the School of Architecture (1966, now part of CEPT) or the Madhya Pradesh Electricity Board in Jabalpur (1979) or the Indian Institute of Management in Bangalore (1992), Doshi has created spaces to protect from the sun, catch the breezes and provide comfort and enjoyment in and around the buildings.
In the architect's own studio, called Sangath (Ahmedabad, India, 1980), we can see the outstanding qualities of Balkrishna Doshi's approach and understanding of architecture. The Sanskrit word Sangath means to accompany or to move together. As an adjective, it embodies that which is appropriate or relevant. The structures are semi-underground and totally integrated with the natural characteristics of the site. There is an easy flow of terraces, reflecting ponds, mounds, and the curved vaults which are distinguishing formal elements. There is variety and richness in the interior spaces that have different qualities of light, different shapes as well as different uses, while unified through the use of concrete. Doshi has created an equilibrium and peace among all the components—material and immaterial—which result in a whole that is much more than the sum of the parts.
Balkrishna Doshi constantly demonstrates that all good architecture and urban planning must not only unite purpose and structure but must take into account climate, site, technique, and craft, along with a deep understanding and appreciation of the context in the broadest sense  Projects must go beyond the functional to connect with the human spirit through poetic and philosophical underpinnings  For his numerous contributions as an architect, urban planner, teacher, for his steadfast example of integrity and his tireless contributions to India and beyond, the Pritzker Architecture Prize Jury selects Balkrishna Doshias the 2018 Pritzker Laureate.
Ref: archdaily, news,
Know more about Indian Architects like Low Cost Modular Homes Ideas By Indian Architect Anupama Kundoo