'Living in Harmony with Nature' is The underlying concept for the Romania Pavilion Milan Expo 2015. SC Artline SRL and SC Adest Architecture SRL beat off 11 other entries. To win the competition to design the Romania Pavilion Milan Expo. Visitors will be offered an overarching insight into the spirit of Romania. With its blend of traditional and modern. The Romania Pavilion Milan Expo will reflect a country with accessible and sustainable resources and potentials. A country that promotes the use of clean energies, varied biodiversity, healthy nutrition. And especially, keeps the cultural values of tradition and folklore alive.
'Living in Harmony with Nature' at Romania Pavilion Milan Expo 2015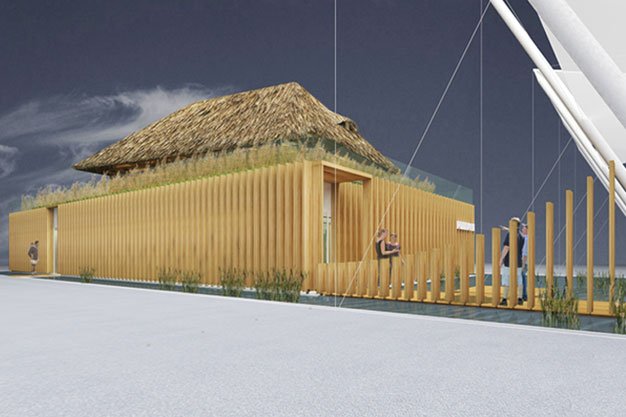 A large palisade, resembling a Pan flute and bearing the word 'Romania' in gigantic letters, will indicate the main entrance to the pavilion. Which is conceived on two levels (ground and first floor). The structure is based on a traditional village house, in which vernacular architectural elements are given a modern twist, such as the thatched roof and glass walls.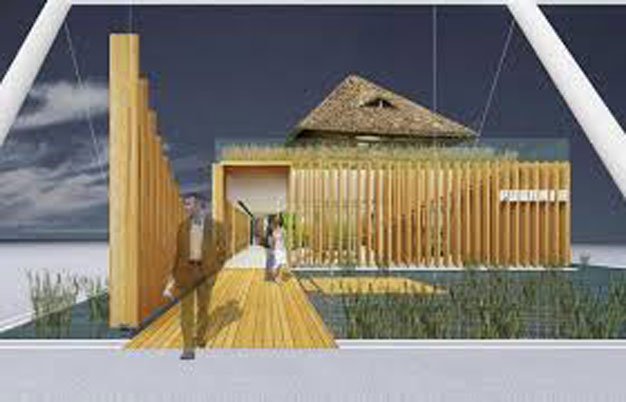 The exhibition spaces will be divided into themed areas: 'Biodiversity', 'Culture and Green Energy' and 'Fruit and Vegetables' on the ground floor. And 'Culture and Tradition', 'Culinary Arts', 'Garden', 'Porch' and 'House' – Where the restaurant is situated – on the first floor.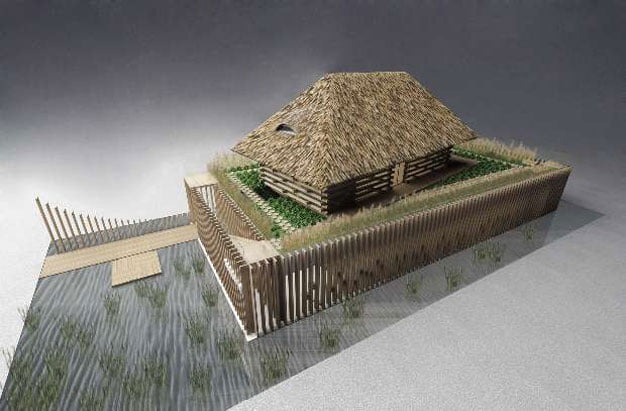 Lia (Ciocârlia), a Romanian folklore character. Either played by actors or in the form of a hologram, will spread the Romanian message, embracing agricultural tourism, ecological products, and traditional cuisine, both visually and acoustically.
From the desk of an architect:
Arh.Radu Teaca & Arh. Radu Petre Nastase.
The Artline and Adest proposal for the Competition of ideas. Regarding the national Romania Pavilion Milan Expo 2015 targeted to reflect. As clear as possible, the economical, social and cultural situation of Romania today.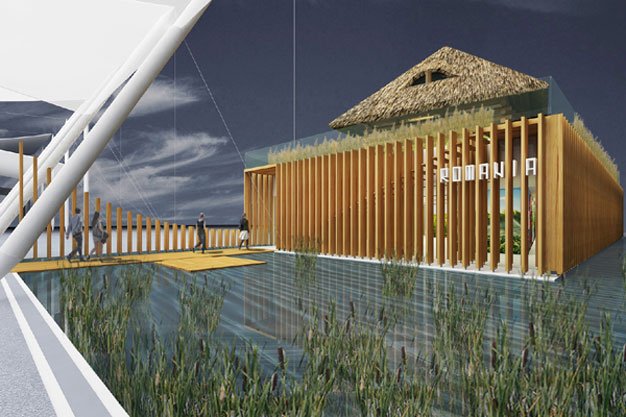 In this respect, the Romania Pavilion Milan Expo incorporated solutions that make possible the existence. In the same space and culture. The urban living with its third millennium technology and the nature and the traditional garden. The first element that can be seen is the water, an ecological pond that represents the Danube Delta. The main access is made on a water resistant teak wood deck. Next by it there is an island that welcomes the visitors.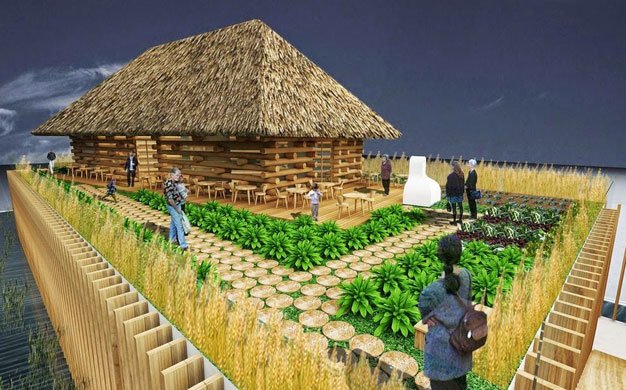 The ground floor plan continues with an ensemble of vertical wooden elements. Suggesting a pan-pipe that lead to a neutral volume constituted by glass and wooden bars. System that allows the natural light to flow into a space. Similar to a black box (even though it is white) that contains versatile technologies. As LED displays and a multifunctional hall.
On the upper floor, appearing as a traditional house reinterpreted in a modern key. A restaurant is set, surrounding a vegetables garden.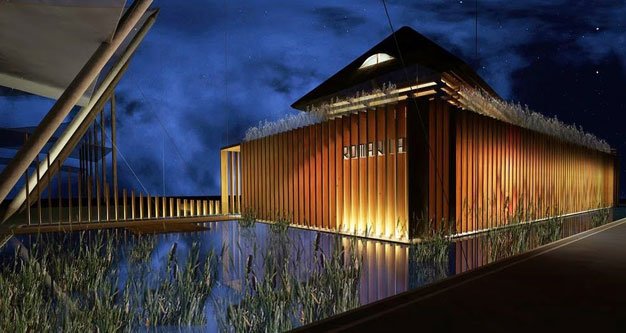 The structure of the house is made by logs and glass bars. Allowing perspectives to the garden, harmonizing the interior-exterior relation. So, Friends this is all about 'Living in Harmony with Nature' at Romania Pavilion Milan Expo 2015.