Quick Heal Mobile Security is now completely free for anyone who wishes to download this premium security suite for their Android smartphone. With innovative features such as call & SMS blocking, anti-theft security, virus protection and more, our goal of providing foolproof security to Android owners is well on its way to completion. However, to truly achieve our objective of providing "Quick heal mobile security for All" we have taken things up a notch.
At Quick Heal, we are always striving to make security more accessible and highly effective, be it on computers or smartphones. Over the last few years, this endeavor has naturally led us to secure millions of Android smartphones, thanks to the widespread surge of Android phones and their usage all across the world.
Quick Heal Mobile Security is now Free for Android smartphone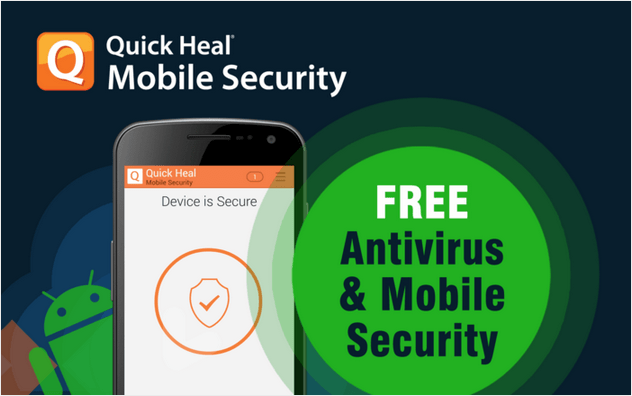 That's right. Now you can enjoy all these advanced security features on your Android phone and ensure its safety against all kinds of malware, privacy threats and security breaches and not pay a single rupee for that.
Download this free mobile security suite by visiting this link:
Quick Heal Mobile Security 's New & Enhanced Features
Not only is Quick Heal Mobile Security now free, it also has a revamped dashboard, a brand new user interface and several new and enhanced features for maximum security. Here are some of the enhanced features that all users of QHMS can now enjoy.
Call & Message Filter – While earlier you could block unwanted phone calls and SMSs from within the country, now international numbers and texts can also be barred from reaching you. What's more, you can even block numbers that start with a particular series now.
Security Shield – View the level of your device and data protection through an eye-catching and actionable graphical representation.
Intruder Detection – This feature takes snapshots of anyone who tries to unlock your phone with a wrong password.
Personal Security – During an emergency, this feature automatically sends an SOS message with your current location to predetermined numbers and social networks.
Register with TRAI – You can now register your number with the DND registry of India and also raise a complaint with TRAI against unwanted numbers, through QHMS.
Device Scanning – In addition to previous scan options, you can now schedule scans for your device at a time that suits your convenience.
Call Forwarding – This feature allows you to forward all incoming calls to a predetermined number.
Privacy Adviser – You can now easily review all apps that are installed on your phone and their permissions as well.
Security Adviser – This feature guides you about all settings that affect the overall security of your smartphone.
Message Center – This new feature brings all important notifications, latest news and alerts into one centralized area on your phone.
Share App – Lastly, with this feature you can seamlessly share the Quick Heal Mobile Security application with another Android device and help us in our goal of providing 'quick heal mobile security for All'.
With these enhanced features and more, Quick Heal Mobile Security features ensures complete protection for your Android smartphone against all kinds of mobile security threats.
Quick Heal Mobile security Vs Mobile device insurance 
Mobile device insurance against:
 Physical damage
 Liquid damage
 Fire damage
 Theft
 Burglary
Mobile security features with the following benefits:
 Protection against all types of viruses and malware.
 Data backup on secure cloud.
 Anti-theft protection that locks your lost or stolen phone. It also helps you erase the device's data, to prevent its misuse.
 Phone tracking facility.
 Parental Control to manage Internet access on your device by other users.
 Intruder Detection feature takes snapshots if someone tries to unlock your phone with a wrong password.
 Anti-phishing feature that blocks infected and malicious websites.
 Performance booster.
  Network monitor.
  Call and SMS blocking feature.
  Expert technical assistance whenever required.
In short, it gives your ( quick heal mobile security )mobile INSURANCE + SECURITY
See this also,
*NOTE – Existing Quick Heal Mobile Security users who have a paid license, are now eligible for a free upgrade to the advanced premium version of Quick Heal Total Security for Android. Know more about it here.