Wooden Orchids – Green Shopping Center presented as part of a larger master plan, Vincent Callebaut Architectures have received honorary mention for their "Wooden Orchids" proposal in the International Union of Architects' (UIA) Mount Lu Estate of World Architecture Competition. This Wooden Orchids project by vincent callebaut architectures has been designed to combat potentially damaging migration patterns in china. as more of the county's vast population moves from rural areas to larger cities, urban resources have been stretched, resulting in incidences of overcrowding, pollution and substandard living.
Based in Ruichang, China, the competition tasked participants with designing several cultural and commercial complexes near one of the world's largest flower theme parks. Wooden Orchids consolidates these functions in a green shopping hub that speaks to the area's demographic and climatic influences.
Wooden Orchids in Urban Frame Work Of China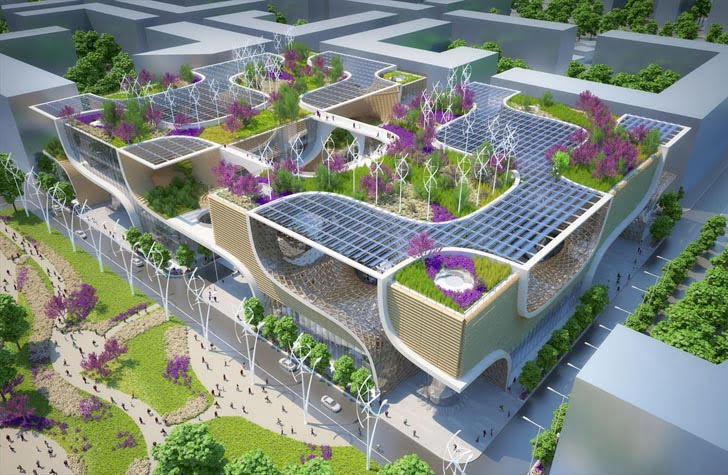 Positioned between mount lu (a UNESCO world heritage site) and Poyang lake, the development seeks to promote a balanced lifestyle in provincial areas with a vibrant mix of both private and public uses that encourage Eco-responsible living and working.
Within this framework, 'wooden orchids' offers local residents a vast retail complex that also includes a public library, a sports center, organic food courts and a farmers market.
Integrated into the existing urban framework, Wooden Orchids aims to counter the negative effects of the growing influx of rural occupants, namely overcrowding and pollution, while accommodating fluctuating tourism cycles.
The plan accomplishes this through interwoven public and private spaces that encourage Eco-responsibility from the individual to the community level, all contained within an energy-conscious inhabitable "garden."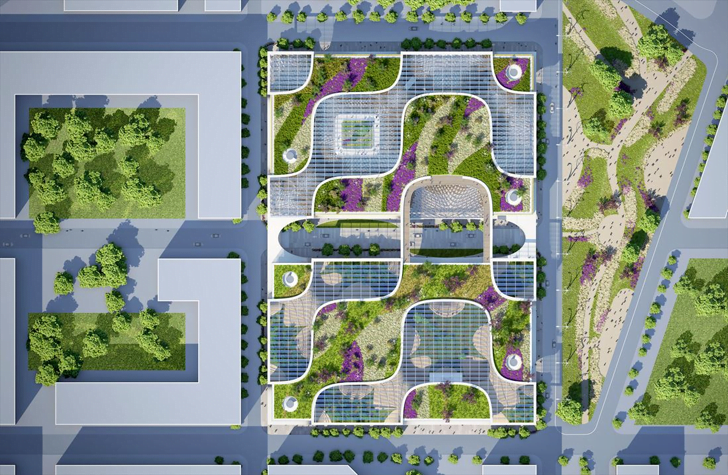 Wooden Orchids Project Fact File:
Type: international competition, UIA
Status: honorary mention winner in the professional category
Competition: Molewa, Mount Lu Estate of World Architecture, Ruichang, China
Award: Honorary Mention
Project Name: WOODEN ORCHIDS
Architects: Vincent Callebaut Architectures
Location: MOLEWA, Ruichang, Jiujiang, Jiangxi, China
Project Manager: Creativersal International, Ltd., Hong Kong
Technical Advisor: Chetwoods Architects, London
Project Promoter: Huayan Cultural Investment Company, Ltd., Beijing, China
Plot Size: plot 5 = 20,912 sqm
Area: 30000.0 sqm
Photographs: Courtesy of Vincent Callebaut Architectures
Program: Eco-responsible shopping mall, public library, sports center, organic food courts, farmers market
Project Promoter: huayan cultural investment company, ltd., beijing, china
Jury Members: mr. ken yeang, ken yeang design international, malaysia/UK; mr. ashvinkumar s/o kantilal; ong&ong, former president of SIA, singapore; mr. silas chiow, SOM, US; mr. sean hinton, founder and CEO, terbish group, australia; UIA representative : ms. jennifer lee, OBRA architects, US.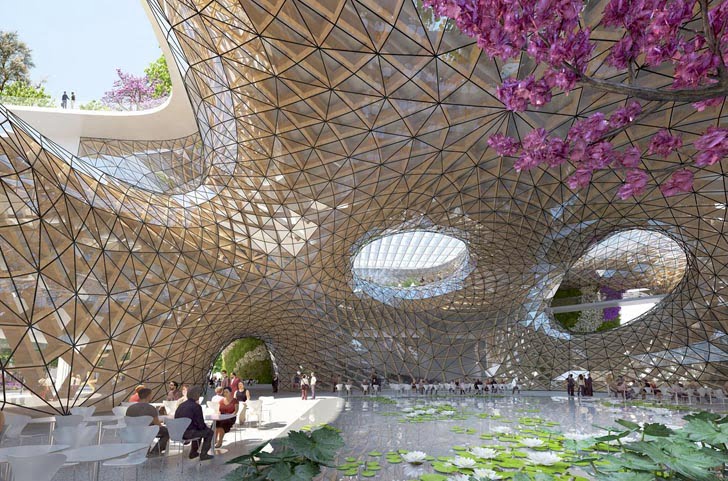 Planning And Design Considerations:
The Wooden Orchids complex contains material systems that are easily repaired and replaced with the resources at hand, thus decreasing waste, maximizing economic value, and fostering a spirit of re-use.
Similarly, the green shopping hub's program is intended for adaptation as flexible multipurpose areas evolve with the variable flow of tourists throughout the year. Additional strides toward Eco-responsibility are made through the shops' digital and organic emphasis, which allows visitors to experience firsthand the development processes of goods while learning about their cradle-to-cradle cycles directly from the manufacturers and farmers.
From an environmental perspective, a number of technologies have been integrated within the design. vehicular movement is rationalized to improve and prioritize the pedestrian environment, while a 'pro-active landscape' provides open spaces and an informal network of pedestrian links.
Streets, plazas and parking areas contribute to capturing water through a series of 'rain gardens'. surface water is then filtered through bio-filtration means before being released into the wider drainage network.
The cells themselves employ additive and subtractive processes in response to their programs. The movie theaters, library, fitness facility, and food service areas rely on solid facades, while the farmers market and shops interlaced with gardens bring in natural light through transparent ones.
In addition, each division of the site maintains a unique character enhanced by its own biodiversity and colors, while a network of bicycle and pedestrian paths creates an internal linkage system.
Sustainable Architectural Considerations:
In terms of sustainability, the complex relies heavily on passive strategies and renewable energy sources to achieve a 70% reduction in energy use. These include geothermal heating and cooling, rainwater collection, maximized daylighting through building orientation, wind turbines, and communal rooftop orchards that purify the air.
A passive geothermal cooling and heating system is also employed, while a south-facing orientation strategy incorporates large photovoltaic canopies. at roof level, a large sky garden integrates children's playgrounds, food gardens, and sports facilities.
Unique Design Characteristic Of Wooden Orchids: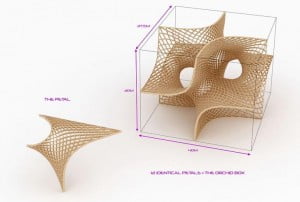 Inspired by numeric sequences found in nature, Wooden Orchids derives its form from the golden section and a biomimetic pattern. The Green shopping complex uses prefabricated wooden structures to emulate the petals of orchids.
The petal module is applied 16 times within the space to compose a complete "orchid box." In both of the site's plots, the orchid box is replicated six times, resulting in a collection of 12 cells connected by footbridges.