Zaha Hadid Architects completed the Issam Fares Institute of Beirut. This is one of the finest example of deconstruction architecture of ar. zaha hadid style. The Issam Fares Institute for Public Policy and International Affairs (IFI). Building by Zaha Hadid Architects (ZHA) at the American University of Beirut (AUB).
Continues the on-going implementation of the 2002 AUB Campus Master Plan by Sasaki Associates. (in colaboration with Machado and Silvetti, MGT of America, And Dar Al-Handasa, Shair and Partners) to advance the university's academic mission in the 21st Century. with facilities of the highest international standards.
Zaha Hadid Architects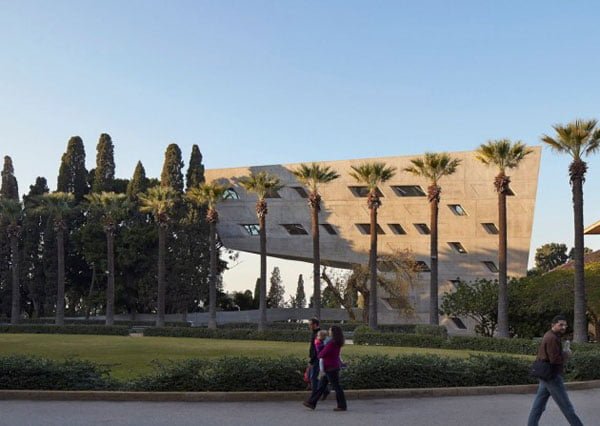 The 3,000 sq. m. Issam Fares Institute building is defined by the many routes. And connections within AUB. interweaving the pathways. And views within the campus to create a forum for the exchange of ideas. A centre of interaction and dialogue, at the heart of the university.
The IFI design introduces new links between the Central Oval. with the forested area of the Middle Campus and sea beyond.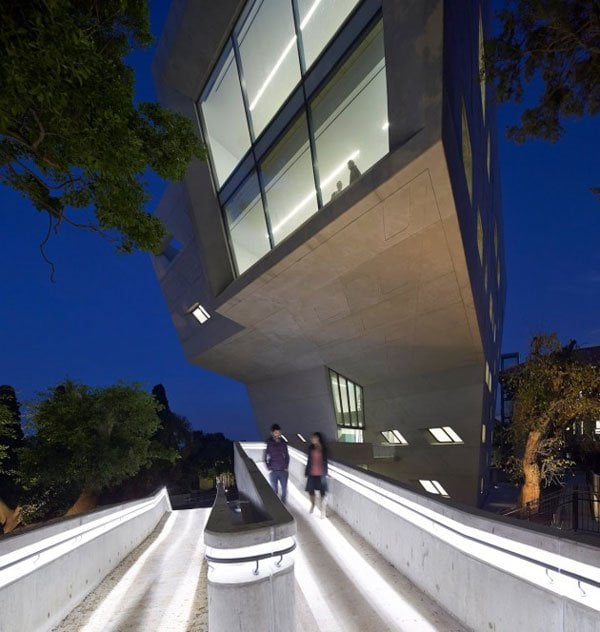 Existing Ficus and Cypress trees on the IFI site, (aged between 120 and 180 years old) are integral to the design.
The building emerges from the geometries of intersecting routes. As a series of interlocking platforms and spaces for research, engagement and discourse.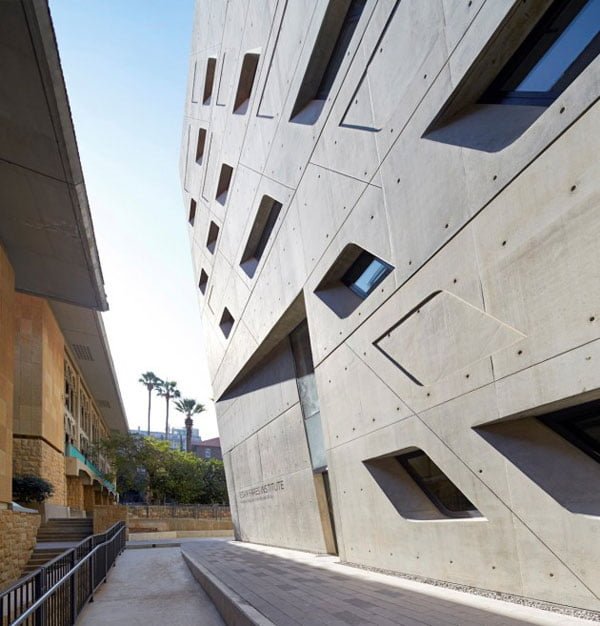 The institute invites the community inside via the many connections. And paths that converge at its double-height entrance courtyard.
This new civic space for the university is a covered outdoor terrace. And extension of the shaded area beneath the existing trees. a place for chance meetings and informal discussion, located at the nexus of pathways that traverse the site.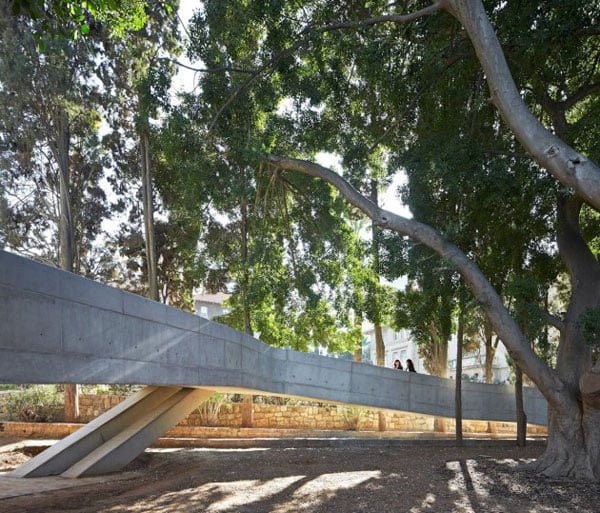 A ramp leads between the trees to connect the research lounges on the second floor directly with the campus. While the first floor seminar room and offices are accessed at grade from the east and public courtyard to the west.
These routes meet within the IFI to describe the atrium hall. Establishing the institute as a crossroads , a central hub for students, faculty, researchers and visitors.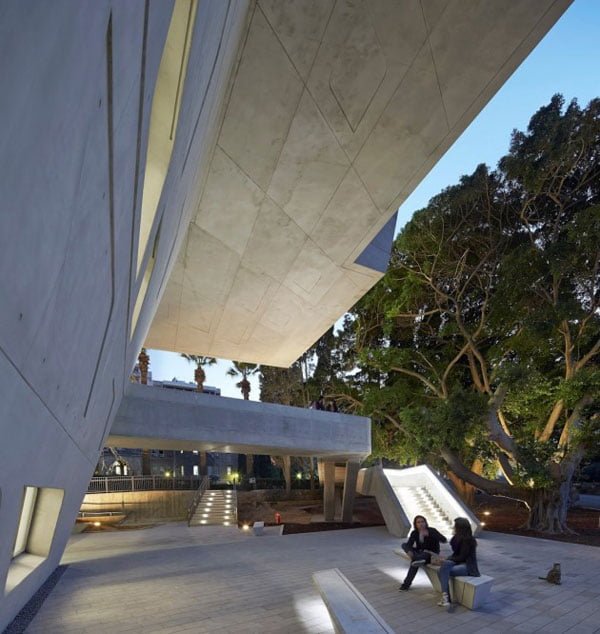 Project info The Issam Fares Institute By Zaha Hadid Architects :
Total site area: 7,000 sqm
New exterior spaces: 4,000 sqm
Total floor area: 3,000 sqm
Auditorium capacity: 100 seats
Floors: 6
Maximum height: 22 m
Length of cantilever: 21 m
Program: research and administration offices, seminar rooms and workshops, conference room / auditorium, reading room, recreational lounge, roof terrace.
Total surface of fair-faced concrete: 6,000 sqm
Total surface area of glazing: 800 sqm
Concrete cast-in-place: 4,200 cbm
Total steel used for structure: 800 kg
Employees on site:  90 (builders & technicians) for 1,100 days
Total working hours: 500,000 hoursprimary client: american university of beirut (AUB), beirut, lebanon
University president: dr peter dorman
Facilities for design & planning unit director: bassem baroumi IFI project manager: alain eid client: issam fares institute for public policy & international affairs (IFI).
Director: dr rami khouri
Architects: zaha hadid architects (ZHA)
Design: zaha hadid and patrik schumacher
A ZHA project architect: saleem a. jalil
ZHA project team: christos passas, saleem a. jalil, graham modlen, human talebi, brandon buck, miya ushida
ZHA competition team: saleem a. jalil, rokhsana rakhshani, teakjin kim, ben holland, charbel chagoury, anas younes, fulvio wirtz, mariagrazia lanza, renata dantas.
Local architect: rafik el khoury & partners (hazar mansour, roger skaff)
Structural engineering: rafik el khoury & partners (rafik el khoury, georges sfeir, maya charry, guy ghosn, roger skaff)
Mechanical engineering: zef london (DD stage) / rabih. rafik el khoury & partners (issam mourrad)
Electrical engineering: rafik el khoury & partners (karim nammar)
Acoustic consultant: rafik el khoury & partners (wassim sader)
Contract administrator: rafik el khoury & partners (roger skaff, zeina bou mikhael).
Drawings & construction: kettaneh construction s.a.r.l.
Project director: bahzad choubassi
Site manager: elie awaad
Project coordinator: sabine choubassi, assem soubra.
Mechanical coordinator: georges saade
Mep subcontractor: climtech
Structural engineers (post-tension): darweesh haddad.
…..Continue to Next Page for More Detail