Social media has completely transformed the way our life works. Everyone has an equal voice and instant access to huge networks of friends and followers.
Why is social media so majestic and powerful???
It is actually the perfect branding tool.
Just give a thought.
Facebook, Pinterest, Instagram… They all are very effective tools to popularize your brand so that your fans can easily locate more and more about you, your blog and so on.
5 Ways to Build Your Brand through Social Media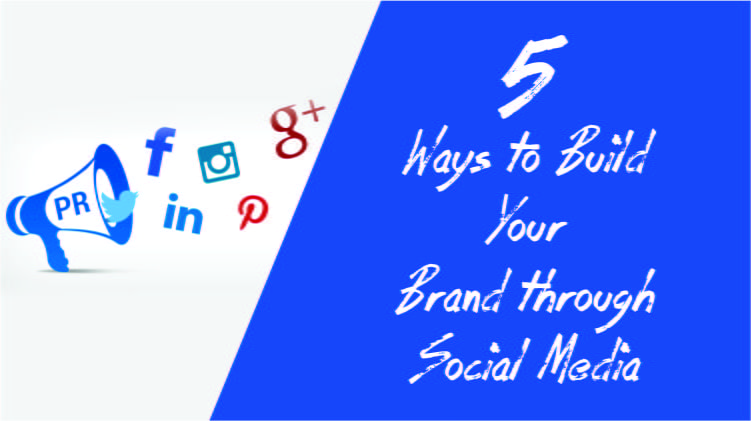 Whether you want to build up your subscriber figures or sell products, in every case, you need to have a brand to maximize your business's potential.
Social media can be an excellent, effective way of building this brand, making your reach out to capable customers and clients and most significantly to gain their interest and faith.
It's the universal truth.
At the very same time, I see bloggers missing out numerous chances on social media as they're not branding themselves in that proper manner.
Let's have a glance at 5 specific ways of branding where social media can help you to leverage your branding.
Thoroughly note these guidelines, If you don't want to lose your fans and money.
Tip#1: Selection of the right social media platform:
Selecting the right social media platform helps to support you but would ensure that it doesn't kill your energy and time.
You do not to bother to be on all platforms to make your brand. And you should not even be when you are a starter. So identify only one or two networks that are most important and appropriate for your brand. For instance, Pinterest is an incredible source for the bloggers. It is visual and attracts traffic. Or Instagram for that purpose.
To decide this, ask yourself.. Where does my audience hang out the Most??? Are they in B2C or B2B space?? Are they mommies?? Are they fashionistas??? Or are they market people??
Here's a quick overview of each platform:
Facebook: Facebook is the best possible network if you aim to promote your brand awareness. Because it is a huge platform and far reaching with different users. It is an excellent choice for any kind of brand like Twitter.
Instagram: Instagram is again a magnificent choice if your brand depends more on images. Certainly, You are sell clothing or those items that need pictures to show. Instagram is a good choice to target the youth.
Google+: Google+ can be a good platform to attract men working within technology sectors.
Pinterest: Pinterest in a great channel to reach women. Pinterest can be especially helpful if your brand is focused on selling clothing or jewelry, for example. But nowadays its male user base is also expanding!
LinkedIn: LinkedIn is also the best option if you are engaged in building the brand of a company with business to business focus. It is the ideal platform for sharing business contents and making contacts.
Tip#2: Use the same visuals on all platforms:
Your visual brand should be constant and uniform to make it easily identifiable.
Your logo or fonts or images etc. should all be there to support your brand to gain fame.
That's the reason; It's crucial that you use the same images on all networks.
For example, let's suppose You use Pinterest and Twitter.
In that case.. You'll be branding your profiles on both networks and with same images and logos.
Tip#3: Actively engage With Readers:
Do not stress only on catering to publish deadline, posting uniformity ignoring the quality of the content.
Rather.. Make your brand's name with original and shareable content and offering strong suggestions, answering queries and to actively engage with your visitors.
Whatever you choose to share, an image an answer or an opinion. Be sure that it supports your brand.
Be careful about mocking, unless you are sure that you can pull it off and post the content that is in demand by your audience.
Don't fear to use pictures either as articles with visual content. As the pictures have all the more views than those without.
Note: Quora is an excellent way to engage with other blogger and to drive website traffic with just a few steps. Check here the How I Made 3,000+ Backlinks for Event Blog in 10 days to drive traffic to your blog.
Tip#4: Be consistent:
To grow your brand, you need to be very uniform.
How else can your viewers believe that you provide and cater to their needs?
If you maintain uniformity, your fans will feel like they are a part of the brand and your story.
Gradually this would help you to build relationships with them.
On social media, you need to be constant with the content that you post like visual or the voice.
Timing is also critical. Decide, When you post so that your viewers knows it well when to expect your content.
Tip#5: Share the work of others:
Just as you may gradually be asked to contribute to other people's content, don't hesitate to share other's work and leverage the readers that have been established before in your field.
It can be an especially important strategy if you are in the early stages of your brand-building efforts, and finding that other more well-known names are overshadowing your business, or you are experiencing a long wait for benefits from your branding efforts.
Make the most of the dignified influencers by using their names or websites in your content. If they are examining, these influenced ones would see your post and will certainly share your content with their audience.
You can also tag connected influencers while sending an email or sharing the content to let them be acquainted that they have been indulged in your work.
It can take the time to make these influencers begin sharing the content posted by you, but the uniformity in the quality of your work should be easily identifiable at the end of the day.
Wrapping Up:
We've looked at five various methods in which you can build your brand on social media.
Now you know that you should practice the right platforms, be consistent with your visuals, engaged actively and share others content too.
Your turn:
Apply all the ways what you've studied to grow your blog's name on social media.
Let me know in the comments: Which social media platform fits best for your blog brand? How do you plan to use that platform to build your brand?