Running a business is not easy. On top of tracking revenue, operating costs, and all the other moving parts, you have to make sure every project you undertake is successful and contributes to the health and growth of your business. 
Better Project Management with Wrike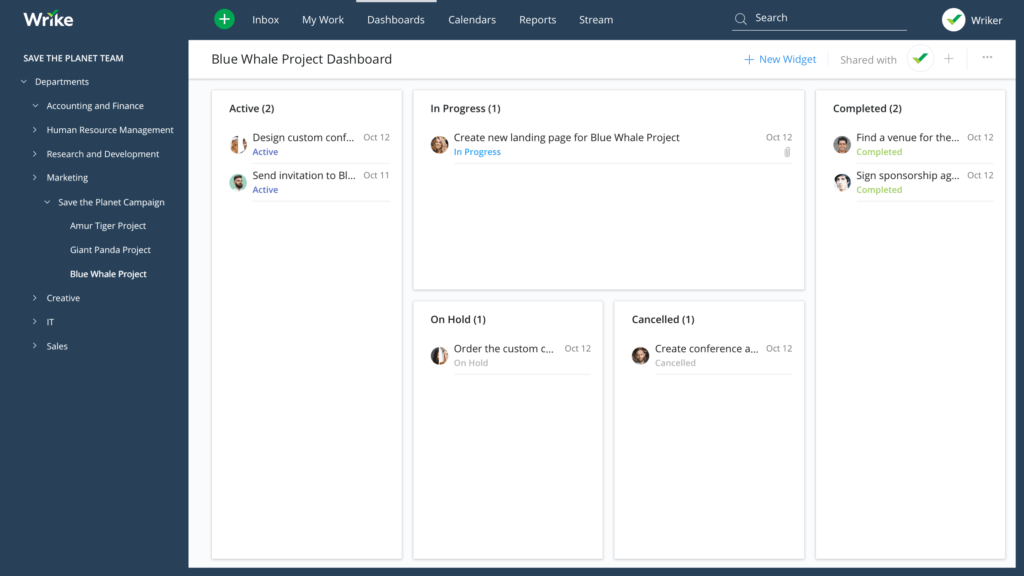 Wrike project management software helps companies and teams manage their work, collaborate with colleagues, and keep all their important projects on track.
What is Wrike?
Wrike is a cloud-based project management tool that helps co-located and remote teams work better together. See all your projects and tasks in a central workspace to easily set priorities and align your whole team around the most important tasks.
Built-in social collaboration tools like @mentioning colleagues, a real-time newsfeed of project updates, and the ability to comment directly on tasks help teams get more done, faster and more efficiently.
Wrike's Free Mobile Apps
In today's fast-paced business world, mobile project management is a must. With Wrike's mobile apps for Android and iOS, you can stay connected to your work and your team while on the go.
You can easily access your to-do lists, add new tasks, find existing tasks, communicate with your team — even take a photo from your phone or tablet's camera and upload it directly to a Wrike task.
Wrike Chrome Extension
Wrike continues to add new features, including the recent Wrike Everywhere extension for Google Chrome. Add new tasks to your Wrike workspace from any web page, just by clicking the Wrike check mark on your browser window.
The Chrome extension will automatically create a new task, include a link to the web page, and let you assign the task, add it to a folder, set a due date, and add your thoughts or instructions in the task description. You can even attach a screenshot.
It's ideal for sharing articles with your team, capturing inspiring new ideas, and connecting Wrike to your other favorite web tools.
Where Wrike Shines
Wrike's project management software includes many features, from easily organizing and tracking the progress of tasks to managing your team's workload. Without mentioning them all, here are a few standout features of this project management tool:
Flexible, User-Friendly Interface: Organize projects and tasks in a series of folders and subfolders. You can customize your workspace with personal Dashboards, a My Work page to-do list, and a real-time newsfeed with updates on all the tasks you follow.
Subtasks & Easy Task Organization: Create subtasks to break complex projects into smaller steps, distribute the workload among your team, and track your progress. You can also easily view task lists, dragging and dropping individual tasks to reorder your list. Any changes you make are automatically reflected across your entire team's workspace, so everyone knows exactly which high-priority tasks to tackle next.
Visual Project Planning & Reporting: Wrike's interactive Gantt chart lets you chart all your tasks and projects on a visual timeline, setting dependencies and deadlines easily. If you need to adjust your schedule, you can drag and drop tasks right on the Gantt chart. Visual analytics also make it easy to check your team's productivity and results at a glance. Use the Workload view to see how work is distributed across your team and check whether anyone's overloaded or in danger of missing a deadline.
Email Integrations: Wrike's email add-ins for Gmail, Outlook, and Apple Mail let you create and assign tasks, set due dates, attach files, and comment directly on tasks, all without leaving your inbox. It's an easy and efficient way to make email productive and move important action items from your inbox to your workspace, so nothing gets forgotten.
From small businesses to large enterprises — regardless of the size of your team, your success depends on effective project management. Wrike's project management software helps you plan, organize, and execute projects efficiently so you can meet your business goals. With thousands of customers around the globe, including top companies like Google, eBay, Adobe, PayPal, Stanford University, and more, you can see how Wrike can benefit your team.