PayPal has been dominating the online transactions industry since a long long time. It is still dominating with the majority of users using PayPal for everyday transactions around the world.
The only downside that has been annoying users is high transactions charges and sub-standard conversion rates. PayPal does not provide support for quite a few countries and country based restrictions.
Best PayPal Alternatives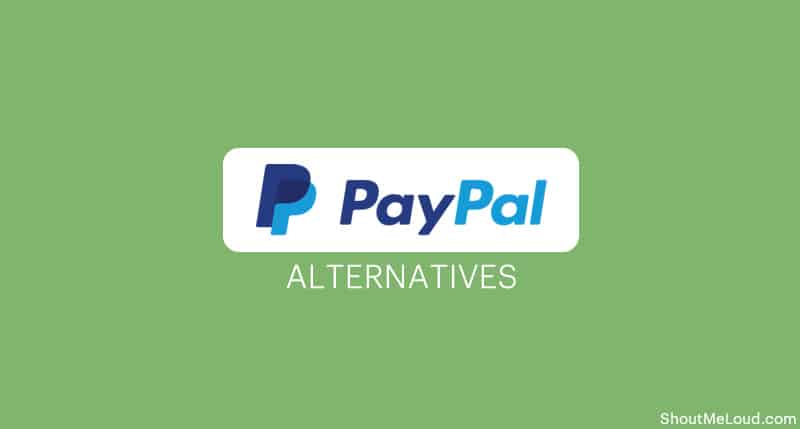 I am one of those PayPal users who wants to slowly shift all transactions away from PayPal to much better alternatives. I don't want to lose out on my hard earn money in high transaction charges and on top of it, low conversion rates. It's a hit from both sides.
If you are one of those who want to switch to better payment options, this list of best PayPal alternatives will help you choose your service and save some fees. Let's dig right into it:
Google Pay
We all trust Google because of their brand value they create for customers. Google recently introduced Google Wallet with a very reliable and easy way to send and receive payments. The user interface is far simpler than PayPal, with same level of security.
You can store your debit cards, credit cards, and various other cards for swift payments. Your account is super secure and integrates with all your Google services. Google also claims to monitor the service 24/7 for any frauds.
Google Wallet charges a transaction rate of 2.9%, be it small or large amount. This is nearly at par with PayPal, which charges 3% and above. But the best thing is, the conversion rates to your currency are close to the international rates.
If you are a non-US resident, you may have to wait for using Google Wallet. We will update you once it is available worldwide.
Payoneer
Payoneer has recently started gaining a lot of popularity among freelancers and individuals. Payoneer is quite similar to PayPal and you can make and request global payments with them.
Paynoneer lets you transfer funds through global transfers, Payoneer reloadable credit card (similar to Virtual Credit Cards) and local bank transfers.
If you are a US resident, you are skipped from purchase transaction fee and for non-US residents, it is 3%. Also, if you transact your first $100 through Payoneer, you get $25 as a free bonus. Although the transaction rate is equal to PayPal, Payoneer offers good conversion rates.
Skrill
Skrill is pretty amazing alternative to PayPal and is also very popular for money transactions. You may know Skrill as Moneybookers (Old name). You can not only transact, but also shop online with Skrill supported websites.
Over 200 countries are supported by Skrill and 40 currencies are supported for transactions. Skrill charges a meagre 1.7% to 2.5% transaction fee depending on the size of amount transacted.
Just like Payoneer, Skrill too offers prepaid cards which can be used in offline stores worldwide. If transaction fee is something that bothers you, Skrill is one good alternative to PayPal. It also offers high security.
Dwolla
Dwolla is another alternative to PayPal but is not very widely known yet. It recently started offering online payment methods. Dwolla works a little different from other PayPal alternatives.
You don't need to add credit and debit cards in Dwolla, but simply link your bank account to send and receive payments. We are not sure how secure this can actually be, but the idea and concept is quite simple.
Another positive about Dwolla is the transaction fee. There will be no transaction fee charged for payments under $10. If more than that, a flat 25 cents per transaction.
PayTM Only indian users
This is basically an online Wallet where you can add your money and spend or send it wherever you wish to. However, this is an India-only service at the moment. The start up has quickly gained its foothold across various payment verticals and popularly used in India.
The security of service is at par with major online transaction services. If you want to transact money within the country, PayTM should be your first choice.
PayTM is not just a payments solution, you can also pay your bills with it, all with PayTM wallet.
Concluding
These were the best PayPal alternatives that are available for you to use with lower transaction fees, better customer support, better conversion rates and a lot more.
You can also use Apple Pay if you are in US or UK and an Apple user.
Hope this list of best PayPal alternatives help you start using one as per your needs. There are plenty more alternatives but these were the top and popular services.
I thing Paypal Is Best services
Do you know any more trustable and popular services? Which one do you use and why? Do let us know in the comments below and help others too!