For Industry Of eCommerce in India, the times are changing. The eCommerce business penetration in India may be comparatively lower than the US, and other European markets, but it continues to grow at a rapid rate with many new entrants. Currently, eCommerce in India, is heavily dependent on the web and smartphone revolution, that has essentially altered the way businesses interact with customers.
The Rapid Industrial Growth of eCommerce in India
In 2009, the eCommerce in India market in this country was worth around US$2.5 billion, in 2011 it was US$6.3 billion and in 2012, $14 billion. This number is expected to reach $15 billion by 2016, up from $35 million in 2014, according to a new report by Google and Forrester Research.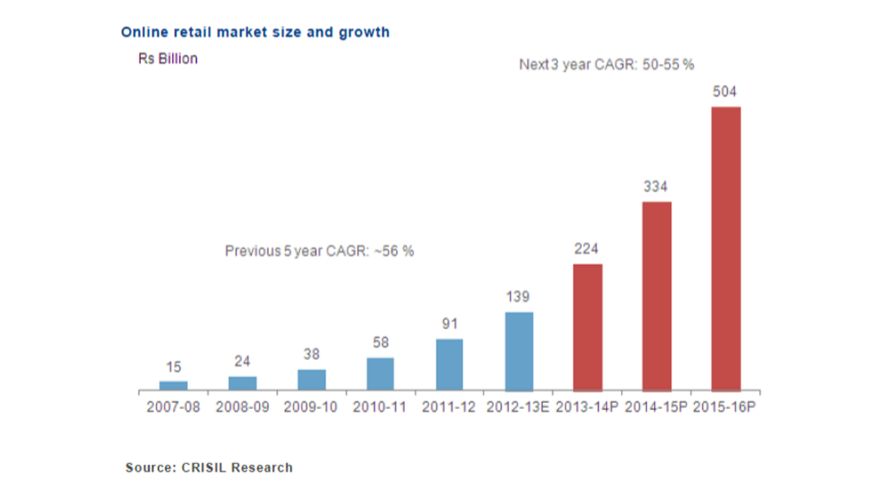 With millions of Indians shopping online, the eCommerce industry is witnessing a massive boom and will continue to see exponential growth. The number of online shoppers in India is expected to reach 100 million by the end of 2016.
The number of Internet users is set to reach 300 million by the end of 2014. A recent report by Juniper Research revealed that over two billion users of smartphones or tablets will be making at least one or more transactions of eCommerce in India, through mobile before 2017 comes to an end.
Payments made through mobile in 2015 are expected to grow at a rate of 60.8 percent, another report revealed.
The Driving Force Behind eCommerce In India:
The growing population and demographics of India, will probably be the major driving force behind the explosion, of eCommerce in India near future. According to the IAMAI, India had 213 million internet users in 2013, which was projected to reach the 300 million mark by end of 2014.
With this projection, India will attain the position of the second-largest internet base in the world after China (600 million) and ahead of the United States' internet users (207 million).
Although internet users in India, may not log on very frequently, you may want to believe that this scenario will change soon, with the increase in the usage of smartphones and tablets, and 3G and 4G broadband coverage expansion.
Nearly 65 percent of respondents indulge, in online shopping simply for the convenience. However, 62 percent reported displeasure with an online shopping experience. So, there might have been some apparent deterrents of shopping online, but eCommerce in India has its own charm.
Chief Characteristics of eCommerce in India That Influence Purchase Decision:
Streamlining the entire purchase and delivery process is what pushed the growth of eCommerce in India. For instance, factors that influence the purchase decision of the customer are many.
These factors may also depend on the category of products one intends to buy. The pricing and availability of products also play a very critical role in making this decision.
Also, images of the product and the richness of the product information and reviews have a noticeable role to play. Besides, the option for cash-on-delivery, free home delivery and easy return policy helps in building trust and confidence amongst customers resulting in successive purchases and positive word-of mouths support.
The most preferred payment method while shopping online is cash-on-delivery. Almost, 80 percent of eCommerce transactions in India is through cash-on-delivery. This is one major driver, that influences the purchase decision.
Also, users find it easier to buy international products online, which are either not available in India or are expensive at retail stores.
Know More About eCommerce Business
Women shoppers play a key role in the rise of eCommerce segment in India. Women in Tier 1 cities spend two times more as compared to men, while shopping online. It is expected that the number of women online shoppers in India is set to reach the 40 million mark by 2016.
Looking at this trend, 2015 is expected to be a more fruitful year for online players who intend to build on categories such as apparels, accessories, baby products, home furnishings, and health.