How to Verify Whatsapp Beta on Android: WhatsApp is start rolling out two-step verification feature for users on Android 'beta'. The instant messaging platform said this authentication method 'adds more security' to an account. With the two-step verification enabled. A user will have to enter a six-digit pass code (that they pick) when setting up the account again on a different device.
How to Verify Whatsapp Beta on Android Devices?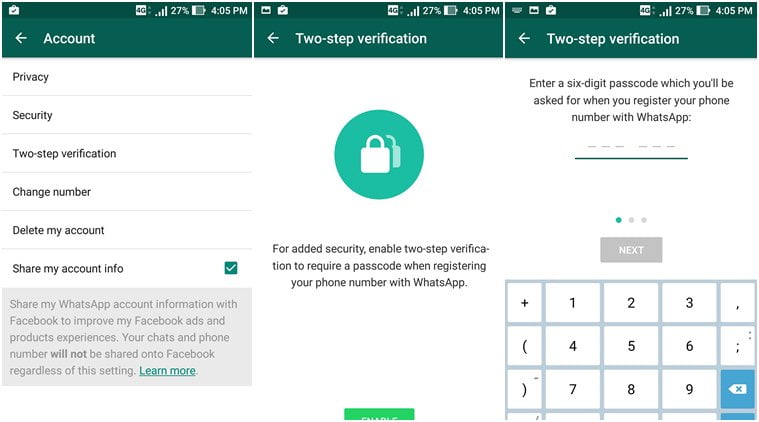 To enable two-step verification for your WhatsApp account, users need to be on the beta version of the app.
Step by Step Verify Whatsapp Beta on Android Guide.
Signing up for beta version is possible from Google's Play Store.
Just go to the WhatsApp page in Play Store on your mobile, and keep scrolling down.
You should see an option to sign-in as beta tester.
Hit sign-up and you'll be accepted as a beta tester within a few minutes.
WhatApp warns that if someone receives an email to disable two-step authentication. Without having sent the request themselves they should refrain from clicking on the link.
Whatsapp Beta Verification Words from Team.
"We do not verify this email address to confirm its accuracy. We highly recommend you provide an accurate email address. So that you're not locked out of your account. If you forget your pass code," the WhatsApp team said in a blog post.
What's new in Whatsapp Beta Version for Android Users.
WhatsApp also cautioned users will not be able to re-verify their account within seven days of last using the app without the pass code.
This entails that if a user has forgotten his pass code, and hasn't provided an email id to receive the disable link.
Post the seven days period, the user will be able to verify their account without the pass code, but will lose all older messages.
"If your number is re-verified on WhatsApp after 30 days of last using WhatsApp, and without your pass code. Your account will be deleted and a new one will be created upon successfully re-verifying,"
Know more about Latest Whatsapp Version APK.
WhatsApp says it will periodically ask people about their code in order to ensure people don't forget it. There is no option to disable this Verify Whatsapp Beta on Android without disabling the two-step verification feature.