Recently, you may see many more people using e-bikes just as you are using them, be it commuting to work, exploring your community, or running errands. E-bikes are certainly growing in popularity, but they are still relatively new, so the laws used to govern them still need to be more specific. Although the engines of the e-bikes are not as powerful as those of motorcycles, some US states have drafted laws requiring riders to have licenses, registration, and wear helmets while riding e-bikes.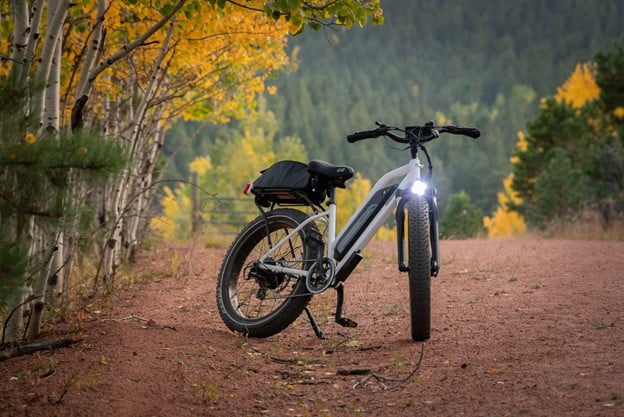 Many of you will be wondering if you need insurance for an e-bike. It mostly depends on your location. You should still consider getting e-bike insurance even if it isn't required in your state. E-bikes have specialized coverage, providing added protection not offered in your home and car insurance policies.
What is E-bike Insurance All About?
If you always wanted to get one of the best ebikes and have finally made your dream come true, you should consider getting an insurance policy. These policies go beyond the protections that home, condo, or renters insurance provides and are specifically designed for bike owners. Typically a comprehensive e-bike insurance policy will cover:
Crash damage
Medical payments
Accidental damage
Liability
Collisions with uninsured motorists
Spare parts losses
In-transit losses
Rental bike reimbursement
Roadside assistance
Vehicle contact
Damages or losses related to racing
Theft or damage of cycling apparel
Should You Get E-bike Insurance?
The laws for electric bikes vary from state to state. Most states have classification systems established for e-bikes, so it is possible to differentiate between vehicles of a similar type, such as mopeds and electric scooters. Twenty-six states in the USA have adopted a three-tier e-bike classification system. They are:
Class 1: E-bikes with motors assisting pedaling up to 20 miles per hour.
Class 2: E-bikes with motors that assist in pedaling or propelling the bike without pedaling up to 20 miles per hour.
Class 3: E-bikes with motors assisting pedaling up to 28 miles per hour also have speedometers.
The various aspects of e-bike ownership are governed by the laws established by the states using these classifications. These include the requirements for helmets, limits regarding the age of drivers, registration, and licenses. Some states also use these classifications to clarify the requirements for insurance. If you require more clarification about the e-bike insurance requirements for the state you are in, check with your insurance agents or the state department for insurance.
How Can You Buy E-bike Insurance
The coverages you choose, the value and type of your e-bike, and your deductible will affect your e-bike insurance cost. It is affordable as it starts from $100 per year. You should look for comprehensive coverage when shopping for electric bike insurance. These include:
● Uninsured Motorist
You can face very high medical expenses if an uninsured driver hits you. This is why it is essential to find an e-bike policy that uninsured motorists coverage includes. Companies are known to offer uninsured motorist coverage that has limits up to $500,000.
● Liability
Similar to auto insurance, injuries to another individual and property damage should be included in liability coverage if you are responsible for an accident while riding your bike. Some carriers offer liability coverages up to $100,000.
● Physical Damage
If your bike gets damaged by coming into contact with another vehicle, then the policy you choose should cover that damage. If your bike suffers damage from collisions with objects such as a tree or a curb, the policy should also cover those losses. You should select a policy that covers your bike while in transit to a race, trailhead, or biking vacation.
● Vandalism And Theft
If your e-bike gets vandalized or stolen, an ideal policy should offer replacement cost coverage to pay for replacing the stolen bike. Comprehensive coverage will also include any damage that is accidentally caused by you or anyone else.
● Medical Payments
If you are involved in a bike-related accident, your coverage for e-bike medical payments shall help pay the medical costs if covered in the policy. It would be ideal to go with a policy that will provide you with a flexible limit to the amount of coverage required for medical payments.
● Additional Coverages
The insurance policy coverage must be subjective. If you are planning to go on a foreign tour with your bike, the policy must also provide coverage for damages incurred in foreign countries. Similarly, if you are into competitive cycling, your chosen policy must cover cycling apparel, racing, event fee reimbursements, and spare parts. If you use your e-bike to commute to work, your policy should offer rental bike reimbursement and roadside assistance.
Summing Up
Spending several thousand dollars on your desired e-bike will be justified if you protect it with a policy that is standalone for e-bike insurance. If your e-bike gets stolen from your garage or is destroyed in a fire, you will be somewhat protected by a home, condo, or renters policy. However, often, these policies need to provide more coverage that allows you to replace the e-bike.
Some policies are designed for e-bikes that offer a wide range of coverages that will enable you to protect the cycling gear, on the road, at home, and while traveling abroad with your e-bike. The insurance policies for e-bikes are affordable; hence it makes sense to get one, whether you are a commuter or a recreational rider.