Name can be seen as an act of identification. It can be given to a person or legally recognized persons to identify that entity amongst others in the group.
I know most of you don't see the rationality behind spending so much time and energy seeking for a name when you can just take good look at the objectives of your company and label it with anything that fits.
How to name a business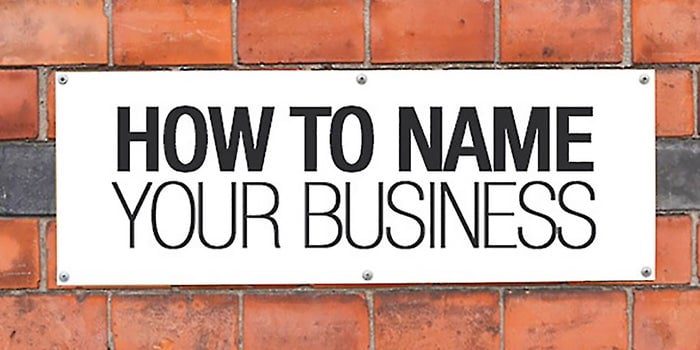 I want you to consider the outcome that might surface, if your company is so named in an unprofessional manner.
To begin with, you are going to waste more time and money checking for the availability of names. As you already know, almost any name you suggest is in use. a simple exercise is to try a reasonable name on the search engine and see if it has never being used.
Naming your business can be stressful; especially when you want a business name that is near perfection.
A Name that doesn't only define the product or service rendered by your company, but also describes the market niche that your business falls into.
A good business name is supposed to be eccentric; it should distinguish your company's character from that of your competitors. It should also reflect your values.
So what should it be? Are you going to write a long list of suggested names, mail it to your friends and families and ask them to screen the best of all the names or contract it to a professional naming firm? What exactly do you want the name to achieve? Should it be a stand out from your niche or blend with the existing structure?
Is there anything wrong in spending up to $70,000 to give your company a professional name that has the inherent character to lure clients to you? Though there are companies that can do this job for you at a cheaper rate of $100 or lesser but you will agree with me that it is better to get a name that has the potentials to attract clients to your business and will not affect your business negatively in the long haul.
You can decide to do it yourself if you think that the price is too exorbitant to pay. So how exactly would you name your business since you have decide to do the naming on your own?
Get a couple of guys together to brainstorm a list of names.
Brainstorming is something that you need to do with deep concentration not just surface thinking. You can set up a group of people; give them the details of what the company does, make them see the difference the company intends to make and the way the company wants to be perceived.
Get the groups together to submit the names they have come up with, then look out for the one that is catchy and represent the objectives of the company.
Be creative
You and your team have to employ the tool of creativity into the brainstorming process. You have to think out of the box.
Knowing that your company name is the first thing any potential clients will come in contact with, is a key to reassuring yourself that what you want is not just a name but something out of space. You should tie your inspiration to natural things.
Don't get your inspiration from other company's name because if that company goes down with a bad reputation in posterity, it will affect your company.
Look out for names that are humorous
We all want something that will make us smile right? We sure love a name that make us relieved or sounds promising. While you are thinking of a name, attach something witty to it.
There is always something witty in any product or service you render.
Avoid using spellings that are rarely used
A name that can be spelt easily gets better attention than something that take forever to remember. Sometimes it can be a name that brings the memory of something to mind.  
When you here a word like boo-hoo what comes to your mind? Such method will make your company name a household name in no time.
Research to see if the chosen name is still available and act fast
Getting a name that has not being trademarked is an issue that is worth considering. During the act of suggesting names, it is pertinent for you to look it up and see if the name you intend for your company is available.
Don't forget that for every idea you have, there are people who also have it so do it fast.
Reasonable
Don't just pick up any piece of junk for a name; it has to be something rational. If your clients can always relate to it during a conversation or as a reference, then your business name is on the right track to patronage.
Eye –opener
Your company deserves a name that is an eye opener, something that sounds revealing so that when potential clients see or hear it, they will stop and think twice and even adopt it as a source of inspiration or slogan.
Make it easy to remember and pronounce
You don't want to spend all this energy on something that takes lots of energy to remember do you? If prospective customers want information about your company (probably someone told them about it) and the person that knows about your company has difficulty in pronouncing the name of the company, there is a tendency that when they try to search for the company online or through any other means, they will end up finding another company. If it is easy to pronounce, it will be easy to remember.
Chose a name that potential customers will think of when they think about your product or service.
If your company is into production of household items, a name that represents the company's product will make them think of it when they eventually want to purchase such items.
If for example "electroph" is a name of a company that deals on electronics, if a potential customer is thinking of buying electronics and probably have seen its advert some where, the chances that he will remember this name is higher when compare to other names that does not fit the product description.
Should not have similarity with same niche.
Except you are selling a patented goods or service, I am certain there are lots of competitors who offer same service with you. If you company's name is akin to any of your existing competitor, prospective clients will only think of you as a subsidiary.
Shortlist the chosen names, test it with potential customers.
Knowing what potential customers think of your company's future name will help you reach your decisions fast.
Don't just give your prospective customers a single name to consider, get the short listed names that you have suggested and seek their opinion on it. Try and bring out the potential treats in the name so that they can comment on it.
Good business requires good investment and a business' name is like a flag that is hung up for everyone to see. Ponder it, discuss it, test it and name it. This is my simple formulae for labeling a business.
Share how you have named you business and what made you select that name!