Today we'll explore the topic that is really essential for any business. The role of mutual dialogue between brands and clients cannot be overestimated.
Just imagine the modern business without this component. Offering everything "as is" paying zero attention to audience needs? A very bad choice. It worked in the Soviet Union. And even then, people tried hard to buy imported goods. Because Panasonic devices and Levi's jeans were obviously better than terrible domestic "analogs".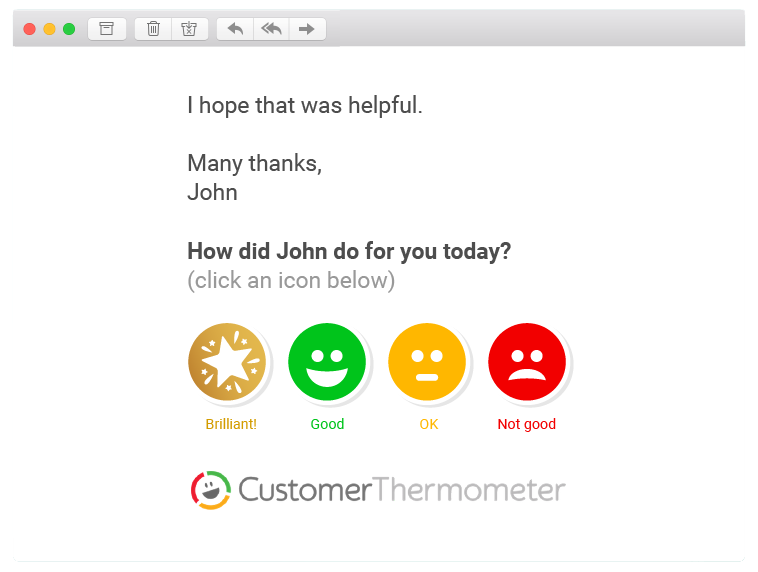 Today, we are living in the free market world. So we should put efforts to be ahead of competitors. In other terms, we have to grow the brand awareness, build clients' loyalty and engage new leads.
How can we reach these goals? One of the essential conditions is to know what people really think about us.
Business, eCommerce, and feedback
Imagine the brand that produces, for example, Bluetooth gamepads. It just released the new model. Now their team is interested in the opinion of gamers that just purchased their device. Is it convenient to play? Does people like its design and mobile app? Or maybe there are bugs when controls are being set, and a fix patch should be released?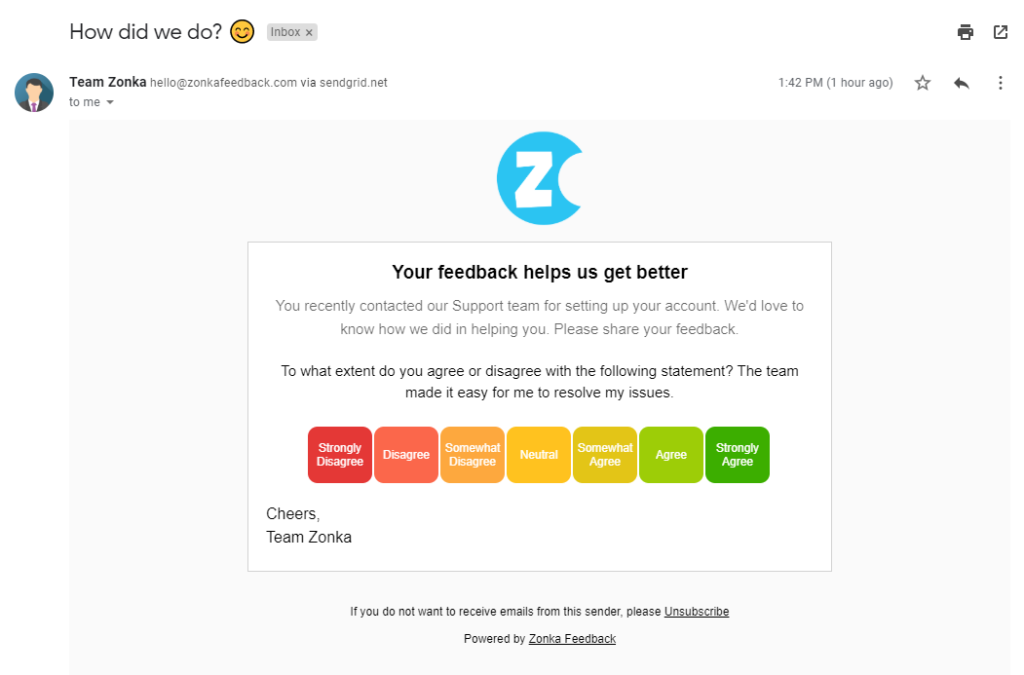 You might say that most brands, especially in the SaaS sphere, provide customers with support services. But they are "passive", so to say — people contact us first when things are going wrong. While we should reach for them first not waiting for issues or glitches.
Asking for feedback is our initial action aimed at improvements. We also show clients our care about their positive experiences.
In pre-Internet times, feedback collecting took efforts and resources. Today, it has become easy: we have several virtual channels. And emails are among the best. This channel is cheap, fast, and user-friendly. Modern HTML template builders are featured with special features to create feedback messages, enough to mention AMP techniques that allow embedding feedback forms right into the email. And they offer lots of ready-made feedback templates.
Benefits of feedback emails
Let's highlight the key pros.
They help us to understand the customers' experience. In exchange, users are provided with onboarding and education on how to use every option with maximum effect.
Brands can discover Innovations. Receiving feedback we explore new solutions and vectors of development.
These emails allow us to optimize products and services. In process of intense interaction, people give suggestions on how to improve them and eliminate weaknesses. Implementing these recommendations practically, we engage more leads.
Feedback messages enhance loyalty. Clients prefer to deal with those who care about them. So they are unlikely to go away when their opinions are really valued.
How to collect the precious feedback
We can group feedback emails by type. There are simple star ratings and extended feedback messages: reviews and questionnaires. We embed the respective options into the email itself or add the link.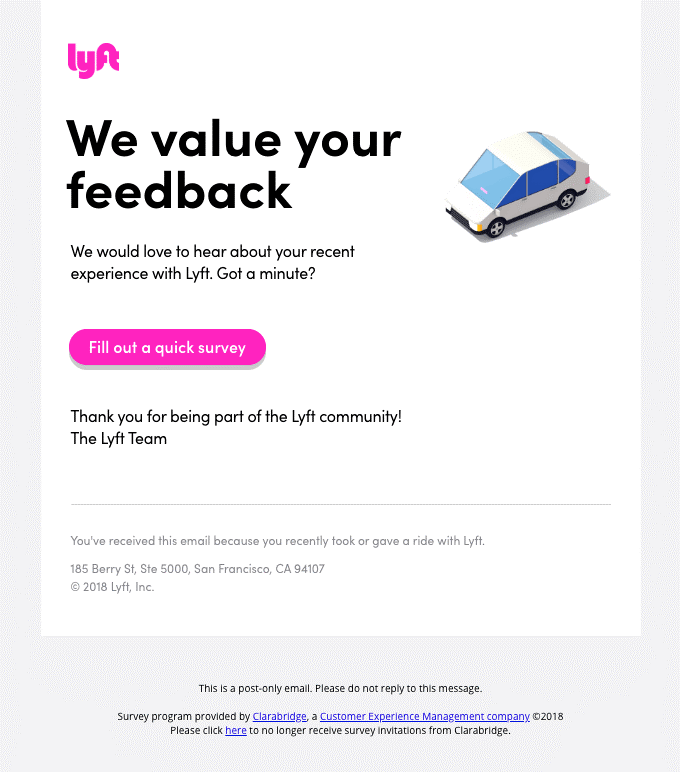 Let's share some creative tips on how to request feedback.
Personalize
Personalization is a must for email strategy today. Regarding feedback messages, personal asking expresses our true interest. You may not even make hyper-personalized requests. Using merge tags to address by names may be quite enough.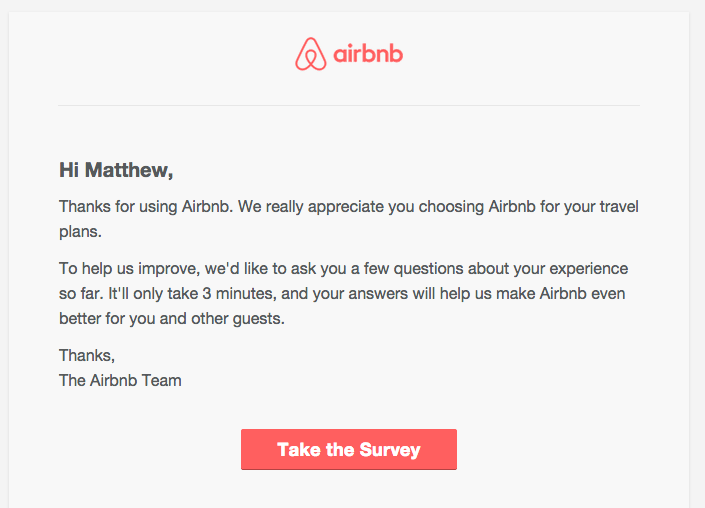 Write catchy subjects
Before thinking about genuine content that stimulates people to review or rate, remind the fact: not all emails are opened at all!
There are practices on how to write the subject line that will boost the Open Rate. Using magic words like Urgent, Invited, etc gives better OR. Specify the approximate time of leaving feedback right in the email subject.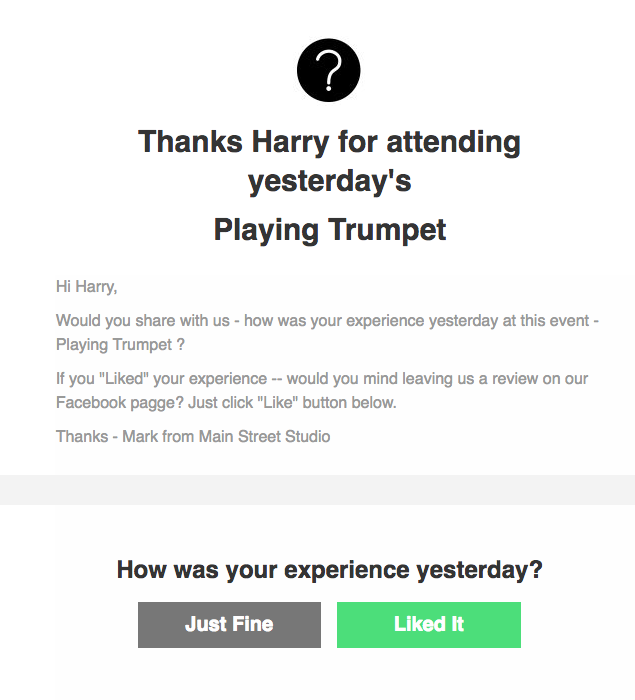 Occasion Knowledge Base
Make emails concise
The best feedback request emails are created in a straight-to-the-point manner. The fewer questions we add, the higher number of responses we receive. Moreover, email should indicate clearly what is it all about.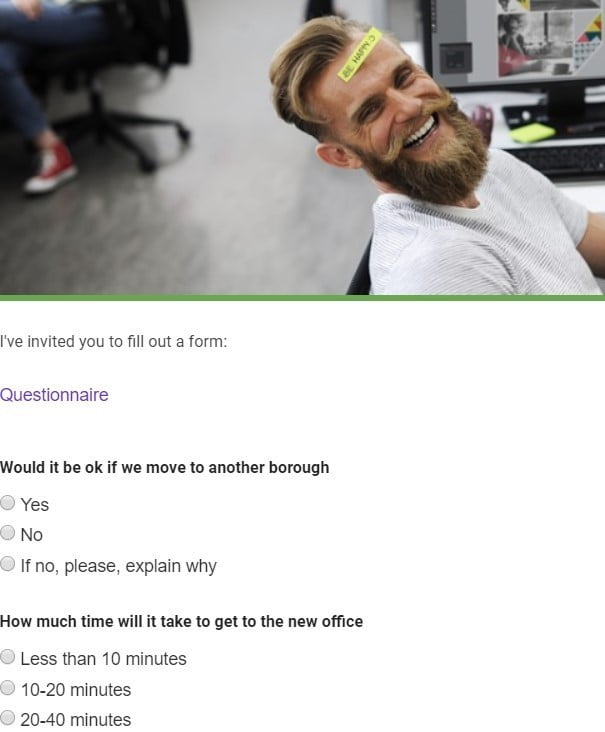 Explain the reason
Keep clients aware of why this request email is important. Inform them what are you going to do with the information. By doing this, you compel customers with clear logical arguments why they really should respond.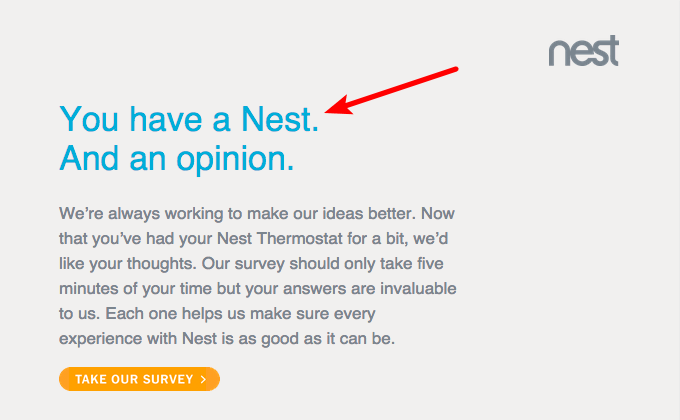 Hero Themes
Add the compelling CTA
Feedback emails should contain clear calls to action. This condition is especially important when you attach the link to the external survey.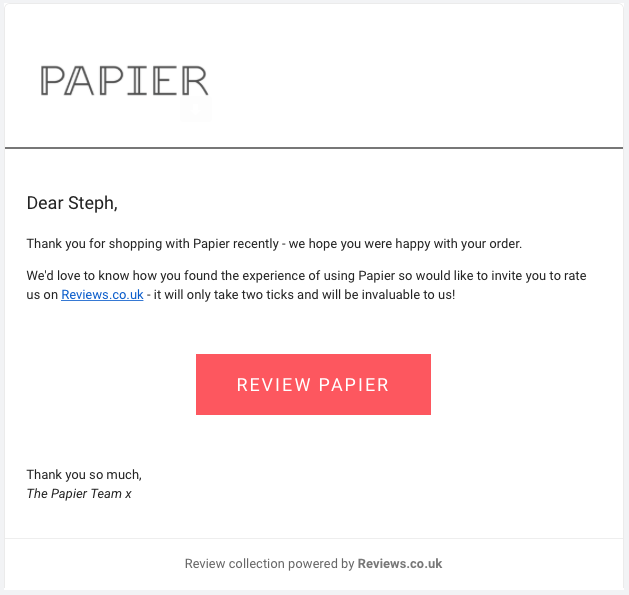 REVIEW.io
Motivate with rewards
Encourage people to respond with some real profit. Gifts, coupons, exclusive discounts are good to motivate. This practice also shows that clients and their time are valued.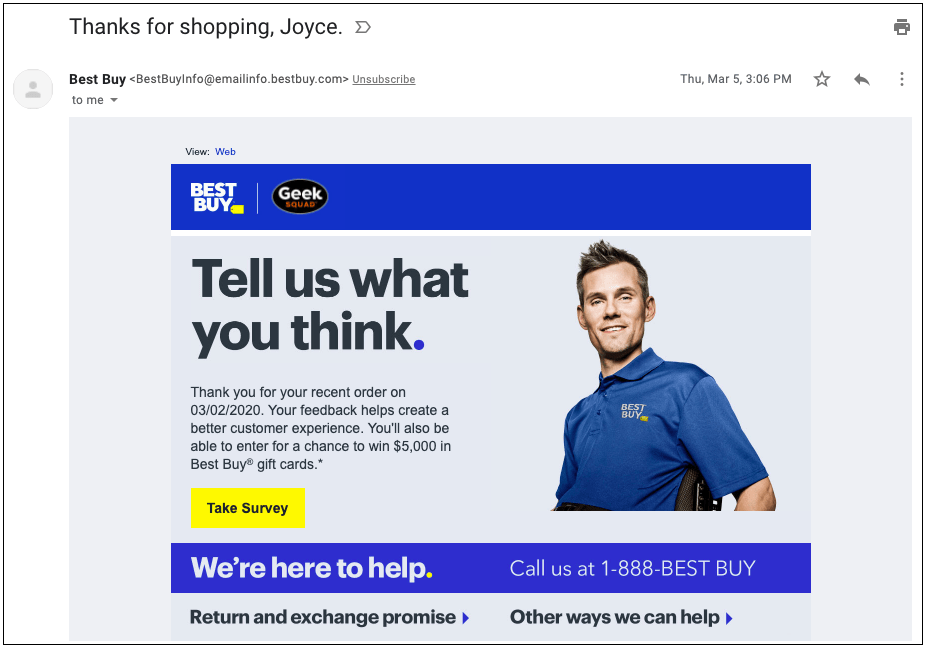 WisePops
Play with the sense of ownership
People aren't interested too much in helping you when they think that the only result is your income. This is why we should make them understand: feedback will optimize THEIR experience.
It gives a sense of ownership: feedback gives a real chance to see the desired option one day.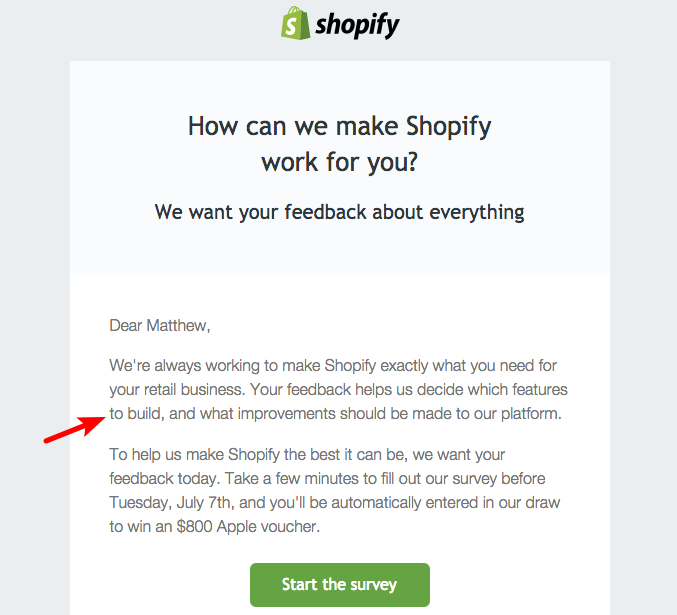 Hero Themes
Express the gratitude
Gratitude always works! No reason to say a lot in this chapter. "Thank you for your feedback" — are really magic words that make customers feel supportive of you.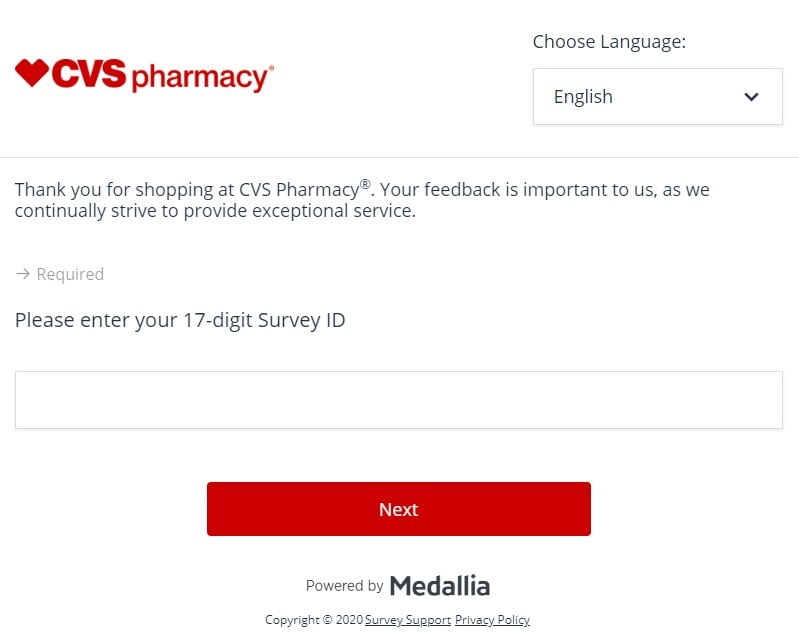 Customer Survey
Old good star rating
This is the simplest type — the client rates you right in the email. Of course, we should create a special "Thank you" landing page.
Or, even better, two pages. The first is for those who rated you with 4-5 stars — here we express our gratitude. While the second one is for dissatisfied users with 1-3 stars — here we add the link to Google Form to ask what they disliked.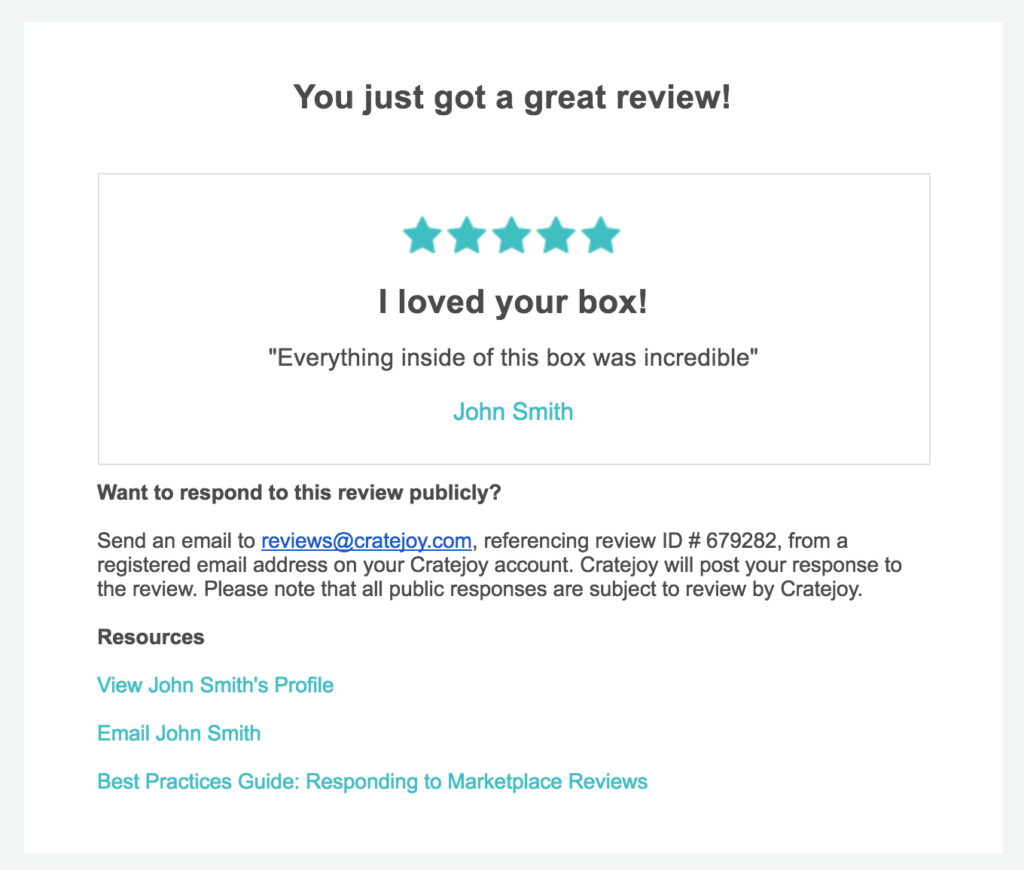 Support Cratejoy
KISS strategy
KISS is for Keep It Simple Silly. The overall concept of the request strategy. Keep simple and focused! Remove all that is unnecessary.
Like in this example. No distractive elements. Just a clear message and highlighted CTA.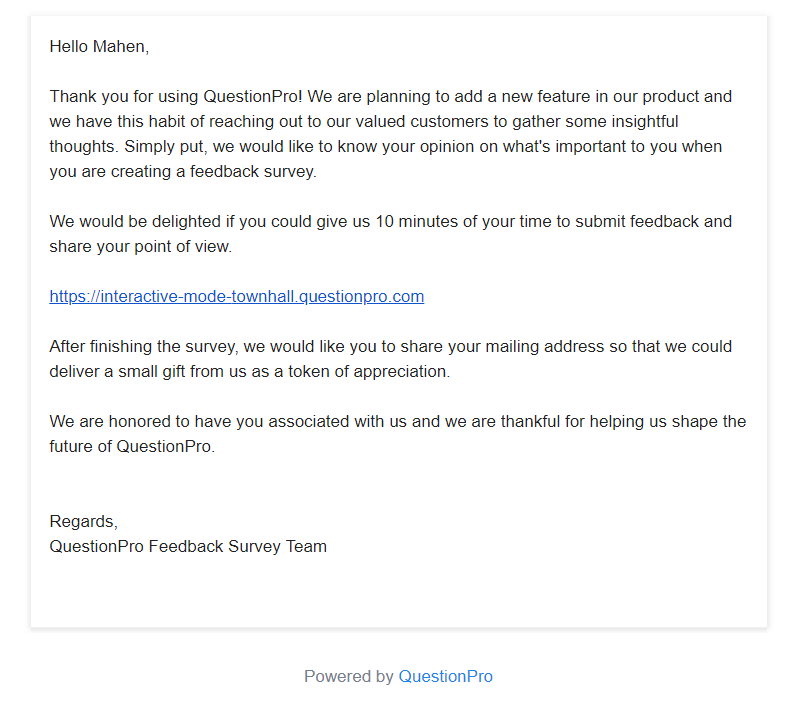 QuestionPro
Summing up
We'll sum up with some extra recommendations:
Send feedback requests as soon as possible.
Mention the approximate required time.
Tell people what are you going to do with feedback data for their benefit.
Automate sending to make these messages an integral part of your strategy.
That's all for now. We sincerely wish you a productive feedback experience!