I really worried about Cantilever House Construction with Swimming pool on the plot is a rocky and sandy hill in a half curved shape that reaches 48 meters high above the sea level and drops steeply 8 meters in its lowest part.
This house was designed in the first row, plot 5 in Lomas del Mar beach in Cerro Azul, 120Km. south of Lima. It has a 180° view to the Pacific Ocean to the south, and a panoramic view of the beach to the east and to the north.
The materials used in the project have been: exposed concrete, white painting in the walls, stainless steel, tempered glass and granite stone. The latter has been used to cover the base on which the volumes rest, with the intention of separating these from the natural terrain.
The pool is closed by a double face laminated glass in the external face that permits the same transparency to a view of the sea as the rest of the house.
Cantilever House Construction with Swimming pool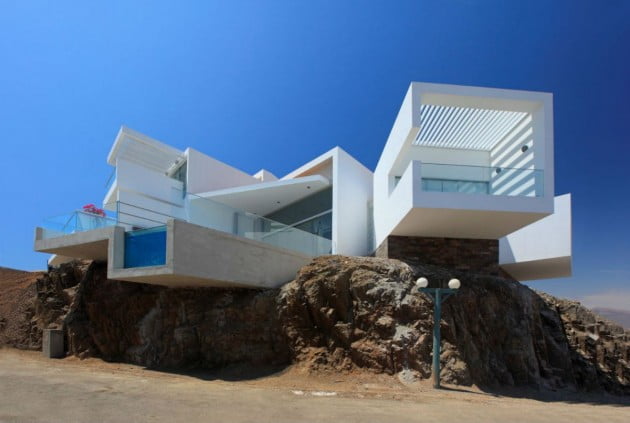 Fact file of Cantilever House Construction
Architects: Vértice Arquitectos
Location: Las Lomas del Mar Beach, Lima, Perú
Size: 250 sqm
Client: Private
Photographs: Courtesy of Vértice Arquitectos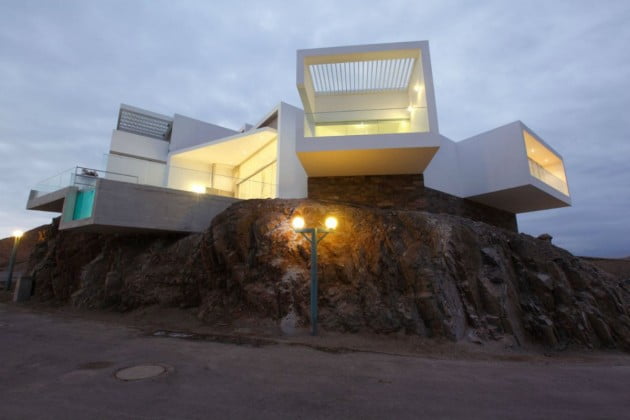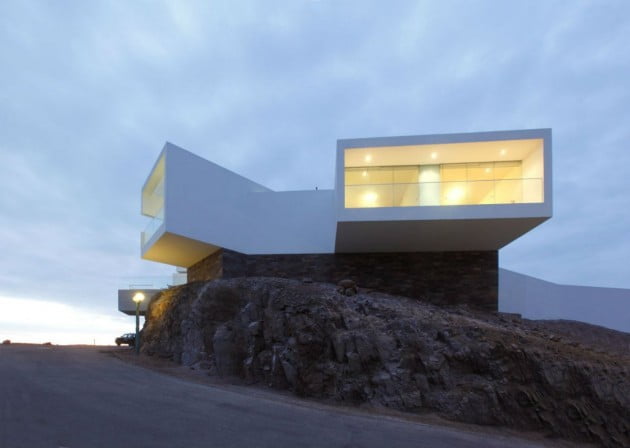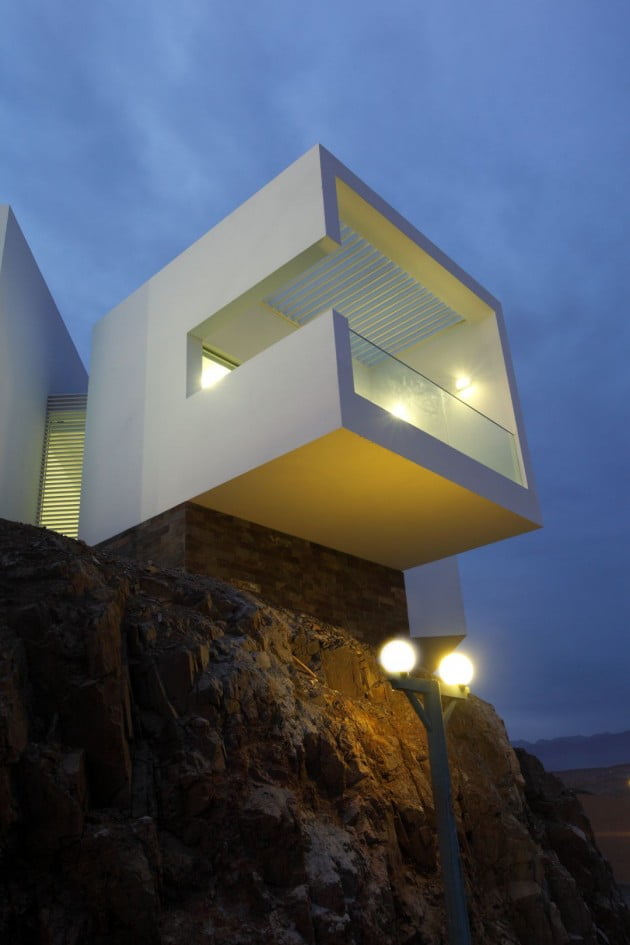 Design consideration from the architects
The two main goals to develop the project were to fully exploit the best possible view to the ocean from the social area, as well as from the master bedroom, and to make the most of the plot of land. Two parallel volumes were designed, to accomplish the first objective, one of which leans on the other, which is 1.20 meters higher, to have the view of the sea.
The volumes are joined by a main circulation axis which ends in a swimming pool overlooking the beach. To make the most of the plot big cantilevers were designed, since the useful area of the plot was reducing while the project was reaching the highest level.
The first volume is found to the left of the entrance of the house, where most of the bedrooms have been located. The master room and the adjoining terrace are revolved 45° as to have the view of the sea. The second volume, to the right, locates the social and service areas in the first level. A family room and a guest room are located in the second level.
A two-story living and dining room area ends in the swimming pool and in a terrace perpendicular to it. The family room, in the second level, is spatially opened to the living and dining room in the first level, and has also an open view to the ocean. The staircase to the second level is made in natural concrete and flies over the kitchen separating this area from the living and dining room.