Every small and big home interior furniture has a role to play in designing the perfect dream home. Modular wardrobes fall under the same category and are one of the most popular wardrobe choices for the modern generation. Modular wardrobes have their own charm.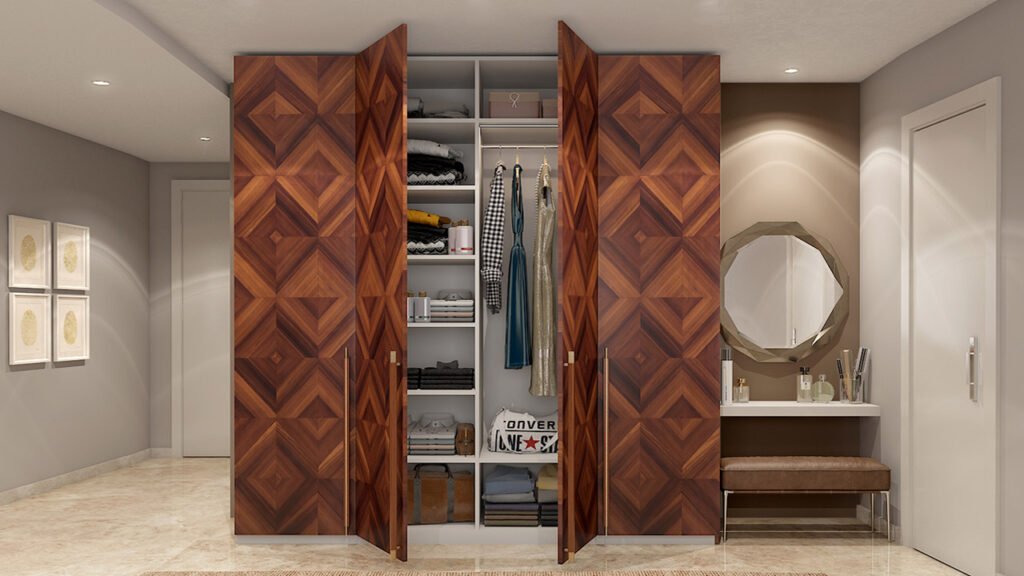 Everyone loves to decorate their wardrobes with a variety of outfits but storing and organizing them is the top priority and this is where modular wardrobes come in handy. From pre-designed to getting wardrobes customized in accordance with the available space, modular wardrobes have made them an essential part of every great home interior. A combination of elegant design infused with smart design has made modular wardrobes must-have furniture.
Let's learn more about how modular wardrobes have made our lives easy and organized alongside offering a variety of designs to choose from:
Benefits of a Modular Wardrobe:
Design your own wardrobe Interior:
The best thing about modern-day furniture is that you can be your own designer and get them custom-designed to suit your needs. Same goes for modular wardrobes. You can easily design your wardrobe interior to suit your storage requirements without compromising your design preferences.
Customize your wardrobe Size:
Settling in a predesigned wardrobe can be a trouble for many since the space available also needs to be kept in mind. However, when you opt for modular wardrobes that can be customized, you no more have to worry about how it will fit in your home space since the size of the wardrobe is already according to the space available.
Elegant finishing
Another advantage of going for modular wardrobes is that you can choose the color, material and facade of the wardrobe to blend in with the color of your home interiors, thereby offering the perfect finishing touch to your modular wardrobe.
Well-organized'
'Well-organized' is the one property of modular wardrobes that sets them apart from the traditional ones. Modular wardrobes consist of different sections, pull-out drawers, hanging rods and compartments that help in keeping your outfits and other accessories well-organized and hassle-free.
Popular Modular Wardrobe Designs:
Swing Door
This type is the most common and widely preferred wardrobe choice. It comes with hinged doors and comes in various shapes like linear, L-shape,U-shape and parallel. Moreover, they also come with a single door option as well as multi doors option which makes them even more convenient.
Sliding Door
Sliding Door wardrobes as the name suggest come with a sliding door that can save enough space, thereby making them a perfect wardrobe choice for smaller rooms. Sliding door wardrobes are comparatively larger than the swing door wardrobes and since they don't rely on the hinged doors, they are more space-friendly.
Walk-in Closet
Walk-in closet is more like a dedicated storage room with ample space to stand inside and manage your accessories. With walk-in closet installed, you can well-organize your clothes, shoes and other stuff in a large area. This type of wardrobe is best suited for luxury homes where large space can be dedicated to the wardrobe section.
What we offer:
Shop from our online store that offers a wide range of modular wardrobe options ranging from single door wardrobe to four-door wardrobe with a mirror available. You can also get in touch with our experts and let us design your perfect wardrobe.