Sheer curtains, Bright Blooms, Fragrant Diffusers and Hand-Painted Planters: There are some easy ways to redoing your space during the monsoon to keep gloom away.
We are welcome first rain with joy and something eat to hot cousins. But monsoons provide required relief from the intense summer heat. However, increasing in humidity, gloomy days and dark evenings can leave us feeling dull, especially if we are cooped up indoors. Monsoon décor is all about doing up your space to bring in a sense of joy.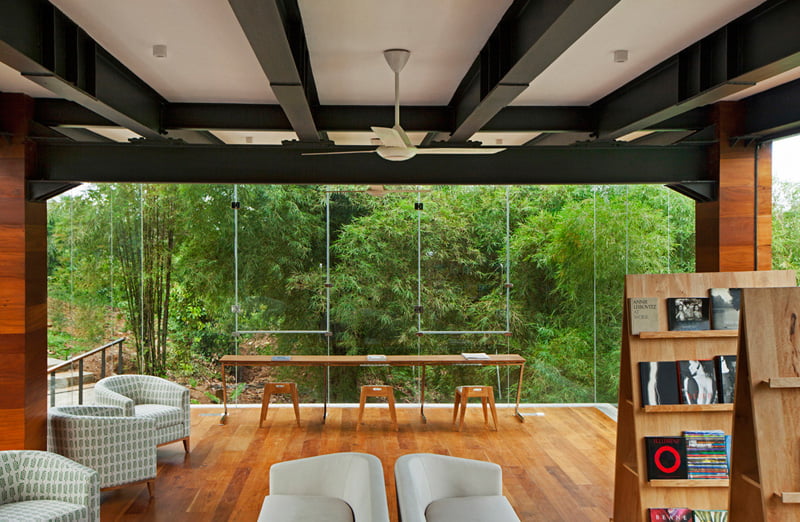 Monsoon Décor Ideas and Tips
"To elevate liveliness of interior spaces and add new dimensions to them, one can add colors and patterns through throw pillows, tablecloths, wallpapers as well as furniture upholstery and bedding," says home design experts.
Also, think cozy ambience and bright neon colors like turquoise, tangerine and sunshine yellow that keep spirit high. Patterns are a favorite monsoon addition at home. Go for tribal prints, bright geometric patterns or florals.
Go For Easy to Maintain Décor
There are a lot of practical way to transform your space without burning a hole in your pocket. To redecorate your space in a budget, consider buying wall accents such as clocks and frames. They will become the center of attraction without you having to spend a lot on them.
On the other hand, to make your space more visually pleasing, invest in a good rug. Rug soak up extra moisture while adding a warm and cozy effect to your space.
Swap heavy furniture and furnishing with everything light. Put away those plush bed covers and carpets for a few months as they are not only difficult to clean and dry in this season, but also lock that musty smell in for ages.
Safer bets include lighter fabrics, cotton bed covers, sheer curtains, dhurries over carpets; things that are more convenient to wash and dry regularly so everything smells fresh.
Quick Tips for a Bright Look
Start with cushion covers and curtains as they change the look immediately
Colorful bean bags and bedsheets can give a brighter look to your bedrooms and reading corners
Heavy curtains are passe. Settle for lighter fabrics like cotton to give an airy aesthetic to your space
Light up a corner. Be it table lamp of floor lamp, let it restore the warmth and light that the rains take away
Upgrade a wall with some interesting memorabilia and souvenirs.
Tips for Home that Smell Good
Nothing can beat a space that smells good and relaxes you. Fragrant candles, diffusers and floating candles, diffusers and floating candles are sure shot ways of making your space seem welcoming and enchanting. Option for essential oils from the citrus family in a vaporizer or oil burner to fill your room with pleasant aromas.
Cedar wood, lemon oil, grapefruit, wild orange, peppermint and bergamot are all fresh, mood lifting fragrances. Lavender comes with the bonus of also being relaxing.
Save the heavier scent profiles for the winter months. You can experiment with the intensity of the smell (around 4 to 10 drops of oil in water), but limit the burning to 30-60 minutes a day so it doesn't get overwhelming and have the opposite effect of what you were tying to achieve. Also, says no to chemical air freshener aerosols.
Tips to Recycle and Reuse
Old furniture can be repurposed. Revamp existing sofas or chairs by simply reupholstering them
Give the furniture pieces a new lease of life by re-polishing or giving them a distressed look
Old dhurries can be dry-cleaned and used for floor cushion fabrics
Lamp shades can be hand painted to give them a fresh look
Upcycle the bed by changing the headboard fabric
Reused glass bottles can be used as light installations
Repurpose old cutlery and chipped China and use them as planters for your herbs
Wash empty cans, paint them in funky colors and use them as cutlery holders.
Bring Nature in your Home
As humans, we have an innate connection with nature. Plants not only purify the air but also spruce up the look and overall vibe of the space, adding a tropical touch to nooks and corners. Sins the pandemic, many have spent time creating green spaces in courtyard, balconies, terraces, and patios through indoor planters, green walls and more.
Place indoor plants around the house and add to the freshness and serenity that the rains bring with them. For the monsoon season, bring in plants that remove moisture from the air.
Boston fern, peace lily, areca palm, English ivy, and spider plants are great for this season. Alternatively, build a little kitchen garden with herbs like basil, oregano and thyme.
Bright and beautiful flowers like lilies, tube roses and mogras can instantly tweak a dull day. Nature inspired materials and hues continue to remain an all-time favorite among designers and homeowners.
If you wish to upgrade an outdoor area, timber, cane, jute and rattan furniture can add a dash of simplicity and warmth.