According to a recent study, WhatsApp has about 2 billion active users, out of which 73% use an android while the rest use iOS. It has evolved into a vital part of phone communication, and is arguably the most popular messaging app worldwide. Although the software is available for both the operating systems, you would be surprised to know that WhatsApp has no official method of moving your Android data to iOS. For users that are switching between the two operating systems, it is often uneasy to give up on their crucial data, and they end up in a perplexed state.
Transfer WhatsApp Data from iPhone to Android using PC-The Easiest WhatsApp Transfer
Are you experiencing the same confusion? Well, you don't need to worry anymore because UltFone WhatsApp Transfer can ease your way to a straightforward transfer of data.
Why Use UltFone WhatsApp Transfer
Different Phone Same WhatsApp
Now for any software to be recommendable, it should be good at its purpose. Needless to say, UltFone WhatsApp transfer is efficient and quick in moving WhatsApp from Android to iPhone. All you have to do is follow on-screen instructions and within some minutes, the job will be done. The application offers an unrivalled success rate and would never disappoint you. We shall discuss the method shortly.
WhatsApp Data Management at its simplest
Another perk of UltFone WhatsApp transfer is the backup facility. Often, restoring your data from WhatsApp would mean restoring 99% junk with 1% useful files, but with UltFone WhatsApp transfer, you get the complete liberty of deciding what to restore. The application allows you to view your data before restoring or backing up, so all those spam messages aren't needlessly occupying the valuable space.
Keep All Your Personal Data Intact
We would sometimes need to use multiple applications at a time to ease communication between different friends. UltFone WhatsApp transfer eases the data management of all other popular messaging apps on iPhone. The app allows you to back up or restore your Line, Kik and WeChat data hassle-free, so you never lose hold of your important data.
Backup or Restore WhatsApp Data with Ease:
One of the most impressive features of UltFone WhatsApp Transfer is 1-click to Backup/Restore WhatsApp data. The feature allows to easily backup or restore various file types such as music, videos, documents, and pictures within a few minutes.
Wide Range of Supported Device:
Are you unable to migrate your WhatsApp data from HTC to iPhone just because of two different operating systems? If so, then you don't need to worry anymore as UltFone WhatsApp Transfer supports a wide range of devices, including iPhone, HTC, Lenovo, Samsung, Xiaomi, Motorola, etc.
How to Transfer WhatsApp Data from iPhone to Android
Download and install UltFone WhatsApp Transfer on your PC/Mac, then follow the steps below to transfer WhatsApp data from iPhone to Android.
Step 1: Launch UltFone WhatsApp Transfer on your PC/Mac, and then connect your iPhone and Android device to the PC/Mac.
Step 2: From the main interface, click the "Transfer" button.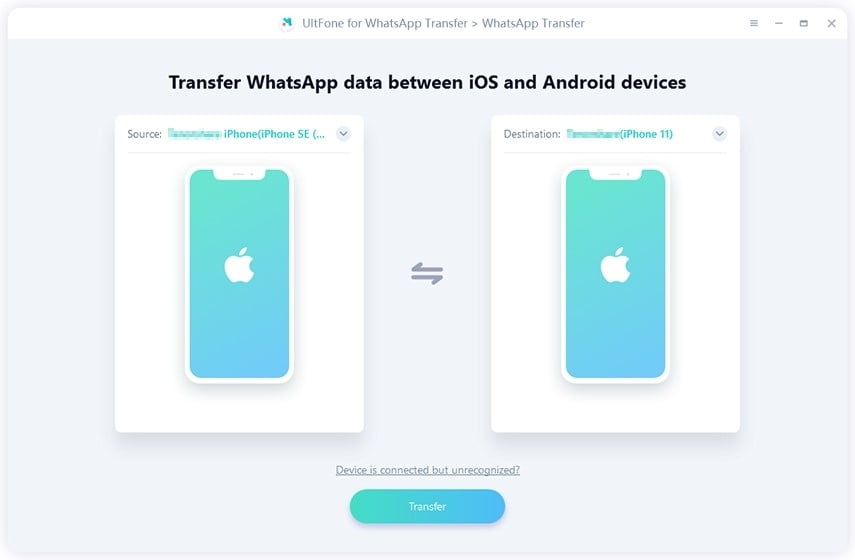 Step 3: Before transfer, this software will begin to create a new backup of WhatsApp data of your iPhone.
Step 4: After that, you will be required to verify the WhatsApp account that you will log in on your Android device.
Step 5: To verify it, enter your "Phone Number" with "Country Code."
Step 6: After that, you'll receive the WhatsApp Verification Code type it to verify your Phone Number.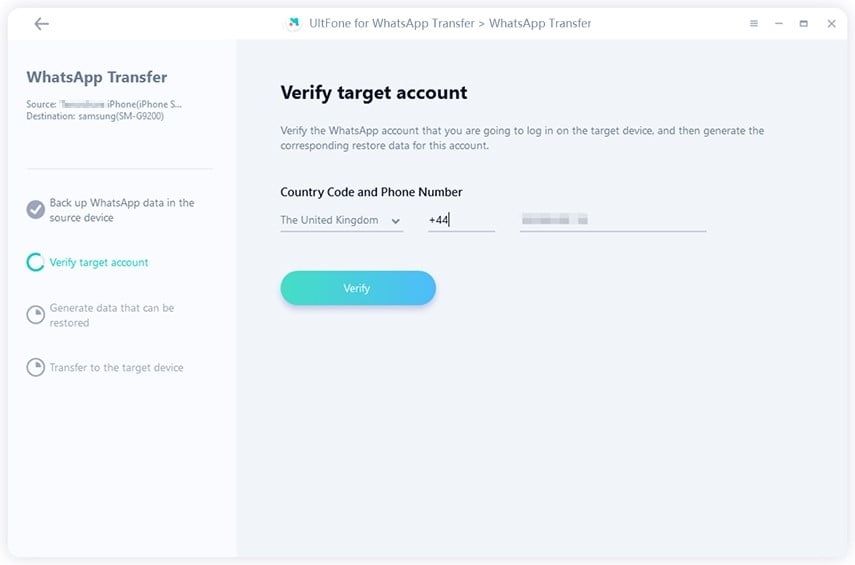 Step 7. After WhatsApp verification, UltFone WhatsApp Transfer will generate data that can be transferred to the target device.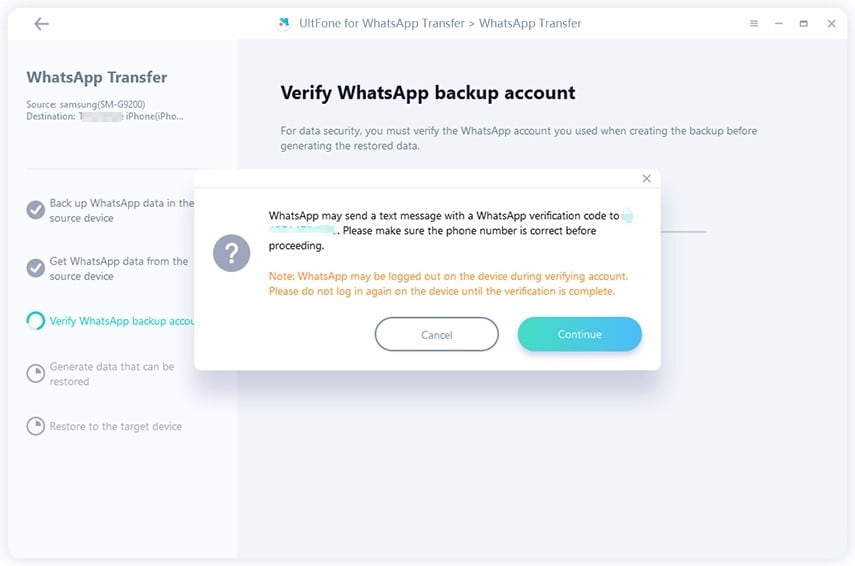 Step 8: It will start to transfer WhatsApp data to the Android phone. Ensure that the Android phone remains connected to the PC/Mac.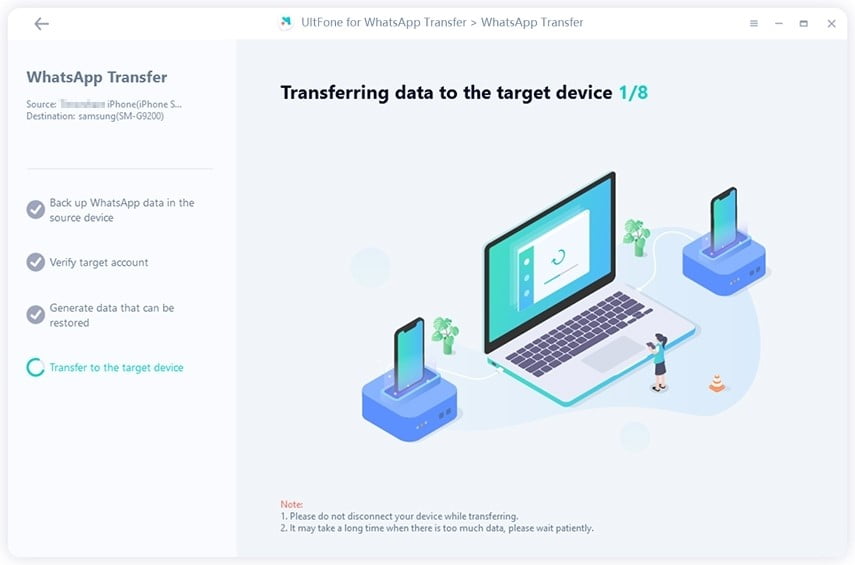 Step 9: After WhatsApp is transferred to Android successfully, follow the onscreen instructions to restore data on your Android device.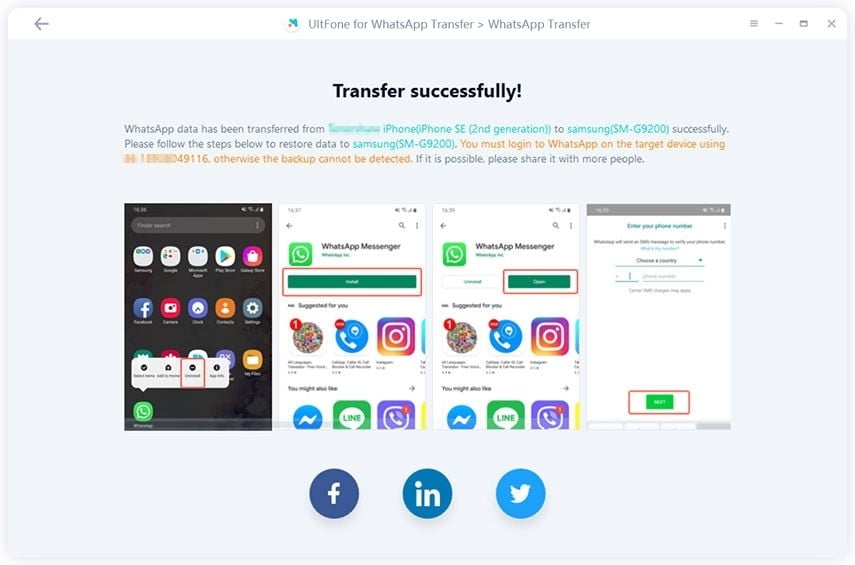 UltFone Launches the Biggest Black Friday Software Sale
UltFone has announced the biggest sale of the year that is Black Friday 2021. The campaign is live from November 5, 2021, to December 9, 2021. During the Black Friday campaign, you can avail of up to 76% discount on various products. Moreover, you can also win a $100 Amazon Gift Card, 1 Month License of UltFone iOS Data Manager, and $15 Coupon Code of UltFone iOS Data Manager. Make sure not to miss the biggest sale of the year.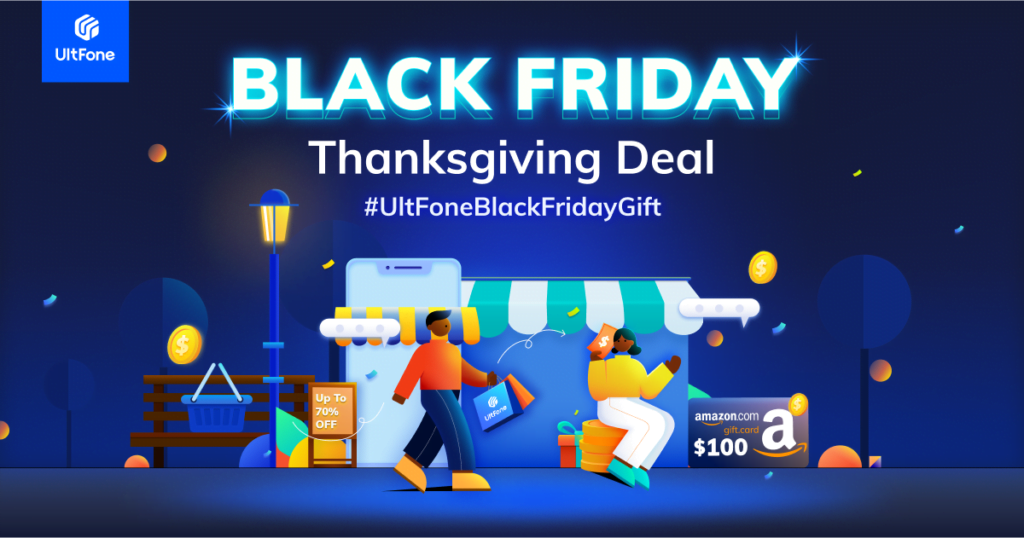 Final Takeaway:
If the WhatsApp data mean a lot to you, take care of them. The best way to keep it safe is by transferring with a reliable, secure, and trustworthy tool just like UltFone WhatsApp Transfer.
I am sure that the above guide will help you easily migrate WhatsApp data transfer from iPhone to Android. If you have any queries, feel free to comment. Our team will be thrilled to respond to your queries.