If you own a website, then you should be constantly looking at ways to improve it.
The chances are if you have a website, then there is a reason behind it. Apart from Wikipedia and a few others, most websites want users to do something such as buy their product, register an account or sign up to a mailing list.
How to Master Conversion Rate Optimisation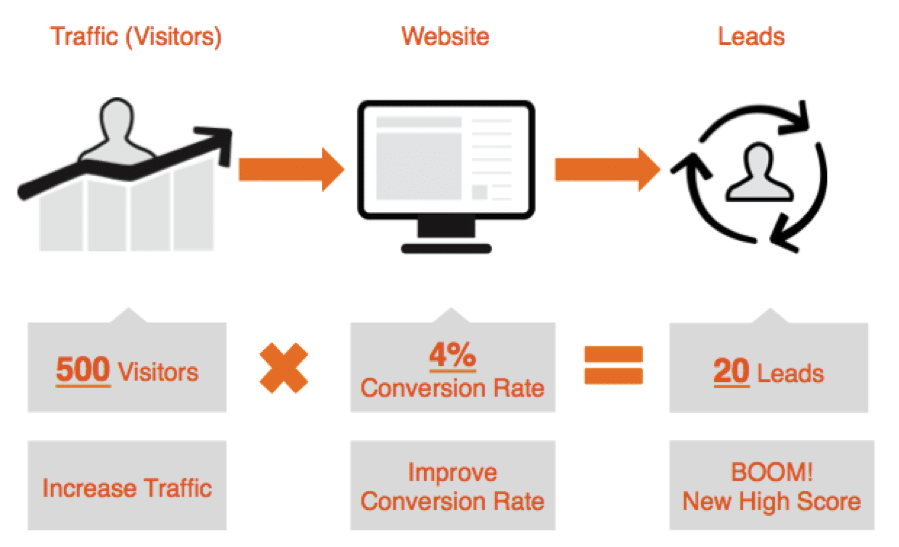 All of these actions can be classed as conversions, and usually the more conversions equals more profit. With that in mind, it's easy to understand why a lot of webmasters spend time trying to improve their conversion rate. If a website can get 5 conversions from 100 visitors, then imagine how great it would be to get 10 conversions instead.
Well with conversion rate optimisation, your dreams can often become a reality.
If you're not happy with your current conversion rate, then don't worry. We're here to help. We've put together a step by step guide that will help you increase your conversions in just a few short days. Just follow the steps one by one, and you'll soon be on your way to generating, even more, conversions from your website.
Let's get started!
Start With a Realistic Goal
The first step in our conversion rate optimisation guide is to start with realistic and precise goals. There's no point trying to improve your conversions from 1 in every 100 to 100 in every 100. That's very very unlikely to happen.
Instead, you should be aiming for a realistic goal, especially if it's your first time. For starters you always want to your conversion rate to be better than it was before, that's just common sense. But by how much? Well it depends.
It depends on how much time you are willing to commit to the improvement and what type of changes you are planning to do. Changing a button colour from red to black is a fast change that literally takes seconds. Redesigning the entire content or making new pictures for your website is obviously a laboursome task.
Big changes often bring the best results, but they also take the most time. Small changes can improve your conversion rates, but don't expect to double them overnight. Once you've decided how long you want to spend optimising and what magnitude of increase you're going for, it's time to plan what to change.
Plan What Elements to Change
Planning what elements to change on your website is another important step in conversion rate optimisation. Changing the wrong thing can actually have a negative impact on your conversion rates. Not only is it important to change the right thing, but it's also important what you change it to.
To give you an idea of what to change here are some quick suggestions:
Button size / colour
Headline font / size / colour
Content length / spacing / font / layout
Pictures / size
Location of social share buttons
Location of email signup form
Menu / location layout
Location / size of reviews
These are just some suggestions on the most common things people usually change. Of course, the choice is up to you and if you can think of anything else then go for it.
Now you've decided on what to change; it's time to put it to the test. There are two main ways to do this. Either A: make the change permanent and monitor the results or B: use an A/B test. For those of you that don't know what A/B testing is there an awesome guide over at Conversion Sciences.
Monitor The Changes
Once you've made the changes, it's time to monitor the changes over a given period of time. Usually, you'll want to give it a few weeks before deciding if the change has improved your conversion rate or not.
For the first few days, it's best to monitor the traffic and conversions to make sure nothing has gone horribly wrong. If your conversion rate suddenly drops to 0% over the space of a few days then either you broke something, or your visitors hate it. If you do have a much lower conversion rate then it might be a good idea to scrap it straight away and start again.
Once you start seeing some result coming in, it's time to sit back and play the waiting game.
Decide on A Permanent Change or Not
After a few weeks of running the test on the new change, you should be able to determine if it has improved your conversion rate or not. By comparing your conversion rate before the change to the one after, you'll be able to come to a solid conclusion.
If the conversion rate has gone up then it's a no-brainer, keep the change and impress all of your friends and colleagues with your increased conversion rate. If on the other hand your conversion rate has decreased, then it's probably best to revert it back to the old settings.
In the unlikely event that your conversion rate is the same then you have 2 options. Either leave it running for a few more days or weeks to compare it again. Or scrap the idea altogether and start the process again by changing something else. Whatever you decide, make sure you write your changes down as it's also good to keep a log. The last thing you want is to test the same thing you just tested 6 months ago!
Repeat
Once the process is complete and you've made the change, it's time to start again. Conversion rate optimisation is a never ending process and involves continuous testing and changing aspects of your website.
Unfortunately, 1 change typically won't boost your conversion rate by 100%. You'll have to make lots of little small changes before you see some significant differences. By constantly changing elements on your website and running new tests again and again; not only will you get better at improving your conversion rate but you'll also think up new ideas.
It might be a slow process, but investing the time to boost your conversion rates can often be the best thing for your bottom line.