Aadhaar card address correction guide: Aadhaar card became a most useful id proof for every single Indian citizen. And as you know every important document have a perfect detail of surname, first name, middle name, residential address, contact number, email id, etc. But sometimes with a time and places change in life, you have a situation creates. Where you need to change the address in aadhaar card or need to replace other important details change in aadhaar card online. We are here checking the guide for how to change address details in your aadhaar card? Also, look step by step instructions for make changes online. So, what we are looking ahead in this article is a total guide on how to change aadhaar card address details. You are getting the steps for aadhaar card address change online with details about the list of aadhaar card address change documents. Also, other requirements for aadhaar card address change online and how to check the aadhaar card address change status. This is general highlights of what we are covered ahead. In this article, we present to you an accurate and to-the-point guide to on how to get done a quick Aadhaar card address change online.
Aadhaar Card Address Change Guide: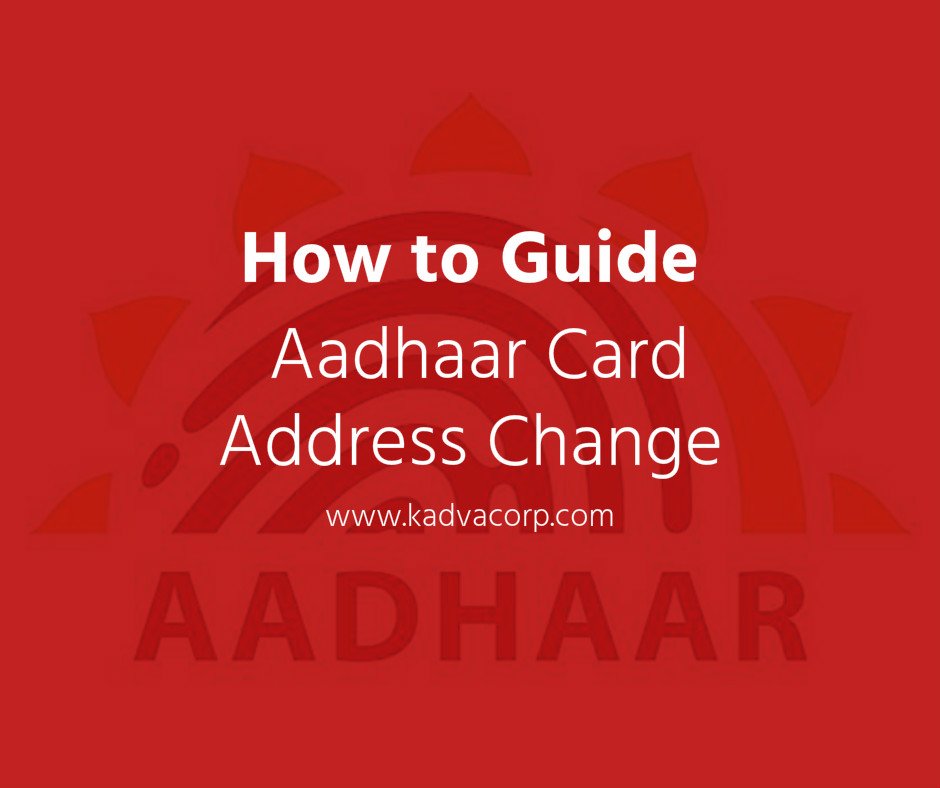 Have you aware of SSUP? SSUP means self-service update portal, which is run by UIDAI. On this web portal, you can easily change your required correction like aadhaar card address change, name correction or other updates in the aadhaar data. You can not only correct your aadhaar card address but other details like,
Name
Gender
Age
Date of Birth
Mobile Number
Email ID
This update of address in Aadhaar could be easily carried out online (on the UIDAI web portal) or offline as well.
Requirements for Aadhaar Card Address Change Online:
Before you go ahead and apply for Aadhaar Card Address Change Online, here are few mandatory requirements you will require without which you cannot proceed with online updation.
Prescribed Aadhaar Card address change documents of proof (for the verification of your updated address. Further details are mentioned below).
Aadhaar Card Number (To login to the UIDAI's Self Service Update Portal).
A mobile no. linked to your Aadhaar Card number (to which the OTP would be sent).
List of Aadhaar Card Address Change Documents:
First thing first, when you decide to change or updates address in aadhaar card. You have to provide certain residential proof. For this process, you have to upload your valid document proof aadhaar card address change. Also, take in the notice that updated aadhaar card address details are not reflected immediately. It will take time because the updating is depending on the officials who review your application for the update of aadhaar details. But, as per our experience, until and unless the UIDAI find something doubtful or strange about the aadhaar card address change request, the address is typically updated within a stipulation of time.
Below is the list of documents required for aadhaar card address change(any one of them):
Passport
Bank Statement/ Passbook with photo
Voter ID Card
Post Office Account Statement/Passbook
Ration Card
Driving License
Electricity Bill (not older than 3 months)
Government Photo ID cards/ service photo identity card issued by PSU
Water bill (not older than 3 months)
Property Tax Receipt (not older than 3 months)
Credit Card Statement (not older than 3 months)
Telephone Landline Bill (not older than 3 months)
Insurance Policy
A signed Letter having Photo from Bank on letterhead
Signed Letter having Photo issued by registered Company on letterhead
Signed Letter having Photo issued by Recognized Educational Instruction on letterhead 17. NREGS Job Card
Arms License
Pensioner Card
Kissan Passbook
Freedom Fighter Card
CGHS / ECHS Card
Income Tax Assessment Order
Certificate of Address having photo issued by MP or MLA or Gazetted Officer or Tehsildar on letterhead
Certificate of Address issued by Village Panchayat head or its equivalent authority (for rural areas)
Address Card having Photo issued by Department of Posts
Vehicle Registration Certificate
Registered Sale / Lease / Rent Agreement
Gas Connection Bill (not older than 3 months)
Caste and Domicile Certificate having Photo issued by State Govt.
Disability ID Card/handicapped medical certificate issued by the respective State/UT Governments/Administrations
Passport of Spouse
Passport of Parents (in case of Minor)
Steps for Aadhaar Card Address Change Online:
After receiving a large number of complaints and incorrect details recorded in the database, the UIDAI has finally decided to allow the people with the facility to make changes or correct any wrong/incorrect detail/information they have found with their Aadhaar. The procedure for making the correction is very simple and can be done both online and offline. Following simple steps, you can update your wrong Aadhaar address details through SSU portal. Also, you can send a request through the post to make changes and correction in your details.
I hope, you have an aadhaar linked mobile number, then you can surely use the SSU Portal to update Aadhaar Card address.
First visit the Self Service Update Portal by UIDAI from here: https://ssup.uidai.gov.in/web/guest/update
Enter your Aadhaar Number.
Enter the Captcha Code and then you'll be taken to the 'Data Update Request' tab.
Click on, 'Send OTP'.
You will then receive a One Time Password on your registered mobile number.
You will now see the page which will ask you to select the details to be changed – Select Address.
Fill in the details of the Aadhaar Card Address which had to be changed.
Upload the Aadhaar card address change documents. For your reference, we have mentioned the list of valid documents of address proofs.
On successful submission, you will receive and URN (Update Request Number) – Do keep this URN handy, as it will help to check your Update Status (explained ahead)
How to aadhaar card address change by post?
In this scenario, you do not have to panic. What we are suggesting that check the proper reason for why your mobile number does not link with aadhaar card. And you are not able to correct or update your aadhaar details online. In this case, you have to visit nearby aadhaar card Kendra and concert officials. Who will help you to get the Aadhaar detail updation request form (need to fill manually)? You can also download online and then fill all the necessary detail in the correct manner. The same is sent to either of the following 2 addresses given bellow:
UIDAI Post Box No. 10, Chhindwara, Madhya Pradesh – 480001, India
UIDAI Post Box No. 99, Banjara Hills, Hyderabad – 500034, India
Note: Make sure that you attach one of the accepted Aadhaar Card address change documents (list to be given in the following section).
How to Check the Aadhaar Card Address Change Status?
Finally, you are completing above mention procedures to Update Aadhaar Card address. Now is the time to check the status of your update request on the SSUP itself. You would need your Aadhaar Number along with your URN, to check the status. If you have both of these mentioned details, you can visit https://ssup.uidai.gov.in/check-status and go ahead with an updated status of your updation request.
Note: We strongly recommend you to add your a correct mobile number to your Aadhaar Card. If in any case you are required to update your number. You can refer our quick and easy guide on how to update mobile number in Aadhaar. Also, newly applying aadhaar card status check updates help you to track down your aadhaar status. You can refer our download aadhaar card online guide for how to take aadhaar card print in online. Nowadays most trending topic is Link Pan Card with Aadhaar, just for your reference.