How To Delete Paytm Account Permanently,… Paytm is a digital payment app where you can transfer funds to another Paytm account, bank transfer, pay bills, recharge and more. Additionally, you can also use Paytm for buying stuff from various e-commerce platforms. To use Paytm you have to setup your account. You can set up your new Paytm account using your mobile number or email address.
I am also using Paytm for transactions. Services provided by Paytm is awesome but if you don't want to continue with them for any reason and delete your Paytm account then here is the solution. In this article, I will tell you how to delete Paytm account permanently.
How To Delete Paytm Account Permanently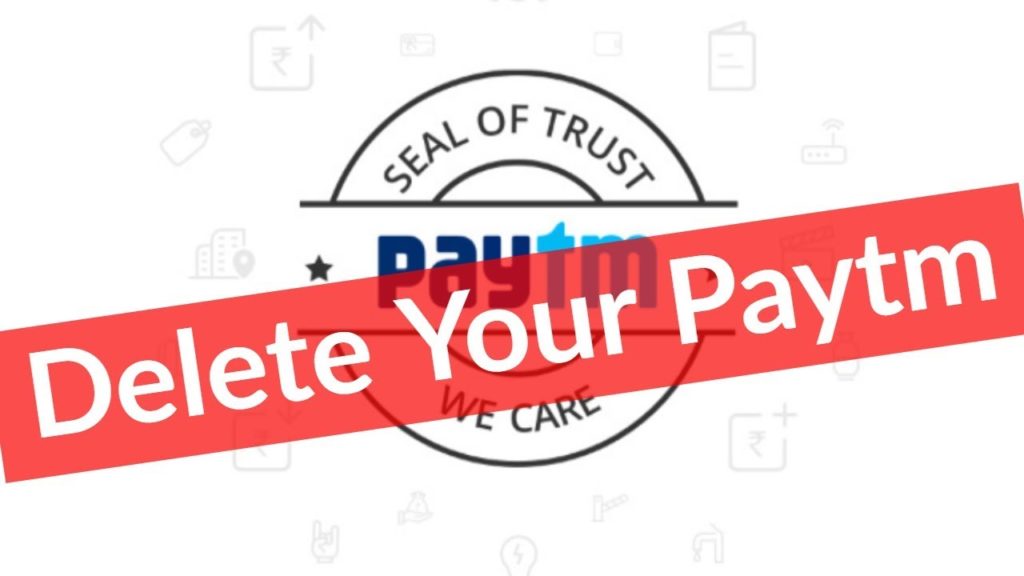 Before moving further take a look at the things you can do with Paytm.
Things We Can Do With Paytm
Paytm offers a number of services to its customers. Here is the list of all things you can do with Paytm –
You can make payment to other Paytm user or bank using the Paytm app.
Recharge for mobile phone numbers, Metro Cards, DTH, Data Cards, etc.
Book tickets for bus, trains, and flights.
Book hotel rooms.
Pay For Ola, Uber cabs.
You can also buy stuff from e-commerce stores.
You can also make offline payments at Paytm merchants.
these are some things you can do with your Paytm account. If you still want to delete Paytm account then read step to step instructions below.
How To Delete Paytm Account
Actually, you can not delete your Paytm account you can just disable it. To delete/disable your account you have to send an email to Paytm Care (care@paytm.com) from your registered email id
In the email just tell them you want to disable your account and mention the reason for that. Paytm customer care will reply to you within 72 hours and help you in disabling your account.
You Can also Create Ticket from Paytm application also. Just go to contact us and write about your problem. They will resolve your problem and Delete your account as soon as possible.
Note – Once the account is deactivated then it is blocked forever. You can not use the same email or mobile number for registration again.
Ask Your Bank
If you are thinking someone else using your Paytm account and doing transactions then you can contact your bank and tell them to stop all transactions through paytm. Doing this can make sure that money in your bank account stays safe and secure.
Alternative to Paytm App
Paytm is one of the best digital payment apps but if you do not want to use Paytm then there is a lot of other options are available which you can use as per your convenience.
Other then paytm you can also use Freecharge, Mobikwik, Ola Money, Jio Money, BHIM app, Google PAY, Payumoney and other UPI apps.
These are the methods you can use to delete paytm account permanently.