The majority of companies are facing disruptions to business operations in today's environment. By using a reliable business data analytics tool like Microsoft Power BI in the supply chain, leaders are trying to leverage chain predictive analytics to mitigate critical situations and prepare for frequent disruptions.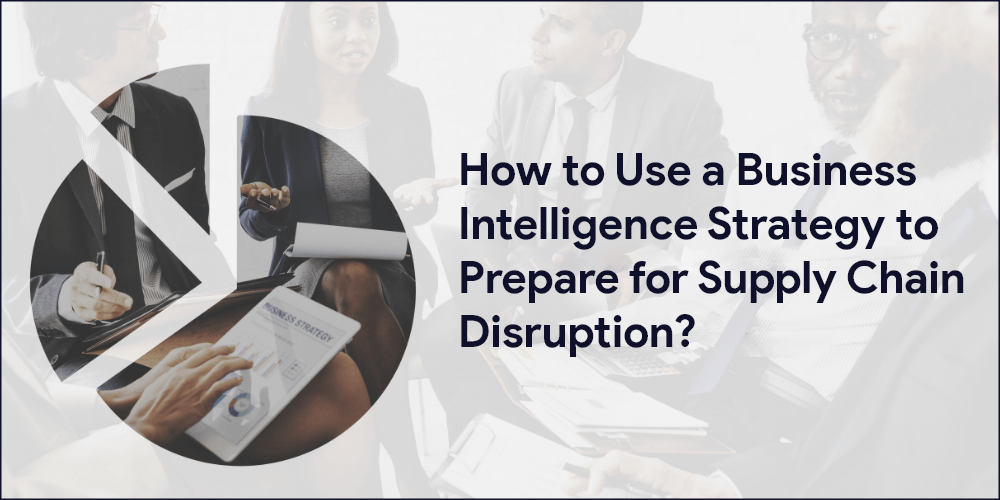 A business intelligence strategy plays a vital role in assisting affected companies to adjust. It's no secret that supply chain excellence relies highly on supply chain analytics strategy. Mitigating business disruptions through supply chain analytics alone comes with several challenges. To make better supply chain decisions, it's important to harvest comprehensive data, secure the business skills required to enhance its value, and invest in digital solutions.
A well-defined business intelligence strategy helps businesses to map suppliers, comprehend real inventory levels, and plan for excellent customer satisfaction. No doubt, it provides visibility of your suppliers as well.
In reviewing inventory levels, the BI strategy helps as well. In every business, the inventory planner has inventory management in hand, but while facing disruptions, it's become important for everyone to access this data to stay unaffected by the flow of inventory.
Advantages of Using BI Tools
A business intelligence tool is beneficial in determining the following things:
Purchase orders and purchase receipts
Brought-forward value
Identification of likely shortages
Inter-company movement stock analysis
Sales orders
Backorders and forward orders
The above-mentioned information will help you plan a business-wide strategy for the new trading conditions.
A well-devised business intelligence strategy helps to manage your customers. Believe it, understanding your customers is important to running a business smoothly and is one of the primary benefits of a business intelligence strategy.
How Supply Chain Analytics Mitigate Business Disruptions?
Use real-time supply chain analytics to track disruption
Organize visualization to analyze the impact of disruptions on your business
Leverage supply chain analytics to predict future scenarios
Revise supply chain policies for your business
Who is Responsible for Supply Chain Risk Management?
Chief Supply Chain Logistics Officer
EVP of Global Supply Chain
VP of Supply Chain Logistics
Director of Supply Chain Management
Supply Chain Strategist
Supply Chain Logistics & Systems Manager
Chief Operations Officer
Materials Manager
Director of Procurement
Impacts of Supply Chain Disruptions
Micro Impacts- Affects local suppliers in a particular geographic area.
Macro Impacts- Affects global suppliers all over the world.
Types of Supply Chain Disruptions
Natural Disasters- Events such as earthquakes, fires, floods, and tornadoes are uncertain and can cause huge disruptions in supply chains.
Pandemics- Covid-19 is one of the latest pandemics disrupting the global supply chain. It affected the global supply chain to a great extent.
Transportation Failures- Shipping damage, traffic issues, weather, and cargo theft are a few examples of supply chain disruptions in transportation. These directly affect the capacity of transportation service providers.
Cybercrimes- Cyberattacks and hacking are the most impactful disruptions to the supply chain over the last few years.
Fluctuations in the Market- Frequent rises in prices can create supply chain disruptions. Prices on a few commodities such as aluminum, steel, or crude oil can highly impact financial overheads all over the world.
Strategies To Build A Disruption-Proof Supply Chain
Strategy 1
Understanding the Stages of Supply Chain Disruption- The path to supply chain disruption is based on a three-stage process including recovery, discovery, and resilience.
Strategy 2
Leverage Supply Chain Technology- Fortunately, technology is allowing businesses to mitigate disruptions across the entire supply chain. Improving cybersecurity and supply chain visibility, tracking freight carrier metrics, conducting internal risk awareness, and using data modeling to identify key risk scenarios are effective in anticipating disruptions.
Strategy 3
Build A Flexible Culture- The primary objective of a supply chain is to boost the speed and visibility of the supply chain. It is advisable to devise a supply chain strategy depending on the unique needs of a business.
Strategy 4
Automate Manual Processes- It is important to shift away from manual processes to mitigate supply chain disruptions. Additionally, digital transformation and automation help in increasing business efficiency, cost reduction, and sales increase.
Strategy 5
Cross-Functional Supply Chain Integration- The cross-functional supply chain integration is smoother and cost-effective. It involves integration with CRM, order management, and warehouse management.
Strategy 6
Manage Supply Chain Costs- Supply chains work smoothly when there are cost controls on things such as service level agreements, freight rates, and career invoicing. It is advisable to devise a plan for cash management.
Strategy 7
Diversify Your Suppliers- Major supply chain disruptions require the diversification of suppliers. Keep in mind that diversifying your suppliers is more than devising a backup plan.
Strategy 8
Use Predictive and Prescriptive Analytics– Predictive and prescriptive analytics are the best tools to predict and prepare for future supply chain disruptions. These analytics will help you understand your future demands.
Final Words
Don't forget that a supply chain disruption can hit your business badly. So, adopting the business intelligence strategy to mitigate supply chain disruptions is important for your organization.