Is it mandatory to provide-link aadhaar card with mobile number connection? The common question is arise in many of us mind, right? Yes, you have to verify your aadhaar number for your mobile number as directive and ordered by TRAI. Here, most of the peoples having questions that why to link the aadhaar now? Yes. In March this year, the department of telecommunications has issued a notification directing all the telecom providers in India, to re-verify all existing mobile subscribers through aadhaar-based e-KYC (know your customer). Aadhaar based e-kyc would also be mandatory for customers purchase new Sim cards. In this situation, many of us rush to the nearest gallery, when we get a message from network operator regarding link aadhaar card with a mobile number. But, don't require to rush; you have an enough time to link your mobile number with aadhaar, till the last date for the same is 6th Feb 2018 (as per airtel faq).
Why do you need to link aadhaar card with mobile number?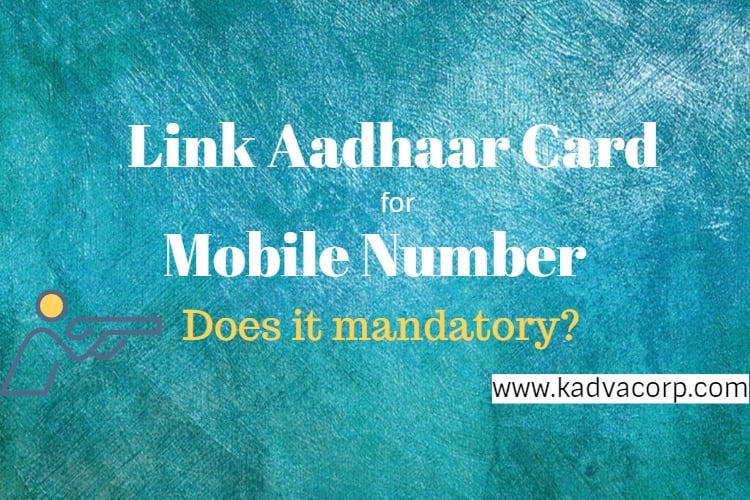 Recently, the department of telecommunication (DOT) has instructed all the Indian telecom operators to verify all mobile numbers by linking it to aadhaar. Because it is easy to use and time-consuming and reduces the paper work that it needs earlier. As per the department of telecommunication (dot) linking aadhaar will add security to its users and it can lower down the fake sim card holders.
Now, we will see below that how you can link aadhaar card with your mobile number with ease.
How to link your aadhaar card with mobile number to keep it active.
Required Documents:
Aadhaar card copy of SIM card owner & its number.
Switched on mobile with SIM card.
OTP you receive during the process.
Aadhaar card holder for a fingerprintfor the biometric verification.
The process to link aadhaar card for sim card number:
First of all, if you have got the sms regarding verify your aadhaar for your mobile number. Then, visit your nearest retail store or network provider's gallery or your respective sim.
There you have to provide your phone number along aadhaar card number.
They will send a four digit verification code on your number for the next level verification process.
You have to give that verification number to them/storekeeper again.
The operator will ask for your fingerprint for the biometric verification.
In within 24 hours, you will receive another confirmation message for final verify.
You just have to reply with the word "y", the verification process will be completed.
Your SIM card has been successfully linked with your aadhaar card.
How do I link an aadhaar number with multiple mobile numbers?
You can't link all mobile numbers with aadhaar number in one go. You will have to visit respective operator store to link your aadhaar with your mobile number.
Your aadhaar record for purposes of sending you otps can have an only mobile number. You can, however, do a biometric verification of multiple sims owned by you going to respective service providers. You cannot verify a sim in someone else's name with your biometrics.
Go to each of the telecom operators along with your aadhaar and work will be done by them. If the sim is in your family member's name, then it is necessary that they be present as biometric verification will happen for validation.
Multiple mobile numbers can't get linked with a single aadhaar card but you can verify sim cards obtained on your name with providing your aadhaar number to the service providers.
How can I check my aadhaar card link with mobile number?
If you receiving a confirmation message from your mobile network provider. This will state regarding your status of link aadhaar card with a mobile number. Sometimes, you have to confirm within 24hrs. That you are the person, to apply for linking process. That will call a second tier security verification.
Whats the fee for this process?
Currently, this 'link mobile number to aadhaar card' process is free for all. It's offline & manual process and there is no online verification is going on. So don't trap in any online verification sites.
Frequently asked questions in regards of seeding aadhaar card for mobile number.
Is link aadhaar card with mobile number compulsory for all users?
No, those users who will get sms on their number to continue their services only those users have to follow this e-KYC verification process.
What happens if you will not link mobile number and aadhaar card?
Your Sim will be deactivated & you lost network signals, if you want to continue their services then you have to give aadhaar number.
Why are only some of the users getting this sms?
Those users who purchased sim by other documents like license, voter id etc they again have to verify their sim using only aadhaar card number.
Are there any charges or fees for link aadhaar card with mobile number?
No, currently it's free to link mobile number & aadhaar card process free & charges.
Where you have to go?
You have to go your nearest network retailer for ex: for Vodafone sim, you have to go nearest Vodafone retailer.
Why has government taken this action?
Due to crime & fake sum's, it's compulsory to link aadhaar card number to mobile for all new and old users.
How to link aadhaar card with mobile number using online method?
There is no any online method available yet so don't search and trust on any fake websites otherwise your documents will be misused.
Know more about Aadhaar Card Linking Processes.
So, friends, in this article regarding link aadhaar card number with mobile no., I am trying to clear as many doubts regarding link mobile number & aadhaar card to continue sim services. We are going through seeding process and information about the online method, also. But, if I missed something in this regards, know me via comments below. Also, stay tuned for more updates regarding link aadhaar card with mobile number.